Winnie-the-Pooh: Love From Pooh By A. A. Milne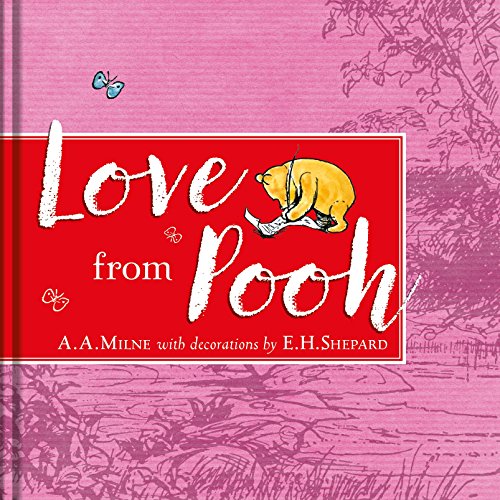 Winnie-the-Pooh: Love From Pooh
by A. A. Milne
Suitable gift for Valentine's day. This book features Piglet, Eeyore, Christopher Robin and, Pooh himself.
Only 3 left
---
Winnie-the-Pooh: Love From Pooh Summary
---
Winnie-the-Pooh: Love From Pooh by A. A. Milne
"Wherever I am there's always Pooh There's always Pooh and me." The perfect gift for Valentine's day. Wear your heart on your sleeve with this lovely gift book featuring words of love from Winnie-the-Pooh. When you are Pooh, honey is your first love, and your best friend loves you despite you being a Silly Old Bear. This book features original quotations from A.A. Milne's charming stories and poems, accompanied by E.H.Shepard's charming line illustrations: This little book is yours with love from Pooh. Look out for: Winnie-the-Pooh's Little Book Of Wisdom Winnie-the-Pooh: Eeyore's Little Book of Gloom Winnie-the-Pooh: Tigger's Little Book of Bounce The nation's favourite teddy bear has been delighting generations of children for 90 years. Milne's classic children's stories - featuring Piglet, Eeyore, Christopher Robin and, of course, Pooh himself - are both heart-warming and funny, teaching lessons of friendship and reflecting the power of a child's imagination like no other story before or since. Pooh ranks alongside other beloved character such as Paddington Bear, and Peter Rabbit as an essential part of our literary heritage. Whether you're 5 or 55, Pooh is the bear for all ages. A.A. Milne is quite simply one of the most famous children's authors of all time. He created Winnie-the-Pooh and his friends Piglet, Eeyore, Tigger, Kanga and Roo based on the real nursery toys played with by his son, Christopher Robin. And those characters not only became the stars of his classic children's books, Winnie-the-Pooh and The House at Pooh Corner, and his poetry for children, they have also been adapted for film, TV and the stage. Through his writings for Punch magazine, A.A. Milne met E.H. Shepard. Shepard went on to draw the original illustrations to accompany Milne's classics, earning him the name "the man who drew Pooh".
Why buy from World of Books
About A. A. Milne
---
A.A. Milne grew up in a school - his parents ran Henley House in Kilburn, for young boys - but never intended to be a children's writer. Pooh he saw as a pleasant sideline to his main career as a playwright and regular scribe for the satirical literary magazine, Punch. Writing was very much the dominant feature of A.A. (Alan Alexander)'s life. He joined the staff of Punch in 1906, and became Assistant Editor. In the course of two decades he fought in the First World War, wrote some 18 plays and three novels, and fathered a son, Christopher Robin Milne, in 1920 (although he described the baby as being more his wife's work than his own!). Observations of little Christopher led Milne to produce a book of children's poetry, When We Were Very Young, in 1924, and in 1926 the seminal Winnie-the-Pooh. More poems followed in Now We Are Six (1927) and Pooh returned in The House at Pooh Corner (1928). After that, in spite of enthusiastic demand, Milne declined to write any more children's stories as he felt that, with his son growing up, they would now only be copies based on a memory. In one way, Christopher Robin turned out to be more famous than his father, though he became uncomfortable with his fame as he got older, preferring to avoid the literary limelight and run a bookshop in Dartmouth. Nevertheless, he published three volumes of his reminiscences before his death in 1996.
Additional information
Winnie-the-Pooh: Love From Pooh by A. A. Milne
Book picture is for illustrative purposes only, actual binding, cover or edition may vary.
This is a used book - there is no escaping the fact it has been read by someone else and it will show signs of wear and previous use. Overall we expect it to be in very good condition, but if you are not entirely satisfied please get in touch with us.