The Seabird's Cry By Adam Nicolson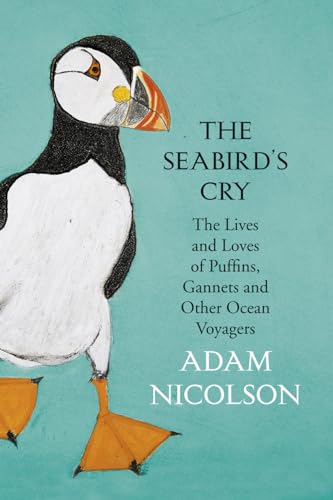 The Seabird's Cry
The full story of seabirds from one of the greatest nature writers. The book looks at the pattern of their lives, their habitats, the threats they face and the passions they inspire - beautifully illustrated by artist Kate Boxer. 'I was entranced... It is a work that takes wing in the mind' ROBERT MACFARLANE
11 in stock
---
The Seabird's Cry Summary
---
The Seabird's Cry: The Lives and Loves of Puffins, Gannets and Other Ocean Voyagers by Adam Nicolson
WINNER OF THE WAINWRIGHT PRIZE 2018
WINNER OF THE JEFFERIES AWARD FOR NATURE WRITING 2017
The full story of seabirds from one of the greatest nature writers. The book looks at the pattern of their lives, their habitats, the threats they face and the passions they inspire - beautifully illustrated by Kate Boxer.
In ten chapters, each dedicated to a different bird, and each beautifully illustrated by Kate Boxer, The Seabird's Cry travels their ocean paths, fusing traditional knowledge with all that modern science has come to know about them: the way their bodies work, their dazzling navigational expertise, their ability to smell their way to fish or home, to understand the workings of the winds in which they live.
At the heart of the book are the Shiant Isles - a cluster of Hebridean islands in the Minch that Adam Nicolson has known all his life - but he has pursued the birds much further: across the Atlantic, up the west coast of Ireland, to St Kilda, Orkney, Shetland, the Faeroes, Iceland and Norway to the eastern seaboard of America, the Falklands, South Georgia, the Canaries and the Azores - reaching out across the widths of the world ocean.
This book is a paean to the beauty of life on the wing, but even as we are coming to understand the seabirds, a global tragedy is unfolding. Their number is in freefall, dropping by nearly seventy per cent in the last sixty years, a billion fewer now than in 1950. Of the ten birds in this book, seven are in decline. Extinction stalks the ocean and there is a danger that the grand cry of a seabird colony, rolling around the bays and headlands of high latitudes, will this century become but a memory.
Why buy from World of Books
The Seabird's Cry Reviews
---
`An exquisitely written paean to ten ocean-going birds ... make no mistake, this is a clever book ... a call to arms against the loss of this crucial part of our rich natural heritage', Books of the Year, The Times
`An extraordinary book, nothing less than a masterpiece' Financial Times
`Gorgeous book, a poetic soaring exploration of 10 species of seabirds...Generous and beautifully composed' Observer
`No one has previously captured the essence of seabirds, of their habitats or their lives, with such poignancy or perception as Adam Nicolson in this fine book...[He] takes us on an extraordinary, constantly changing journey through the history, literature and biology of their lives...[His] exuberance for seabirds is infectious...inspirational' BBC Wildlife
`Nicolson writes with a heart full of poetry and a head full of science. He is up to speed with recent seabird research and tells the tales with relish' Mail on Sunday
`Full of fascinating and often gruesome details...[he] succeeds in expressing his sense of awe at these magnificent creatures' Sunday Times
`Though seabirds have ridden the surf and skies for 100 million years we are now casually wiping them out...Nicolson has accorded them this book. Its excellence constitutes some small recompense' Evening Standard
`It isn't sufficient to say that Nicolson writes well about birds. He is dizzyingly, dazzlingly good' Sunday Herald
`Beautiful and engrossing book...written with verve and weathered with wonder...there is no one I'd rather read writing about these creatures...the bigness of our author's excitements and passions is...abundant in this clear-sighted yet loving book and it is magnificent to have' Country Life
'Breathtaking...[Nicolson] has an intuitive understanding of the birds that feels almost uncanny...presents...research in a way that is not just comprehensible but compelling, even moving...His swithering between the forensic and the poetic creates a sense of wonder' Spectator
About Adam Nicolson
---
Adam Nicolson is a prize-winning writer of many books on history, nature and the countryside including Sea Room, God's Secretaries, The Gentry and the acclaimed The Mighty Dead. He is the winner of the Royal Society of Literature's Ondaatje Prize, the Somerset Maugham Award, the W.H. Heinemann Award and the British Topography Prize. He has written and presented many television series and lives on a farm in Sussex.
Additional information
The Seabird's Cry: The Lives and Loves of Puffins, Gannets and Other Ocean Voyagers by Adam Nicolson
Book picture is for illustrative purposes only, actual binding, cover or edition may vary.
This is a used book - there is no escaping the fact it has been read by someone else and it will show signs of wear and previous use. Overall we expect it to be in very good condition, but if you are not entirely satisfied please get in touch with us.