Do You Remember? By Alice Taylor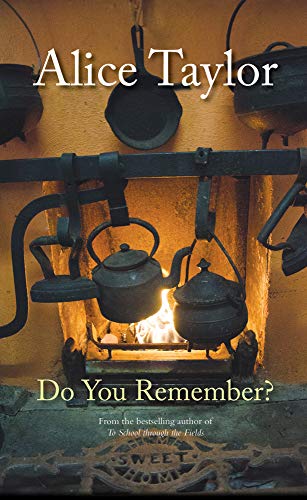 Used Price
$24.99
inc. GST
Free Shipping in Australia
Alice Taylor takes us through her home, reflecting back on the routine of her family life growing up in rural Ireland in the 1950s - a time when food was home-baked and everything was reused. An uplifting account, full of nostalgia and wise words to treasure from Ireland's best-loved author.
Only 2 left
---
Do You Remember? Summary
---
Do You Remember? by Alice Taylor
Alice Taylor remembers her childhood home - the farm with all its tools and animals, the home with its equipment for living, its daily challenges, constant hard work, and its comforts too.
She describes the huge open fireplace where all the cooking was done, where the big black kettle hung permanently from the crane over the flames; here the family sat in the evenings, talking, knitting, going over the events of the day, saying the rosary. She experienced the sow being brought indoors to have her precious brood of bonhams. She recalls the faithful, beloved horses and their wonderfully varied outfits - one set of tackle for each job they did on the farm; the ritual of lighting the oil lamps - from the fancy one in the parlour to the tiny one under the Sacred Heart picture; the excitement of threshing day and the satisfaction of a good harvest - the stations, the neighbours, and later the local dancehall and cinema.
All the jobs and tools of a way of life long gone live on in the hearts of those who were formed by it. Here Alice Taylor celebrates them all with love.
'magical ... reading the book, I felt a faint ache in my heart ... I find myself longing for those days ... it is essential reading.' Irish Independent
Customer Reviews - Do You Remember?
---
Why buy from World of Books
Do You Remember? Reviews
---
Taylor's gentle and affectionate view of her homeland is richly refreshing
-- Library Journal
This picture of bucolic life in an earlier time, with its rutuals of religion and the antics of local characters, has universal appeal.
-- Publishers Weekly
One of the most richly evocative and moving portraits of childehood [ever] written... A journey every reader will treasure and will want to read over and over again.
-- Boston Herald
Taylor reminisces on her past and family life in the country ... Recollecting the memories and difficulties of the time in Ireland before electricity, public transport and convenient shopping is insightful and refreshing ... thought-provoking ... it is a reminder to our young women our voices truly matters in bringing these changes
-- puremzine.com
magical ... reading the book, I felt a faint ache in my heart ... I find myself longing for those days ... this book is important social history ... remembering our past is important. Alice Taylor has given us a handbook for survival. In fact, it is essential reading
-- Irish Independent
unashamedly nostalgic ... charming
-- Tuam Herald
a thoroughly enjoyable read
-- Irish Country Magazine
About Alice Taylor
---
Alice Taylor lives in the village of Innishannon in County Cork, in a house attached to the local supermarket and post office. Since her eldest son has taken over responsibility for the shop, she has been able to devote more time to her writing. Alice Taylor worked as a telephonist in Killarney and Bandon. When she married, she moved to Innishannon where she ran a guesthouse at first, then the supermarket and post office. She and her husband, Gabriel Murphy, who sadly passed away in 2005, had four sons and one daughter. In 1984 she edited and published the first issue of Candlelight, a local magazine which has since appeared annually. In 1986 she published an illustrated collection of her own verse. To School Through the Fields was published in May 1988. It was an immediate success, and quickly became the biggest selling book ever published in Ireland. It launched Alice on a series of signing sessions, talks and readings the length and breadth of Ireland. Her first radio interview, forty two minutes long on RTE Radio's Gay Byrne Show, was the most talked about radio programme of 1988, and her first television interview, of the same length, was the highlight of the year on RTE television's Late Late Show. Since then she has appeared on radio programmes such as Woman's Hour, Midweek and The Gloria Hunniford Show, and she has been the subject of major profiles in the Observer and the Mail on Sunday. Alice has written nearly twenty books since then, large exploring her village of Inishannon, and the way of life in rural Ireland. She has also written poetry and fiction: her first novel, The Woman of the House, was an immediate bestseller in Ireland, topping the paperback fiction lists for many weeks. One of Ireland's most popular authors, her most recent book is And Life Lights Up.
Additional information
Do You Remember? by Alice Taylor
Book picture is for illustrative purposes only, actual binding, cover or edition may vary.
The book has been read, but looks new. The book cover has no visible wear, and the dust jacket is included if applicable. No missing or damaged pages, no tears, possible very minimal creasing, no underlining or highlighting of text, and no writing in the margins.