Symptoms in the Pharmacy By Alison Blenkinsopp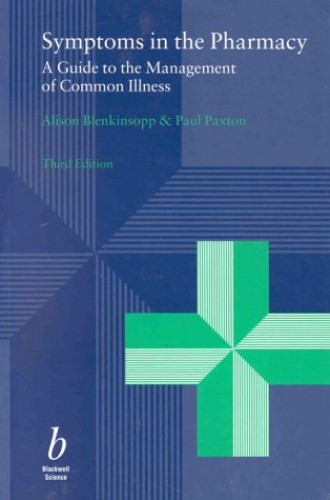 Symptoms in the Pharmacy
by Alison Blenkinsopp
Third edition of a guide to the management of common illness, for practising community pharmacists dealing with OTC medications. Contains new sections on various modern ailments, advice from both pharmacists and GP's and a discussion of the changes in policy by the Royal Pharmaceutical Society on the training of pharmacy assistants.
5 in stock
---
Symptoms in the Pharmacy Summary
---
Symptoms in the Pharmacy: A Guide to the Management of Common Illness by Alison Blenkinsopp
This guide to clinical management for the practising pharmacist and pre- registration trainee has been thoroughly revised in its third edition to reflect the availability of new OTC drugs and changes in indication. The commentary from the pharmacist and GP perspective for each clinical problem continues to provide an interesting and refreshing approach.
Why buy from World of Books
Symptoms in the Pharmacy Reviews
---
"Treatment management information includes example of medication linked to each symptom and this information could be particularly useful for young pharmacists wishing to build up suitable formulary when dealing with requests for advice.; The book is an extremely valuable tool for practising community pharmacists and should sit comfortably beside the standard textbook in any community pharmacy.; Elizabeth Roddick in The Pharmaceutical Journal (on the 2nd edition); "Regular readers of the journals continuing education section will be acquainted with the articles by Alison Blenkinsopp and other contributors on response to symptoms and will know the sound information they contain and the clarity of their presentation. This book co-written with Paul Paxton, a General Practitioner, brings together similar material but augments it and consequently improves even on their high standards.; Responding to symptoms is contributing increasingly to the community pharmacists role and income, and this book is a valuable aid to performing the task competently and well.; Alan Nathan in The Pharmaceutical Journal (on the 1st edition).; "Overall, I found this book to be interesting and useful. It would make an excellent companion to the Handbook of Non Prescription Drugs, which is now so large as to be unwieldy for quick reference. I would recommend Symptoms in the Pharmacy for pharmacy libraries and all who teach courses on OTC drugs or ambulatory care clerkships."; Donald R Miller in the American Journal of Pharmaceutical Education(on the 1st edition).
Table of Contents
---
Preface to the third edition; Introduction: How to use this book; Respiratory Problems: Colds and flu; Cough; Sore Throat; Allergic Rhinitis; Respiratory symptoms for direct referral; Gastrointestinal Tract Problems: Mouth ulcers; Heartburn; Indigestion; Nausea and vomiting; Motion sickness and its prevention; Constipation; Diarrhoea; Irritable bowel syndrome; Haemorrhoids; Skin Conditions: Eczema/dermatitis Acne; Athletes foot; Cold Sores; Warts and Verrucae; Scabies; Dandruff; Hair Loss; Psoriasis; Painful Conditions: Headache; Musculoskeletal problems; Women's Health: Cystitis; Dysmenorrhoea; Vaginal thrush; Eye and Ear Problems: Eye problems: The painful red eye; Common ear problems; Childhood Conditions: Common childhood rashes; Napkin rash; Head lice; Threadworms; Oral thrush; Other Conditions: Insomnia; Appendix: Summary of symptoms for direct referral; Index
Additional information
Symptoms in the Pharmacy: A Guide to the Management of Common Illness by Alison Blenkinsopp
Book picture is for illustrative purposes only, actual binding, cover or edition may vary.
This is a used book - there is no escaping the fact it has been read by someone else and it will show signs of wear and previous use. Overall we expect it to be in very good condition, but if you are not entirely satisfied please get in touch with us.