The Lost Wife By Alyson Richman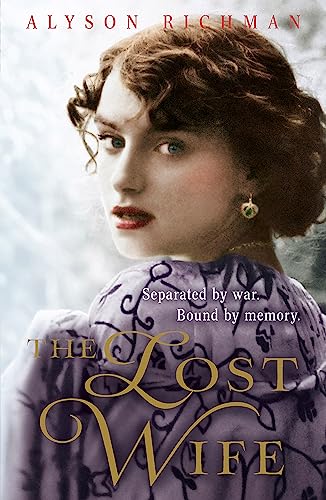 The Lost Wife
Used Price
$16.49
inc. GST
Free Shipping in Australia
Separated by war and each believing the other dead, a couple meet again decades later...
7 in stock
---
The Lost Wife Summary
---
The Lost Wife by Alyson Richman
There on her forearm, next to a small brown birthmark, were six tattooed numbers.

'Do you remember me now?' he asked, trembling.

She looked at him again, as if giving weight and bone to a ghost.

'Lenka, it's me,' he said. 'Josef. Your husband.'
During the last moments of calm in prewar Prague, Lenka, a young art student, falls in love with Josef. They marry - but soon, like so many others, they are torn apart by the currents of war.
In America Josef becomes a successful obstetrician and raises a family, though he never forgets the wife he thinks died in the camps. But in the Nazi ghetto of Terezin - and later in Auschwitz - Lenka has survived, relying on her skills as an artist and the memories of a husband she believes she will never see again.
Now, decades later, an unexpected encounter in New York brings Lenka and Josef back together.
From the comfort of life in Prague before the occupation to the horrors of Nazi Europe, The Lost Wife explores the endurance of first love, the resilience of the human spirit and our capacity to remember.
Customer Reviews - The Lost Wife
---
Why buy from World of Books
The Lost Wife Reviews
---
This beautifully written, heart-rending, evocative novel explores the power of first love and the resilience of the human spirit. * Life & Living *
'The reader is taken back to an age of innocence in pre-war Prague as the young couple fall in love. In Richman's fourth novel, the use of language is highly imaginative.' * The Daily Telegraph *
The Sophie's Choice of this generation. * John Lescroart, New York Times bestselling author *
'If you're a fan of Paulina Simon's The Bronze Horseman trilogy, this is right up your alley. Have the tissues near as the story of how they come to find one another again unfolds.' * GRAZIA *
A lyrical tale of the ravages of war, lost and the human quest for redemption. * The Good Book Guide *
Tragedy and hope, love and loss, and the strength to endure are expressed through Richman's graceful writing and powerful characters, many based on actual Holocaust victims and survivors. * Booklist *
Heart-wrenching . . . a genuinely moving portrait. * Publisher's Weekly *
Daringly constructed . . . Richman writes with the clarity and softness of freshly-fallen snow. * Loring Mandel, Emmy winning playwright *
Begins with a chilling revelation and had me hooked throughout. A love story wrapped in tragedy and survival, I read THE LOST WIFE in one sitting. Tense, emotional and fulfilling: a great achievement by Alyson Richman. * Martin Fletcher, Special Correspondent NBC News, Winner of the Jewish National Book Award *
This is one of those rare books that will stay in my imagination for a long time. * New Books *
About Alyson Richman
---
Alyson Richman is the author of The Mask Carver's Son, Swedish Tango, and The Last Van Gogh. She is the daughter of a painter and an engineer, and her novels have been published in more than ten languages. She lives in Long Island, New York with her husband and two children.
Additional information
The Lost Wife by Alyson Richman
Hodder & Stoughton General Division
Book picture is for illustrative purposes only, actual binding, cover or edition may vary.
This is a used book - there is no escaping the fact it has been read by someone else and it will show signs of wear and previous use. Overall we expect it to be in very good condition, but if you are not entirely satisfied please get in touch with us.