Switzerland without a Car By Anthony Lambert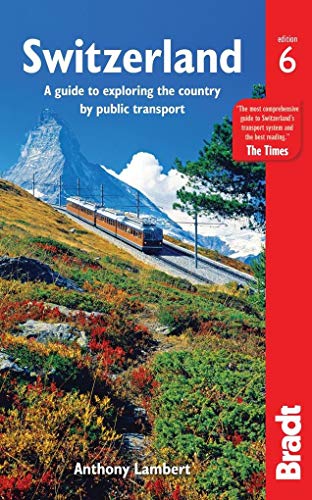 Switzerland without a Car
Switzerland: a guide to exploring the country by public transport - Expert advice including Zurich highlights, hotels, scenic rail routes, maps, timetable numbers and itineraries. Also features hiking routes, museums, castles, special trains, Swiss Travel System tips, Bern, Bernese Mitteland and Oberland, Basel, Luzern, Geneva, Jungfrau, Eiger.
Only 1 left
---
Switzerland without a Car Summary
---
Switzerland without a Car: A guide to exploring the country by public transport by Anthony Lambert
This thoroughly updated edition of Bradt's guide to Switzerland offers a unique perspective on getting the most from this mountainous country travelling only by public transport - a timely release with the Gotthard Base Tunnel transforming north-south train services. Switzerland boasts the world's finest public transport network, and the Swiss Travel System is a revelation. The comfort, efficiency and frequency of train, bus, boat and cable car services explain why so many Swiss don't own cars. Visitors cannot reach many of the finest Swiss sights by road, and there are over a dozen car-free resorts for experiencing the peace and clean air of the mountains. For walkers and cyclists, there are superbly managed networks of paths - almost 64,000 kilometres of footpaths and many surprisingly unhilly cycle paths beside lakes and rivers. Bradt's Switzerland is unique. No other guide book is devoted to Swiss public transport, which is the easiest, most enjoyable and responsible way to travel. The guide offers depth and breadth of coverage, encompassing culture, architecture, landscapes, walking and cycling, and fascinating facts for railway enthusiasts! There's a host of tips for reducing costs in a country known for being expensive, while a new section on food and wine includes a list of top restaurants. Switzerland has some of the world's most beautiful landscapes; though mountains and lakes cover most of the country's regions, each offers something quite different - and the four official languages add colour and variety. Switzerland's cities are among the world's most beautiful - and safest. Its capital, Bern, is a World Heritage Site with 6 kilometres of covered arcades, where even jaded shoppers will be enthralled by hundreds of independent shops. Luzern's lakeside setting is unrivalled, with mountains in every direction and the floodlit city walls providing a breath-taking backdrop to the historic centre. Lausanne and Geneva overlook Lac Leman, and Basel is enhanced by a broad sweep of the Rhine. With Bradt's Switzerland: a guide to exploring the country by public transport, you can enjoy all the qualities that help ensure Switzerland and its cities are consistently ranked as the most liveable in the world.
Why buy from World of Books
Switzerland without a Car Reviews
---
Not many books in any genre get into so many repeat editions. This is a testament to the careful and well-researched nature of Anthony's work. Use it well and your travels around Switzerland will be more enjoyable. Swiss Express This guide to Switzerland by all forms of public transport is the most detailed and reliable on the shelf. The Bookseller The most comprehensive guide to Switzerland's transport system and the best reading. The Times This book should be in the pocket or day-pack of all English-speaking visitors to Switzerland. Swiss Express
About Anthony Lambert
---
Anthony Lambert has been visiting Switzerland since childhood and has a deep affection for the country. He has written or contributed to half a dozen guide books and written 15 books about railways and travel. He has written about travel and railway journeys for such newspapers and magazines as The Daily Telegraph, Orient-Express Magazine, New York Times, The Sunday Times and Wanderlust. He was consultant editor for the nine-volume part work, The World of Trains, and has travelled on the railways of over 55 countries. Anthony's part-time work for the National Trust reflects an interest in architecture and cultural history, and he is also a keen cyclist and walker. He has given talks on railways and travel to a wide range of audiences, including the Royal Geographical Society, of which he is a Fellow.
Table of Contents
---
Contents Acknowledgements Introduction Why choose public transport?, Tourism and sustainable transport PART ONE GENERAL INFORMATION Chapter 1 Practical Information When to visit, Highlights, Tourist information, Red tape, Embassies and consulates, Getting there and away, Maps, Health, Travelling with a disability, Electricity, Money, Budgeting, Accommodation, Drinking, Food and wine, Shopping, Exploring cities, Arts and entertainment, Language, Media and communications Chapter 2 The Swiss Travel System General advice, Trains, Postbuses, Car, Tourist offices Chapter 3 Special Trains Gotthard Panorama Express, Grand Train Tour of Switzerland, Golden Pass Line, Golden Pass Panoramic, Glacier Express, Palm Express, Bernina Express, Pre-Alpine Express/Voralpen Express, Chocolate Train, Cheese Train Chapter 4 Walking and Cycling SwitzerlandMobility, Walking, Cycling, Maps and guides for walking and cycling PART TWO THE GUIDE Chapter 5 Zurich Getting there and away, Getting around, Tourist information, Where to stay, Where to eat and drink, What to see and do Chapter 6 Around Zurich Zurichsee (Lake Zurich), Zurich HB-Uetliberg, Zurich HB-Langnau-Gattikon, Zurich HB-Zug, Zug-Arth-Goldau, Zug-Zurich HB via Affoltern, Zurich HB-Brugg, Dietikon-Wohlen, Lenzburg-Rotkreuz, Zug-Luzern, Zurich Flughafen-Zurich HB-Ziegelbrucke, Ziegelbrucke-Linthal, Zurich HB-Rapperswil, Rapperswil-Pfaffikon-Arth-Goldau & Wadenswil-Einsiedeln, Rapperswil-Winterthur, Zurich Stadelhofen-Esslingen, Zurich HB-Hinwil/Rapperswil, Wetzikon-Effretikon, Zurich HB-Winterthur, Winterthur-Bulach-Koblenz, Zurich HB-Niederweningen/Bulach-Schaffhausen, Zurich-Baden Chapter 7 The Northeast Winterthur-St Gallen, St Gallen-Trogen, St Gallen-Wattwil-Rapperswil, St Gallen-Romanshorn, St Gallen-Gais-Appenzell, Gais-Altstatten Stadt, Gossau-Herisau-Appenzell-Wasserauen, St Gallen-Gossau-Sulgen-Weinfelden, Wil-Wattwil-Nesslau-Neu St Johann, St Gallen-Rorschach, Rorschach-Romanshorn, Rorschach-Heiden, Romanshorn-Schaffhausen, Schaffhausen-Erzingen, Schaffhausen-Thayngen, Schaffhausen-Winterthur, Winterthur-Etzwilen/ Stein am Rhein, Winterthur-Romanshorn, Frauenfeld-Wil, Lake Constance/Bodensee, Wil-Weinfelden-Kreuzlingen-Konstanz, Rorschach-Sargans, Rheineck-Walzenhausen Chapter 8 Bern Getting there and away, Getting around, Tourist information, Where to stay, Where to eat and drink, What to see and do Chapter 9 The Eastern Bernese Mittelland Bern Fischermattelli-Bahnhofplatz-Worb Dorf , Bern- Worb Dorf , Bern-Solothurn, Solothurn-Moutier, Solothurn-Niederbipp-Oensingen-Langenthal, Solothurn-Olten, Oensingen-Balsthal, Solothurn-Burgdorf, Burgdorf-Konolfingen-Thun, Bern-Olten, Langenthal-St Urban Ziegelei, Bern-Luzern, Langnau-Burgdorf, Ramsei-Sumiswald-Grumen-Huttwil, Wolhusen-Huttwil-Langenthal Chapter 10 The Western Bernese Mittelland Bern-Biel/Bienne, Lyss-Buren an der Aare, Biel/Bienne-Neuchatel, Biel/Bienne-La Chaux-de-Fonds, Sonceboz-Sombeval-Moutier-Delemont, Biel/Bienne-Delemont, Biel/Bienne-Solothurn, Biel/Bienne-Ins, Lyss-Murten-Payerne-Palezieux, Fribourg, Bern-Lausanne, Flamatt-Laupen, Fribourg-Payerne-Yverdon, Romont-Bulle, Bern-Schwarzenburg Chapter 11 Bernese Oberland Bern-Belp-Thun, Bern-Thun-Spiez-Interlaken Ost, Interlaken, Lake Thun, Interlaken-Zweilutschinen-Lauterbrunnen, Wilderswil-Schynige Platte, Lauterbrunnen-Grutschalp-Murren, Lauterbrunnen-Kleine Scheidegg, Kleine Scheidegg-Jungfraujoch, Zweilutschinen-Grindelwald, Grindelwald-Kleine Scheidegg,Spiez-Zweisimmen, Spiez-Brig Chapter 12 Luzern Getting there and away, Getting around, Tourist information, Where to stay, Where to eat and drink , What to see and do Chapter 13 Around Luzern Lake Luzern (Vierwaldstattersee), The Swiss Path, Vitznau-Rigi, Arth-Rigi, Luzern-Lenzburg, Luzern-Olten-Basel, Zofingen-Lenzburg, Luzern-Stans-Engelberg (LSE), Luzern-Meiringen-Interlaken, Alpnachstad-Pilatus, Meiringen- Innertkirchen, Luzern-Meiringen-Interlaken, Brienz-Rothorn, Luzern-Airolo-Lugano-Chiasso Chapter 14 Basel and the Northwest Basel, Basel-Rodersdorf, Basel-Delemont, Delemont-Porrentruy-Boncourt, Porrentruy-Bonfol, Basel-Olten, Liestal-Waldenburg, Sissach-Olten, Olten-Brugg, Aarau-Schoftland, Aarau-Menziken, Basel-Brugg-Zurich Chapter 15 Neuchatel and Jura Neuchatel, Neuchatel-Boudry, Neuchatel-La Chaux-de-Fonds, La Chaux-de-Fonds-Le Locle, Le Locle-Les Brenets, La Chaux-de-Fonds-Glovelier, Le Noirmont-Tavannes, La Chaux-de-Fonds-Les Ponts-de-Martel, Neuchatel-Travers-Buttes/Pontarlier, Neuchatel-Yverdon-Les-Bains, Yverdon-Les-Bains-Ste-Croix, Yverdon-Les-Bains-Lausanne, Chavornay-Orbe, Lausanne-Cossonay-Vallorbe, Vallorbe-Le Day-Le Brassus Chapter 16 Geneva and Lausanne Geneva, Lac Leman, Coppet-Geneva-Annemasse-Evian, Geneva-La Plaine-Bellegarde, Geneva-Lausanne-Brig, Nyon-La Cure, Morges-Biere/L'Isle-Mont-la-Ville, Lausanne, Ouchy-Les Croisettes, Lausanne Flon-Echallens-Bercher, Lausanne-Vevey Chapter 17 Vevey and Montreux Vevey, Vevey-Mont Pelerin, Vevey-Puidoux-Chexbres, Vevey-Les Pleiades, Blonay-Chamby, Geneva-Vevey-Montreux-Brig, Montreux, Montreux (Territet)-Glion, Montreux-Rochers-de-Naye, Montreux-Gstaad-Zweisimmen-Lenk, Montbovon-Gruyeres-Bulle-Palezieux, Bulle-Broc, Geneva-Montreux-Aigle-Brig Chapter 18 Southeast Vaud and the Valais Aigle, Aigle-Leysin, Aigle-Les Diablerets, Aigle-Champery, Geneva-Aigle-Martigny-Brig, Bex-Bevieux-Villars, Villars-Col-de-Bretaye, Sion-St Maurice-St Gingolph, Martigny-Vallorcine-Chamonix-St Gervais, Martigny-Orsieres/Le Chable, The Great St Bernard, Geneva-Martigny-Brig, Brig-Domodossola, Brig-Zermatt, Zermatt-Gornergrat, Brig-Andermatt, Realp-Gletsch-Oberwald, Andermatt-Goschenen, Oberwald-Meiringen, Oberwald-Airolo, Airolo-Andermatt, Andermatt-Furka-Oberwald Chapter 19 Ticino Airolo-Lugano, Lugano, Lake Lugano, Around Lugano, Lugano-Ponte Tresa, Lugano-St Moritz, Luino-Cadenazzo-Bellinzona, Bellinzona-Locarno, Locarno, Lake Maggiore, Around Locarno, Locarno-Domodossola, Lugano-Chiasso-Milan, Lugano-Stabio-Malpensa, Capolago-Generoso Chapter 20 Graubunden Andermatt-Chur, Disentis-Biasca, Chur-Bellinzona, Chur-Arosa, Chur-St Moritz, St Moritz-Scuol-Tarasp, The Swiss National Park, St Moritz/Samedan-Tirano, Filisur-Davos-Chur, Chur-Ziegelbrucke-Zurich Appendix 1 Language Appendix 2 Useful Addresses Appendix 3 Railway and Postbus Routes by Timetable Number Appendix 4 Further Information Index
Additional information
Switzerland without a Car: A guide to exploring the country by public transport by Anthony Lambert
Book picture is for illustrative purposes only, actual binding, cover or edition may vary.
This is a used book - there is no escaping the fact it has been read by someone else and it will show signs of wear and previous use. Overall we expect it to be in very good condition, but if you are not entirely satisfied please get in touch with us.