Geological Hazards By B. A. Bolt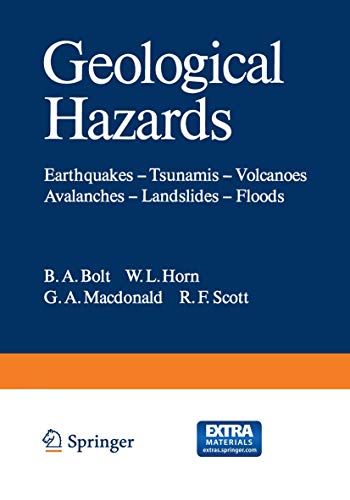 Geological Hazards
N/A
Only 1 left
---
Geological Hazards Summary
---
Geological Hazards: Earthquakes - Tsunamis - Volcanoes, Avalanches - Landslides - Floods by B. A. Bolt
Growth of population, communication and interdependence among countries has sharpened the impact of natural disasters. Not only have calamities and miseries been given wider publicity, but the realization has grown that through rational study and foresight much can be done to mitigate these hazards to life and social wellbeing. In this book we present a summary account of hazards which nowadays are usually classified as geological: earthquakes, faulting, tsunamis, seiches, vol- canoes, avalanches, rock and soil slides, differential settlement and liquefaction of soil, and inundation. The book is aimed first at the general reader who is interested in studying the history of such hazards and examining ways that risk can be reduced even if all dangers cannot be eliminated. We also hope that the book will be useful to college students in introductory courses in geology, engineering, geography, country and urban planning, and in environmental studies. We have tried to bring out for the students the problems that remain to be solved.
Why buy from World of Books
Additional information
Geological Hazards: Earthquakes - Tsunamis - Volcanoes, Avalanches - Landslides - Floods by B. A. Bolt
Springer-Verlag Berlin and Heidelberg GmbH & Co. KG
Book picture is for illustrative purposes only, actual binding, cover or edition may vary.
This is a used book. We do our best to provide good quality books for you to read, but there is no escaping the fact that it has been owned and read by someone else previously. Therefore it will show signs of wear and may be an ex library book.