Agent Zigzag By Ben Macintyre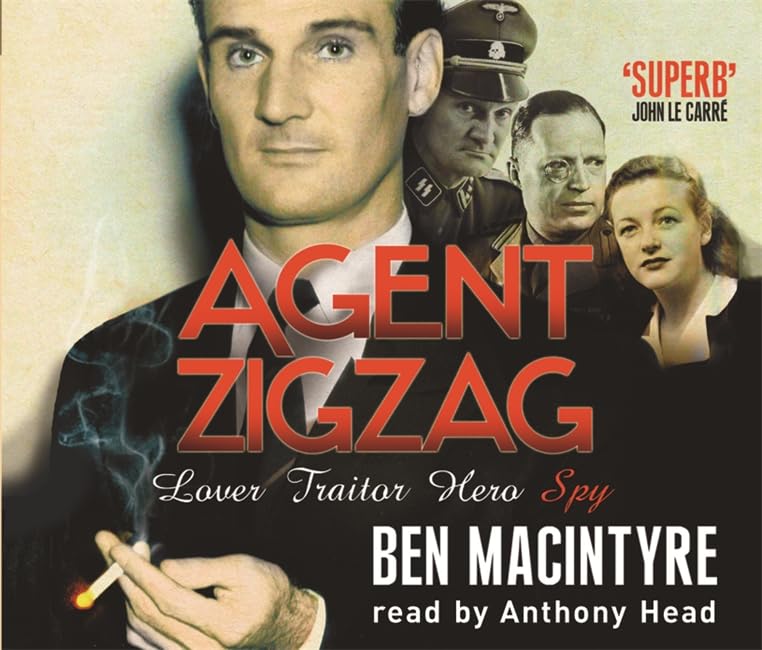 Agent Zigzag
Used Price
$42.99
inc. GST
Free Shipping in Australia
The true wartime story of Eddie Chapman, lover, betrayer, hero and spy.
Only 1 left
---
Agent Zigzag Summary
---
Agent Zigzag: The True Wartime Story of Eddie Chapman: Lover, Betrayer, Hero, Spy by Ben Macintyre
Eddie Chapman: rogue, criminal, confidence trickster, hero to both sides and betrayer of all. At the start of the Second World War, Chapman was recruited by the German Secret Service. He was a highly prized Nazi agent. He was also a secret spy for Britain, alias Agent Zigzag. Agent Zigzag is the untold story of Britain's most extraordinary wartime double agent. Genuinely courageous, able to withstand withering interrogations from both sides, Chapman was a dashing, charming and fiercely intelligent man whose talents led to a single end: breaking the rules. He wore loud suits, drove fast cars, and had a woman in every port. Yet at the same time he was, in his own way, loyal to his lover and their child. This was a man who courted contradictions as much as he courted adventure. Inside the traitor was a man of loyalty; inside the villain was a hero; the problem for Chapman, his spymasters, and his lovers, was to know where one ended, and the other began. In 1943, Colonel Tim Stephens of MI5 said of the story of Chapman: 'In fiction it would be rejected as improbable.' It is one of the most gripping untold stories of the Second World War. For information on the print book please see www.bloomsbury.com/benmacintyre
Customer Reviews - Agent Zigzag
---
Why buy from World of Books
Agent Zigzag Reviews
---
"Eddie Chapman was a double agent who spied for both the Germans and the British during the second world war. Journalist Macintyre accessed recently opened MI5 files to put together this you- couldn't-make-it-up story of treachery, courage and womanising .Listening to British actor Anthony Head enthusiastically describe the spy and former conman's daring double-crossing escapades should inspire every armchair adventurer." -- Melissa McClements FINANCIAL TIMES "It's an incredible story, brilliantly reconstructed by Macintyre from letters, papers and MI5 files. What a character, what a life, what a book - five stars all round." -- Sue Arnold THE GUARDIAN "Anthony Head's reading captures all the facets of the incredible character whose story he relates. It's all true - and genuinely gripping." -- Kati Nicholl DAILY EXPRESS The true story of Edward Chapman, a womanising cirminal who became a double agent during WWII and who led many lives. His story is now brought together in a fantastic tale of espionage. THE GUARDIAN 40 BEST AUDIOBOOKS
About Ben Macintyre
---
Ben Macintyre is a columnist and Associate Editor on THE TIMES. He has worked as the newspaper's correspondent in New York, Paris and Washington. He now lives in London with his wife and three children.
Additional information
Agent Zigzag: The True Wartime Story of Eddie Chapman: Lover, Betrayer, Hero, Spy by Ben Macintyre
Short-listed for British Book Awards: Tesco Biography of the Year Award 2008 Short-listed for Costa Biography Award 2007
Book picture is for illustrative purposes only, actual binding, cover or edition may vary.
This is a used book - there is no escaping the fact it has been read by someone else and it will show signs of wear and previous use. Overall we expect it to be in very good condition, but if you are not entirely satisfied please get in touch with us.