Tunes for Ten Fingers By By (composer) Pauline Hall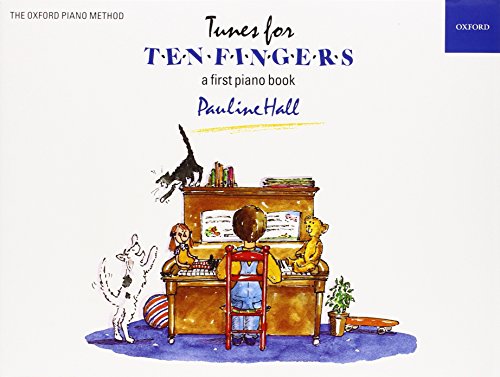 Tunes for Ten Fingers
by By (composer) Pauline Hall
An introductory book for absolute beginners, with attractive colour illustrations. Tunes for Ten Fingers is the perfect book for very young children - it encourages security at every step and uses material that makes learning fun!
Only 0 left
---
Tunes for Ten Fingers Summary
---
Tunes for Ten Fingers by By (composer) Pauline Hall
Suitable for absolute beginners, this book contains colour illustrations. It is useful for very young children and it aims to encourage security at every step.
Why buy from World of Books
Tunes for Ten Fingers Reviews
---
From now on I shall use Tunes for Ten Fingers for the very young beginners. It has much more to offer than any of its rivals. * Somerset Music Maker *
The material in these books is excellent. The games, puzzles, illustrations and words of the songs highlight the fun aspect in learning the piano whilst being also educational, offering suggestions for playing, advice on hand position and how to practise . . . a breath of fresh air for teachers and pupils alike. * Piano Journal *
About By (composer) Pauline Hall
---
Pauline Hall graduated from the Royal Academy of Music and then taught in schools and privately. Whilst living and teaching in Harrogate she felt the need for a piano tutor which made learning fun, and which progressed at the pace of her slowest learner. She started by writing little tunes in pupils' notebooks, and these formed the basis of Tunes for Ten Fingers; the Piano Time series developed from this.
Table of Contents
---
Marching ; The rocking chair ; The Grandfather Clock ; Elephants' Waltz ; Mary had a little lamb ; Little Arabella Miller ; A surprise ; Rabbits' Lullaby ; My wish ; Yankee Doodle ; Westminster Chimes ; Kumbaya ; Old MacDonald had a Farm ; The Haunted House ; George ; Good King Wenceslas ; Little Miss Muffet ; Little Bo Peep ; Twinkle, Twinkle, little Star ; Cowboy Joe ; Five Little Monkeys ; Cuckoo ; Jingle bells ; Tinker, Tailor ; This Old Man ; Walking ; Hush, little baby ; Happy birthday to you ; Hallowe'en Night ; The Princess ; Skip to my Lou
Additional information
Tunes for Ten Fingers by By (composer) Pauline Hall
By (composer) Pauline Hall
Book picture is for illustrative purposes only, actual binding, cover or edition may vary.
This is a used book. We do our best to provide good quality books for you to read, but there is no escaping the fact that it has been owned and read by someone else previously. Therefore it will show signs of wear and may be an ex library book.