Thanks, Obama By David Litt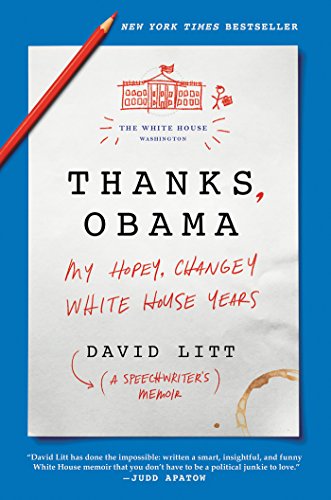 Used Price
$40.99
inc. GST
Free Shipping in Australia
For all the moments of chaos, frustration, and yes, disillusionment, Litt remains a believer in the words that first drew him to the Obama campaign: "People who love this country can change it." In telling his own story, Litt sheds fresh light on his former boss's legacy.
Only 2 left
---
Thanks, Obama Summary
---
Thanks, Obama: My Hopey, Changey White House Years by David Litt
A different kind of White House memoir, presidential speechwriter David Litt's comic account of his years spent working with Barack Obama and his reflection on Obama's legacy in the age of Trump Like many twentysomethings, David Litt frequently embarrassed himself in front of his boss's boss. Unlike many twentysomethings, Litt's boss's boss was President Obama. At age twenty-four, Litt became one of the youngest White House speechwriters in history. Along with remarks on issues like climate change and criminal justice reform, he was the president's go-to writer for comedy. As the lead on the White House Correspondents' Dinner speech (the "State of the Union of jokes"), he was responsible for some of President Obama's most memorable moments, including Keegan-Michael Key's appearance as Luther, Obama's "anger translator." With a humorist's eye for detail and a convert's zeal, Litt takes us inside his eight years on the front lines of Obamaworld. In his political coming-of-age story, he goes from starry-eyed college student-a self-described "Obamabot"-to nervous junior speechwriter to White House senior staff. His behind-the-scenes anecdotes answer questions you never knew you had: What's the classiest White House men's room? What's the social scene like on Air Force One? How do you force the National Security Council to stop hitting reply-all on every e-mail? In between lighthearted observations, Litt uses his experience to address one of today's most important issues: the legacy and future of the Obama movement in the age of Donald Trump.
Customer Reviews - Thanks, Obama
---
Why buy from World of Books
Thanks, Obama Reviews
---
"David Litt has done the impossible: written a smart, insightful, and funny White House memoir you don't have to be a political junkie to love. Even better, he takes us back to a saner more compassionate time when our president liked to read." -- Judd Apatow "David Litt is brilliant. I've gotten to witness firsthand some of the work he did for President Obama at past White House Correspondents Dinners and it's always intelligent, razor sharp and hilarious." -- Billy Eichner "Don't be fooled by the self-deprecating narrator, this portrait of a young speechwriter is filled with wit, wisdom, and a loving touch. David's labors remind of us a not-so-distant past when words mattered. If I was a simpleton and a book critic, I'd say thumbs up." -- Matt Walsh, HBO's Veep "David Litt is a natural storyteller and an absolute joy." -- Tig Notaro, author of I'm Just a Person "Thanks, Obama is a wonderful book for the same reasons David Litt's speeches for the White House were wonderful: it's well-written, it's funny, it tells us exactly what we're curious about, and... it reminds us that a great president galvanizes not only his staff but his country." -- Anne Fadiman, author of Ex Libris "Funny and warm, David Litt knows how to make people laugh regardless of their political affiliation." -- Mike Birbiglia, author of Sleepwalk With Me: And Other Painfully True Stories
About David Litt
---
David Litt entered the White House in 2011 and left in 2016 as a special assistant to the president and senior presidential speechwriter. Described as the "comic muse for the president," David was the lead writer on four White House Correspondents' Dinner presentations and has contributed jokes to President Obama's speeches since 2009. He is currently the head writer/producer for Funny or Die's office in Washington, DC. David has also written for The Onion, McSweeney's Internet Tendency, Cosmopolitan, Vanity Fair, The Atlantic, and the New York Times. He lives in Washington with his girlfriend and their two goldfish, Humphrey and Camille.
Additional information
Thanks, Obama: My Hopey, Changey White House Years by David Litt
HarperCollins Publishers Inc
Book picture is for illustrative purposes only, actual binding, cover or edition may vary.
This is a used book - there is no escaping the fact it has been read by someone else and it will show signs of wear and previous use. Overall we expect it to be in very good condition, but if you are not entirely satisfied please get in touch with us.