The Uninhabitable Earth By David Wallace-Wells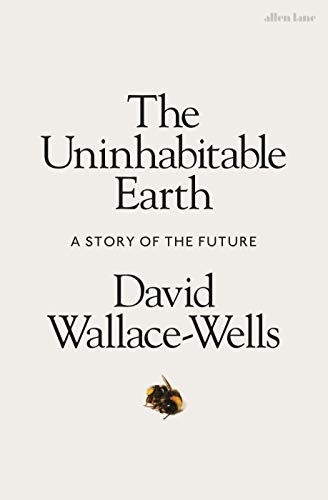 The Uninhabitable Earth Summary
---
The Uninhabitable Earth: A Story of the Future by David Wallace-Wells
**SUNDAY TIMES AND THE NEW YORK TIMES BESTSELLER**

'If you read just one work of non-fiction this year, it should probably be this ... what this book forces you to face is more important than any other subject' David Sexton, Evening Standard

It is worse, much worse, than you think.
The slowness of climate change is a fairy tale, perhaps as pernicious as the one that says it isn't happening at all, and if your anxiety about it is dominated by fears of sea-level rise, you are barely scratching the surface of what terrors are possible, even within the lifetime of a teenager today.
Over the past decades, the term "Anthropocene" has climbed into the popular imagination - a name given to the geologic era we live in now, one defined by human intervention in the life of the planet. But however sanguine you might be about the proposition that we have ravaged the natural world, which we surely have, it is another thing entirely to consider the possibility that we have only provoked it, engineering first in ignorance and then in denial a climate system that will now go to war with us for many centuries, perhaps until it destroys us. In the meantime, it will remake us, transforming every aspect of the way we live-the planet no longer nurturing a dream of abundance, but a living nightmare.
Why buy from World of Books
The Uninhabitable Earth Reviews
---
In crystalline prose, Wallace-Wells provides a devastating overview of where we are in terms of climate crisis and ecological destruction, and what the future will hold if we keep on going down the same path. Urgently readable, this is an epoch-defining book. -- Matt Haig, 'The Book that Changed My Mind' * The Guardian *
'Clear, engaging and often dazzling' * The Telegraph *
'A masterly analysis' * Nature *
Relentless, angry journalism of the highest order. Read it and, for the lack of any more useful response, weep. . . .The article was a sensation and the book will be, too. -- Bryan Appleyard * The Sunday Times *
The most terrifying book I have ever read . . . a meticulously documented, white-knuckled tour through the cascading catastrophes that will soon engulf our warming planet. * The New York Times *
A must-read. It's not only the grandkids and the kids: it's you. And it's not only those in other countries: it's you. -- Margaret Atwood * Twitter *
I've not stopped talking about The Uninhabitable Earth since I opened the first page. And I want every single person on this planet to read it.
Riveting . . . Some readers will find Mr Wallace-Wells's outline of possible futures alarmist. He is indeed alarmed. You should be, too. * The Economist *
Skipping the scientific jargon and relaying the facts in urgent and elegant prose, the magazine editor crafts a stirring wake-up call to recognize how global warming will permanently alter every aspect of human life. -- Best Nonfiction Books of 2019 So Far * Time *
Wallace-Wells is an extremely adept storyteller, simultaneously urgent and humane . . . [he] does a terrifyingly good job of moving between the specific and the abstract. * Slate *
Enough to induce an honest-to-God panic attack ... The margins of my review copy of the book are scrawled with expressions of terror and despair, declining in articulacy as the pages proceed, until it's all just cartoon sad faces and swear words ... To read The Uninhabitable Earth is to understand the collapse of the distinction between alarmism and plain realism -- Mark O'Connell * The Guardian *
There is much to learn from this book. From media and scientific reports of the past decade, Wallace-Wells sifts key predictions and conveys them in vivid prose. -- David George Haskell * The Observer *
Brilliant ... At the heart of Wallace-Wells's book is a remorseless, near-unbearable account of what we are doing to our planet * The New York Times *
Not since Bill McKibben's "The End of Nature" 30 years ago have we been told what climate change will mean in such vivid terms. -- Fred Pearce * The Washington Post *
Everyone should stop what they're doing and read The Uninhabitable Earth by @dwallacewells. This is our future if we don't act now. -- Johann Hari * Twitter *
Wake up! Get educated - The Uninhabitable Earth by David Wallace Wells is a great place to start. -- Paris Lees * Vogue *
A book that's by turns alarming, terrifying and just downright bleak . . . a sustained piece of informed polemic. * The Evening Standard *
A very accessible and compelling read . . . a much more nuanced and a much more hopeful vision than you might expect. * The Irish Times *
Well-written, captivating, occasionally wry and utterly petrifying * i News *
In his gripping new book ... Wallace-Wells shocks us out of complacency' * Prospect *
If you read just one work of non-fiction this year, it should probably be [this] . . . What this book forces you to face is more important than any other subject you could be informing yourself about. -- David Sexton * The Evening Standard *
Exceptionally well researched and written. . . . This short, concise book pulls no punches. -- Mitch Friedman, executive director, Conservation Northwest
Yes, this book will scare you, but it will also prompt you to take action to ensure the damage we as humans have done to the planet is stopped. * Stylist, `Your guide to 2019's best non-fiction books' *
Most of us known the gist, if not the details, of the climate change crisis. And yet it is almost impossible to sustain strong feelings about it. David Wallace-Wells has now provided the details, and with writing that is not only clear and forceful, but often imaginative and even funny, he has found a way to make the information deeply felt. This is a profound book, which simultaneously makes me terrified and hopeful about the future, full of regret and new will. -- Jonathan Safran Foer
The Uninhabitable Earth hits you like a comet, with an overflow of insanely lyrical prose about our pending armageddon. -- Andrew Solomon
Just finished The Uninhabitable Earth by @dwallacewells. Everyone, everywhere, should read it. Can't remember the last time a book had such an impact on me. -- Rutger Bregman, author of 'Utopia for Realists' * Twitter *
Yes, this book will scare you, but it will also prompt you to take action to ensure the damage we as humans have done to the planet is stopped. * Stylist, Your Guide to the Best Books of 2019 *
On [Alexandra] Ocasio-Cortez's office bookshelf, near a picture of her late father and a photo of her with a local Girl Scout troop, two books nestle together in uneasy union. One is the Federalist papers. The other is The Uninhabitable Earth. * Time magazine profile on Alexandra Ocasio-Cortez *
If there are people around to write history books in the future, they will look back at the @ExtinctionR protestors and think they were the sanest people of our time. Read The Uninhabitable Earth by @dwallacewells if you don't know why. * Johann Hari, Twitter *
If we don't want our grandchildren to curse us, we had better read this book. -- Timothy Snyder, author of 'On Tyranny: Twenty Lessons from the Twenty-first Century'
David Wallace-Wells argues that the impacts of climate change will much graver than most people realize, and he's right. The Uninhabitable Earth is a timely and provocative work. -- Elizabeth Kolbert, author of 'The Sixth Extinction: An Unnatural History'
Trigger warning: when scientists conclude that yesterday's worst-case scenario for global warming is probably unwarranted optimism, it's time to ask Scotty to beam you up. At least that was my reaction upon finishing Wallace-Wells' brilliant and unsparing analysis of a nightmare that is no longer a distant future but our chaotic, burning present. -- Mike Davis
A lucid and thorough description of our unprecedented crisis, and of the mechanisms of denial with which we seek to avoid its fullest recognition. -- William Gibson
About David Wallace-Wells
---
David Wallace-Wells is deputy editor of New York magazine, where he also writes frequently about climate change and the near future of science and technology. In July 2017 he published a cover story surveying the landscape of worst-case scenarios for global warming that became an immediate sensation, reaching millions of readers on its first day and, in less than a week, becoming the most-read story the magazine had ever published -and sparking an unprecedented debate, ongoing still today among scientists and journalists, about just how we should be thinking, and talking, about the planetary threat from climate change.
Additional information
The Uninhabitable Earth: A Story of the Future by David Wallace-Wells
Book picture is for illustrative purposes only, actual binding, cover or edition may vary.
The book has been read, but looks new. The book cover has no visible wear, and the dust jacket is included if applicable. No missing or damaged pages, no tears, possible very minimal creasing, no underlining or highlighting of text, and no writing in the margins.