Valuation for Mergers, Buyouts, and Eestructuring By E.R. Arzac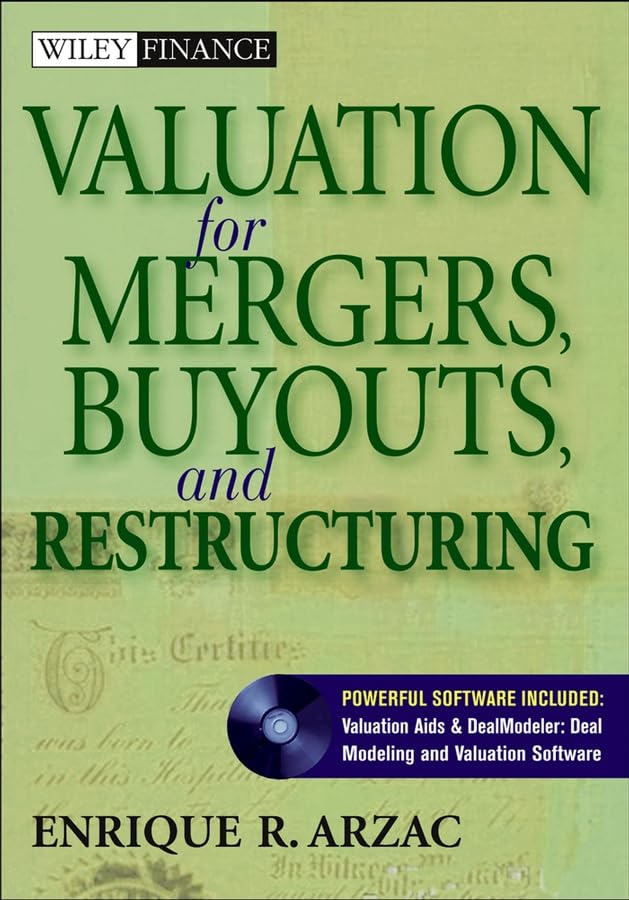 Valuation for Mergers, Buyouts, and Eestructuring
by E.R. Arzac
Uses practical valuation techniques to provide a synthesis of valuation theory as it applies to mergers, buyouts, and restructuring.
Only 1 left
---
Valuation for Mergers, Buyouts, and Eestructuring Summary
---
Valuation for Mergers, Buyouts, and Eestructuring by E.R. Arzac
When should you acquire a target or enter a new business? How do you go about structuring and valuing leveraged buyout transactions? What do you do id the application of the weighted average cost of capital approach is not correct? Answers to these commonly encountered valuation problems and more are given right here in this complete valuation toolkit for mergers, buyouts, and restructuring. Enrique Arzac, an internationally recognized authority on the subject, provides an up-to-date, comprehensive synthesis of current valuation theory and practice, including free cash flow valuation, financing and valuation of leveraged buyouts, real option analysis for entry and exit decisions, contract design to resolve disagreements about value, and the valuation of special offer structures.
Why buy from World of Books
Valuation for Mergers, Buyouts, and Eestructuring Reviews
---
"Specialist analysis of the situation in the US that combines both theory and practice..." (Long Range Planning, 38, 2005)
About E.R. Arzac
---
Enrique R. Arzac is Professor of Finance and Economics at the Columbia University Graduate School of Business, Director of the Merger, Buyouts, and Restructuring program for executives at Columbia Business School, and Co-Director of the Merger and Acquisitions program for executives at London Business School. He is the author of many academic articles in financial economics and has been consultant to corporations and financial institutions in North and South America and Europe. He is a director of the Adams Express Company, Petroleum and Resources Corporation and Credit Suisse Asset Management funds.
Table of Contents
---
PART ONE: THE TOOLS OF VALUATION.1. A User's Guide.2. Forecasting and Valuation of Free Cash Flows.3. The Equity Premium and the Cost of Capital.4. Metrics and Multiples.5. Economic Value Added.6. Valuation with Changing Capital Structure.7. Debt Capacity for Acquisition Financing.8. Valuing Entry and Exit Options.PART TWO: MERGERS, ACQUISITIONS AND BUYOUTS.9. Merger and Acquisitions.10. Deal Making with Differences of Opinion.11. Special Offer Structures: Price Guarantees and Collars.12. Acquisitions in Developed and Emerging Markets.13. Leveraged Buyouts.PART THREE: RECAPITALIZATIONS AND RESTRUCTURING.14. Recapitalization of Troubled Companies.15. Asset Restructuring.Appendix A: Financial Options.Appendix B: Valuation Aids Software.Appendix C: Modeling Mergers and Buyouts with DealModelerTM: User's Manual.Technical Notes.References.Index.
Additional information
Valuation for Mergers, Buyouts, and Eestructuring by E.R. Arzac
Book picture is for illustrative purposes only, actual binding, cover or edition may vary.
This is a used book - there is no escaping the fact it has been read by someone else and it will show signs of wear and previous use. Overall we expect it to be in very good condition, but if you are not entirely satisfied please get in touch with us.