Making Strategic Planning Work in Practice By Edited by Basil W. Denning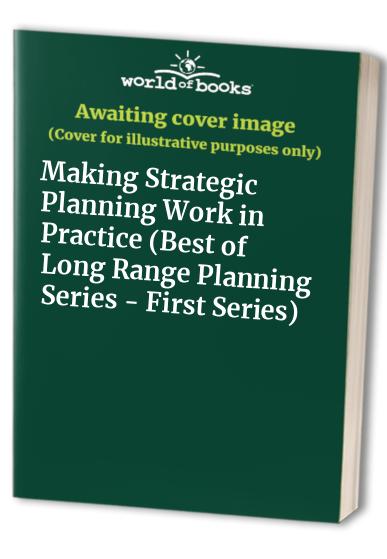 Making Strategic Planning Work in Practice
by Edited by Basil W. Denning
N/A
Only 0 left
---
Making Strategic Planning Work in Practice Summary
---
Making Strategic Planning Work in Practice by Edited by Basil W. Denning
Few large firms today fail to include planning as one of their key management systems. Yet the design, integration and successful implementation of strategic planning is a complex procedure. The articles in this volume, by focusing on the organizational process which a company uses to help managers develop effective strategy, offers guidance and warns of pitfalls to avoid. Three key areas are examined: 1. The design and structure of a planning process; 2. The development of a suitable framework for the integration of strategic planning within the company; and 3. The active implementation and execution of strategic plans. This is the third volume in the Best of Long Range Planning Series which brings together the best articles on a particular topic from the Long Range Planning journal so that readers wishing to study a specific aspect of planning can find an authoritative and comprehensive view of the subject, conveniently published in one volume.
Why buy from World of Books
Table of Contents
---
Introduction: Making strategic planning work in practice. Key Considerations in Designing a Planning Process. Pitfalls in multi-national long range planning. Managing diversity: strategy and control in diversified British companies. What kind of corporate planner do you need? How to integrate strategic planning into your management process. Specific Aspects and Relationships. Corporate environmental analysis in large U.S. corporations. The new marketing - developing long-term interactive relationships. Coordinating business strategy and technical planning. Creating a manufacturing strategy to suit your business. How information technology is transforming corporate planning. Classifying capital projects for top management decision-making. Executing Strategic Plans. Successfully implementing strategic decisions. Managing strategic change: an integrated approach.
Additional information
Making Strategic Planning Work in Practice by Edited by Basil W. Denning
Edited by Basil W. Denning
Best of Long Range Planning Series - First Series
Elsevier Science & Technology
Book picture is for illustrative purposes only, actual binding, cover or edition may vary.
This is a used book. We do our best to provide good quality books for you to read, but there is no escaping the fact that it has been owned and read by someone else previously. Therefore it will show signs of wear and may be an ex library book.