Dead End Feminism By Elisabeth Badinter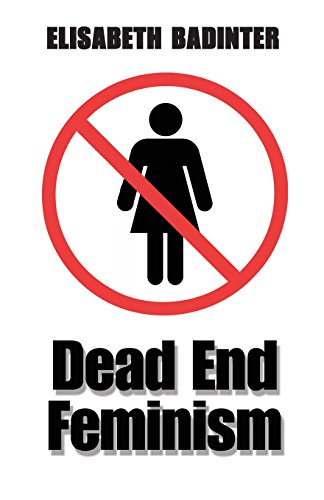 Dead End Feminism
Used Price
$30.99
inc. GST
Free Shipping in Australia
In this provocative new book, France's leading feminist theorist launches a broadside against the way in which feminism has evolved since the 1990s.
Only 4 left
---
Dead End Feminism Summary
---
Dead End Feminism by Elisabeth Badinter
In this provocative new book, France's leading feminist theorist launches a broadside against the way in which feminism has evolved since the 1990s. After the victories of the previous decades, during which women had made some real advances in social and political life, a new sensibility began to emerge in the 1990s which led to a reversal in the hierarchy of values.The cult of victimhood has become widespread and has affected feminism. Women are viewed as defenceless and oppressed, social violence and sexual violence are treated as the same and a finger is pointed at the guilty one: man in all his guises. But by conflating real and false victims, feminism runs the risk of misunderstanding the battles that need to be waged and of losing all credibility with the younger generation, which doesn't see things see things this way. Preoccupied by putting men on trial, the feminism of the last few years has reactivated old stereotypes and left behind the very battles that have long been its raison d'etre - this, argues Badinter, is a dead end. A huge bestseller in France, this book will be essential reading for anyone interested in the changing relations between the sexes and our ways of thinking about sex and gender today.
Why buy from World of Books
Dead End Feminism Reviews
---
"Badinter's incisive essay appears quite compelling when set against the alternative: a diffuse, muddled culture of resentment." Times Literary Supplement "This book is an event. Elisabeth Badinter is one of the intellectuals who has worked tirelessly to build the theoretical edifice which has nourished French feminism. For thirty years she has been part of the women's liberation movement, without ever belonging to any of its cliques. Now she protests forcefully against the way it has evolved." L'Express "In Dead End Feminism, Elisabeth Badinter attacks the new moral order that certain proponents of feminism have claimed to establish in the last couple of decades. Having provided French feminism with its most solid intellectual foundations, she knows what she's talking about. Parity, pornography, prostitution, sexual harassment: Badinter carries out a veritable demolition of received ideas in a vigorous and well argued work." Le Figaro "With her cutting intelligence and devastating turn of phrase, Elisabeth Badinter will make the guardians of the faith grit their teeth. She runs the risk of betraying her camp; but it is her camp that has betrayed the cause of emancipation, which is the real concern of both women and men." Le Nouvel Observateur
About Elisabeth Badinter
---
E. Badinter, Philosopher and Writer Translated by J.Borossa
Table of Contents
---
The Turning Point of the 1990s. 1. The New Discourse on Method. The logic of amalgamation. Philosophical malaise. 2. Omissions. The unthinkable. Women's violence. The abuse of power. 3. Contradiction. Sexual reality. The myth of a domesticated sexuality. The model of female sexuality. 4. Regression. When everyone thinks they are the victim of the other. When the law of difference reigns. The trap. Notes. Index.
Additional information
Dead End Feminism by Elisabeth Badinter
Book picture is for illustrative purposes only, actual binding, cover or edition may vary.
This is a used book - there is no escaping the fact it has been read by someone else and it will show signs of wear and previous use. Overall we expect it to be in very good condition, but if you are not entirely satisfied please get in touch with us.