The Flip-Flop Club Star Struck By Ellen Richardson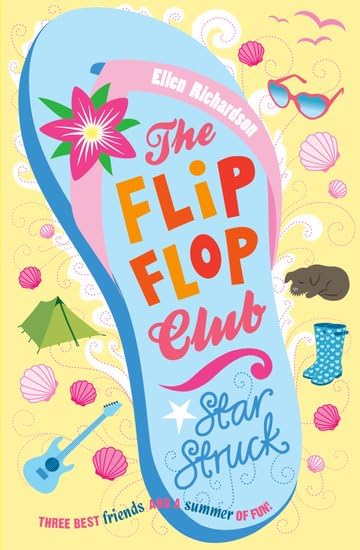 The Flip-Flop Club Star Struck
by Ellen Richardson
The stage is set, the crowds are gathering, and the microphones are on ... It's time for the Sunday Island Music Festival! Elly, Tash, and Sierra have formed a band and are entering a competition to perform onstage with the top-secret headline act. But the girls discover that the festival is in big trouble - and it's up to them to save it!
Only 0 left
---
The Flip-Flop Club Star Struck Summary
---
The Flip-Flop Club Star Struck by Ellen Richardson
Elly, Tash, and Sierra are back for another Flip-Flop Club adventure! It's time for the Sunday Island Music Festival, and stages, tents, and ice-cream stands cover Melody Meadows. The headline act is being kept top-secret, so when the three girls discover that it's none other than their favourite girl band, they're buzzing with excitement! Especially because the band will be performing on stage with the winner of the Tomorrow's Stars competition, which Elly, Tash, and Sierra have entered! If the girls can just get their dance moves in time and their singing in tune, could they be up there on stage with the stars? But all is not well at the festival. There's a big problem that could ruin the whole thing for everyone, and only Elly, Tash, and Sierra know about it. Will they be able to help before it's too late?
Why buy from World of Books
The Flip-Flop Club Star Struck Reviews
---
The captivating Flip-Flop Club books combine mystery, comedy, friendship and lashings of summer sunshine in lovely stories that are ideal for girls aged nine and over ... Richardson's imaginative stories positively buzz with action, dialogue, mystery and adventure ... who could ask for anything more. Lancashire Evening Post I would definitely recommend it to my mates! Mollie, age 13 Sierra's my favourite because she's like me! Emily, age 10 Three best friends making mischief - I love it! Molly, age 9
About Ellen Richardson
---
Ellen Richardson grew up in Missouri, USA. Her long, hot summer holidays were full of barbeques, homemade ice cream, watermelon and twilight evenings spent catching lightning bugs in order to let them go and watch them spiral into the air like sparks from a bonfire. All the time she was growing up, she longed to see the ocean, and finally did on a school trip when she was the same age as Elly, Tash, and Sierra. Ellen now lives in England with her family, and every summer, they spend as much time as they can by the sea. Her love for British islands is a big part of the joy of writing the Flip-Flop books. On her first trip to the Isles of Scilly, she fell in love with the small whiskery dog of one of the boatmen: a proper seadog who trotted around the boat with a cocky assurance that charmed her. Ellen has been waiting ever since for a chance to write about Mojo!
Additional information
The Flip-Flop Club Star Struck by Ellen Richardson
Book picture is for illustrative purposes only, actual binding, cover or edition may vary.
This is a used book - there is no escaping the fact it has been read by someone else and it will show signs of wear and previous use. Overall we expect it to be in very good condition, but if you are not entirely satisfied please get in touch with us.