Oh My God, What a Complete Aisling By Emer McLysaght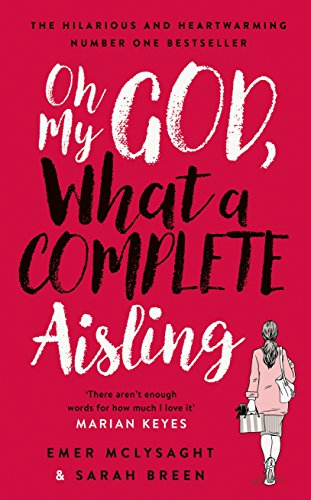 Oh My God, What a Complete Aisling
by Emer McLysaght
N/A
Only 1 left
---
Oh My God, What a Complete Aisling Summary
---
Oh My God, What a Complete Aisling by Emer McLysaght
Everyone knows an Aisling:
Loves going Out Out, but secretly scared of liquid eyeliner.
Happy to drink the bar dry, but will bring her own coaster if necessary.
Would rather die than miss a cooked hotel breakfast, but can calculate the Points in a Snickers at fifty paces.
Aisling's the girl with a heart of gold, but a boyfriend who still hasn't made a peep about their Big Day even after seven years.
But then a disastrous romantic getaway shows Aisling that it's time to stop waiting around and leave John behind for the bright lights of Dublin. After she's wailed her way through Adele's Greatest Hits, that is.
Between glamorous new flatmates, a scandal at work and finding herself in a weird love square, Aisling is ready to take on the big city. So long as she has her umbrella with her.
Why buy from World of Books
Oh My God, What a Complete Aisling Reviews
---
Her voice leaps off the page . . . it's this depth of character and eye for detail that makes comparisons with Helen Fielding's Bridget Jones series spot-on * Independent *
This hilarious and heart-warming book had us alternately laughing and crying. The year's funniest book to date * Hello *
Brilliant. You laugh, you cry, you miss home, and you can't put it down * Sunday Independent *
It's a novel that simply roars along, full of proper LOL moments as well as real poignancy. Aisling is the perfect heroine for our chaotic times. * Sarra Manning, Red Online *
This hilarious Irish bestseller, which came to life via a viral Facebook page, follows country girl Aisling as she moves from her hometown to big city living in Dublin. She's sweet, a little clueless but a force to be reckoned with * Buzzfeed *
You'll laugh, you'll cry, you'll want to invest in a shumper (though not for going OUT OUT) and as soon as you've finished it, you'll want to reread this hilarious novel, which will also get you in the right feels * Red Online *
Oh lads! This book! There aren't enough words for how much I love it. It's feicin' HILAIRE and very touching -- Marian Keyes
Funny and touching . . . we fell in love with the heroine of Oh My God What a Complete Aisling, about a small-town girl in Dublin * Good Housekeeping *
This quickfire tragi-comedy is bursting with clever one-liners and acute observations * Sunday Express *
Both Aisling and the novel have a great big thumping heart -- Eithne Shortall * Sunday Times *
A runaway success . . . it's an uplifting romcom that combines elements of Bridget Jones and Four Weddings with Father Ted -- Kirsty Lang * BBC Radio 4 Front Row *
My unofficial autobiography -- Aisling Bea
Aisling is an absolute gem of a character and this book is a breath of fresh air * The Sun *
With witty dialogue, sharp observations and piles of humour, this is a riot of a read, but with plenty of depth, too - we found ourselves choking up as well as, erm . . . peeing with laughter * Heat, The Funny One *
Excellent craic that'll have you shedding a tear as well as laughing your socks off * Fabulous Magazine *
It's sweet and it's funny and it's moving and it's perfect * The Pool *
An utter ray of sunshine * Red *
Hilarious . . . A well-crafted tale with warmth and emotion * Woman Magazine *
This is a tale of a young woman from the Irish countryside and her travails in Dublin will have you laughing * i Newspaper *
Country bumpkin Aisling carries this perky, big-hearted romcom. Powered by cracking one-liners, it'll have you chortling through any amount of airport delays * Event Magazine *
I've spent the last forty-eight hours laughing my head off at this novel . . . but it's not just comic, there's a real heart to it and it's often very moving -- John Boyne
This book is the funniest, warmest, loveliest book I've read in so long. The characters are so hilarious and relatable, I laughed non-stop and genuinely didn't want it to end -- Lucy Vine
One of my fave novels of 2017. It really does remind me of Marian Keyes -- Louise O'Neill
You'll laugh. A lot. But you should also get the tissues ready * Irish Post *
If I had a book of the year award for 2017 it would go to Oh My God, What a Complete Aisling . . . It left me giggling at some pages and sobbing at others -- Sinead Crowley
A book so good, so funny, that it made two strangers talk to each other on a London tube train -- Sarra Manning * Red *
One of the funniest books I've read in twenty years -- Paul Howard
I had expected this delightful book to be funny and it really, really is. But I never expected the feels. I didn't expect big fat tears to roll down my country face -- Tara Flynn * Irish Times *
A loving ode to a certain type of Irish woman that's hilarious, comforting and warm. A hot water bottle of a book, if you will * The Daily Edge *
Sweet, charming, funny and poignant * The Journal *
Every Irish person knows an Aisling, and there is nothing more delightful than recognising something familiar being projected back at you through a novel. While the books are both extremely funny, they also reflect a period in Irish culture and centre around a heartwarming story for Aisilings of the ages * Image Magazine *
About Emer McLysaght
---
Emer McLysaght and Sarah Breen conceived the character of Aisling in their sitting room in 2008, when they began to observe the many traits, characteristics and quirks of a very particular type of Irish girl; one they identified around them and one they identified with.
Oh My God, What a Complete Aisling was an instant sensation in their native Ireland and the Number One bestselling adult fiction title of 2017.
Emer McLysaght is the former editor of The Daily Edge and has worked extensively in journalism and radio.
Sarah Breen is a journalist whose work has appeared in Stellar, Image, U, the Irish Independent and The Gloss.
Additional information
Oh My God, What a Complete Aisling by Emer McLysaght
Book picture is for illustrative purposes only, actual binding, cover or edition may vary.
This is a used book - there is no escaping the fact it has been read by someone else and it will show signs of wear and previous use. Overall we expect it to be in very good condition, but if you are not entirely satisfied please get in touch with us.