Twilight of the Idols By Friedrich Wilhelm Nietzsche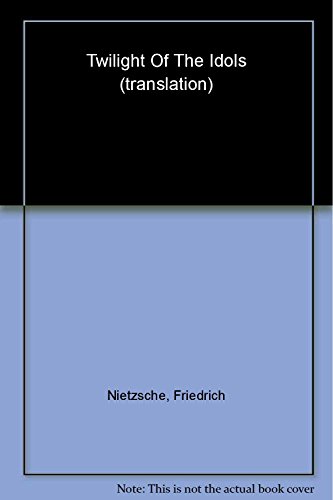 Twilight of the Idols
Used Price
$21.99
inc. GST
Free Shipping in Australia
In the WORLD'S CLASSICS series, an annotated edition of Friedrich Nietzsche's polemic 'Twilight of the Idols', first published in 1889. Intended as an introduction to his philosophy as a whole, the work targets all the unexamined prejudices which Nietzsche considers to have been masquerading as truths for millennia.
Only 2 left
---
Twilight of the Idols Summary
---
Twilight of the Idols: Or, How to Philosophize with the Hammer by Friedrich Wilhelm Nietzsche
'Anyone who wants to gain a quick idea of how before me everything was topsy-turvy should make a start with this work. That which is called idol on the title-page is quite simply that which was called truth hitherto. Twilight of the Idols - in plain words: the old truth is coming to an end...' Nietzsche intended Twilight of the Idols to serve as a short introduction to his philosophy, and as a result it is the most synoptic of all his books. Continuing in the spirit of its immediate predecessors On The Genealogy of Morals and The Wagner Case, it is a masterpiece of polemic, targeting not only 'eternal idols' like Socratic rationality and Christian morality but also their contemporary counterparts, as Nietzsche the 'untimely man' goes roaming in the gloaming of nineteenth-century European culture. He allies philosophy with psychology and physiology, relentlessly diagnozing the symptoms of decadence, and his stylistic virtuosity is such that the sheer delight he takes in his 'demonic' mischief-making communicates itself on every page. A brilliant new translation, this edition provides detailed commentary on a highly condensed and allusive work.
Customer Reviews - Twilight of the Idols
---
Why buy from World of Books
About Friedrich Wilhelm Nietzsche
---

Duncan Large is Lecturer in German at the University of Wales, Swansea.

Table of Contents
---
1. Maxims and Barbs; 2. The Problem of Socrates; 3. "Reason" in Philosophy; 4. How the "Real World" Finally Becomes a Fable; 5. Morality as Anti-Nature; 6. The Four Great Errors; 7. The "Improvers " of Humanity; 8. What Germans Lack; 9. Reconnaissance Raids of an Untimely Man; 10. What I Owe the Ancients; 11. The Hammer Speaks
Additional information
Twilight of the Idols: Or, How to Philosophize with the Hammer by Friedrich Wilhelm Nietzsche
Friedrich Wilhelm Nietzsche
Book picture is for illustrative purposes only, actual binding, cover or edition may vary.
This is a used book - there is no escaping the fact it has been read by someone else and it will show signs of wear and previous use. Overall we expect it to be in very good condition, but if you are not entirely satisfied please get in touch with us.