Plumbing: Mechanical Services Book Two By G. J. Blower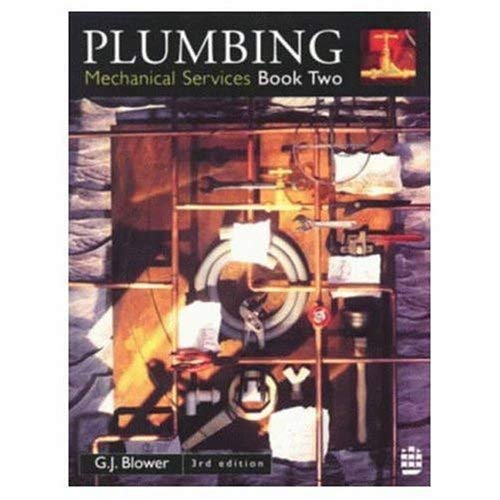 Plumbing: Mechanical Services Book Two
This text builds on the basic principles of technology and practice dealt with in Book 1 to broaden students' knowledge. This edition has been revised to cover NVQ level 3 requirements and features material on gas work, electrical work and ground sanitary work and appliances.
Only 1 left
---
Plumbing: Mechanical Services Book Two Summary
---
Plumbing: Mechanical Services Book Two by G. J. Blower
First published in 1982, Plumbing: Mechanical Services Book 2, together with its' sister volume Book 1, is well-established as an essential guide for all students who require a sound understanding of plumbing principles and processes. Updated and revised to meet the new NVQ plumbing requirements, the third edition includes new material on gas work, oil supply boilers, electrical work and above ground sanitary pipework and appliances. The two-volume set uses both traditional and practical applications of the subject to enable the reader to obtain the skills required to become a successful plumber. This book is a key course text for NVQ mechanical engineering services: plumbing level 2 (C&G 6009). It is also useful supplementary reading for NVQ level 3 gas services installation and maintenance (C&G 6006), mechanical engineering services: heating and ventilation (C&G 6008), plumbing craft (C&G 6030) and heating and ventilation fitting craft (C&G 6040).
Why buy from World of Books
Plumbing: Mechanical Services Book Two Reviews
---
'This is an excellent publication ... I would recommend this publication as a training and reference book to all those involved in our craft.' Plumbing Magazine
Table of Contents
---
Foreword. Preface. Acknowledgements. 1.Mechanical and special tools. 2.Welding and brazing processes. 3.Gas installations. 4.Cold water supply. 5.Hot water supply. 6.Hot water heating systems. 7.Sanitary appliances. 8.Sanitary pipework. 9.Drainage materials, fittings and methods of jointing. 10.Underground drainage systems. 11.Sheet metal roof weatherings. Appendix 1 Assignments. Appendix 2 Colour coding of pipelines. Appendix 3 BS 1192 Piped and ducted services. Appendix 4 Electrical installation. Appendix 5 National Vocational Qualifications. Index.
Additional information
Plumbing: Mechanical Services Book Two by G. J. Blower
Pearson Education Limited
Book picture is for illustrative purposes only, actual binding, cover or edition may vary.
The book has been read but remains in clean condition. All pages are intact and the cover is intact. Some minor wear to the spine.