Market Driven Strategy By George S. Day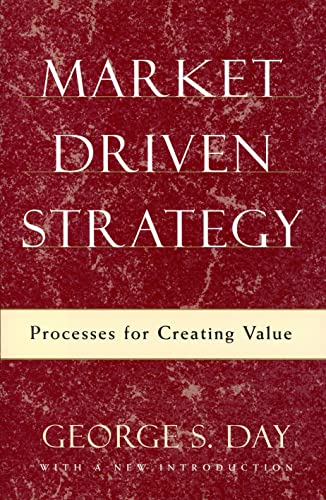 Market Driven Strategy Summary
---
Market Driven Strategy: Processes for Creating Value by George S. Day
In 1990, George Day coined the phrase 'market-driven' and revolutionised the way companies worldwide think about business. Day reminds us that every employee in every company needs to always consider the market, not just the marketing or sales departments. Day provides a step-by-step guide to a proven five-step system for becoming market-driven: select markets, differentiate products, choose communication and distribution channels, decide on the scale and scope of support activities, and select areas for future growth. This pioneering volume, enhanced by examples from Day's work with such world-renowned companies as General Motors, Marriott, Kodak, General Electric, H.J.Heinz, IKEA, Nestle, and 3M, is the essential guide to this proven strategic approach.
Why buy from World of Books
Market Driven Strategy Reviews
---
Charles M. Lillis Chairman and CEO, Mediaone Group The book is content-rich and should be invaluable to executives striving to become "market-driven." The guidance offered on how to externalize, so that true superiority in producing customer value results, is extraordinarily well packaged. I'll strongly recommend the book to my fellow practitioners.
Dave Davis Manager, Business Research, Dow Chemical U.S.A. George Day provides very important insights into what steps are necessary for a company to be truly market-driven. This book is obligatory reading for anyone involved in developing competitive strategies.
Philip Kotler S.C. Johnson & Son Distinguished Professor of International Marketing, Northwestern University, author of Kotler on Marketing George Day has produced a wonderful synthesis of the best thoughts we have on building and implementing a market-driven strategy. I predict that managers will keep this book on their nearest bookshelf and reach for it many times during the year for inspiration and guidance.
Vincent P. Barabba General Manager, Corporate Strategy and Knowledge Development, General Motors Corporation For those who wish to base their decision making on what customers really need, the concepts found in Market Driven Strategy have the right level of customer focus, attention to external environmental factors, and the right mix of theory and practical experience.
David K. Hurst Executive Vice President, Fedmet, Inc. By integrating the latest conceptual frameworks with helpful practical examples, Professor Day has created a most useful bridge between theory and practice. An excellent guide to a comprehensive overhaul of an organization's marketing strategy
About George S. Day
---
George S. Day holds the Geoffrey T. Boisi Professorship in the Department of Marketing and is Director of the Huntsman Center for Global Competition and Innovation at the Wharton School of the University of Pennsylvania. Professor Day has written more than 125 articles for leading marketing and management journals and fourteen books including The Market Driven Organization, the companion volume to this book. A consultant to leading corporations worldwide. Day is the recipient of the Charles Coolidge Parlin Award for his leadership in the field of marketing and the Paul D. Converse Award for outstanding contributions to the development of the science of marketing. He lives in Bryn Mawr, Pennsylvania.
Table of Contents
---

Contents

Introduction

Preface

PART ONE

Strategic Choices in Competitive Markets

1. Managing in Turbulent Markets

* Choices and Challenges in Turbulent Markets

* Successful Market Management

* When Strategy Matters

2. Strategies for Competing

* Business Definition

* Strategic Thrust

* Performance Objectives

* Attributes of a Sound Strategy

* The Payoff from a Sound Strategy

PART TWO

Processes for Developing Market-Driven Strategies

3. Making Strategic Decisions

* Approaches to Strategy Development

* Adaptive Planning: Integrating the Approaches

* Plans That Can Be Implemented

4. Adaptive Planning

* Situation Assessment

* Real-Time Issues Management

* Negotiating Objectives and Resources

* Completing the Planning Process

PART THREE

Assessing the Competitive Position

5. Understanding Competitive Markets: Their Structure and Attractiveness

* Defining the Market

* Finding Attractive Segments

* Market Attractiveness

* Choosing the Market Arena and Target Segment

6. Assessing Advantages

* The Concept of Competitive Advantage

* Customer-Oriented Assessments

* Competitor-Centered Assessments

* Integrated Assessments of Competitive Advantage

PART FOUR

Choosing Arenas and Advantages

7. Deciding How to Compete

* Strategies for Competing

* Strategies for Enhancing Customer Value

* Cost Competitive Strategies

* Changing the Competitive Strategy

8. Deciding Where to Compete: Focusing and Sustaining the Advantage

* Segmentation Focus Strategies

* Choosing the Scope of Market Coverage

* Sustaining the Advantage

* Defending the Advantage

* Lessons for Strategy

9. Gaining Access to Markets

* Channel Design Decisions

* The Turbulent Channel Environment

* Developing a Channel strategy

* Navigating the Turbulent Channel Environment

10. Responding to Global Markets

* Assessing the Extent of Globalization

* Choosing Strategies for Competing Globally

* Deciding How to Participate

* Implementing Global Strategies

* Meeting the Global Challenge

PART FIVE

Renewing the Strategy

11. Charting New Directions: Conditions for Successful Renewal
par

* Staying Close to the Market

* Setting the Strategic Direction

* Sticking to the Knitting

* Innovating under Time Pressure

* Ensuring Organizational Support

* The Conditions for Success

12. Setting the Growth Direction

* Growth Objectives

* Strategic Purpose

* Growth Path

* Method of Participation

* Toward a Strategic Guidance System

PART SIX

Issues in Implementing Market-Driven Strategies

13. Choosing Market Strategies

* The Process of Valuing Market Strategies

* Why Value Analysis Is Not Strategy Analysis

* Misleading Signals from Value Analysis

* Finding a Role for Value Analysis

14. Building a Market-Driven Organization: The Key to Competing Effectively

* Perspectives on Market-Driven Organizations

* Becoming Market-Driven

* Toward Market-Driven Strategies

Notes

Index
Additional information
Market Driven Strategy: Processes for Creating Value by George S. Day
Book picture is for illustrative purposes only, actual binding, cover or edition may vary.
This is a used book - there is no escaping the fact it has been read by someone else and it will show signs of wear and previous use. Overall we expect it to be in very good condition, but if you are not entirely satisfied please get in touch with us.