Genesis By Gerald West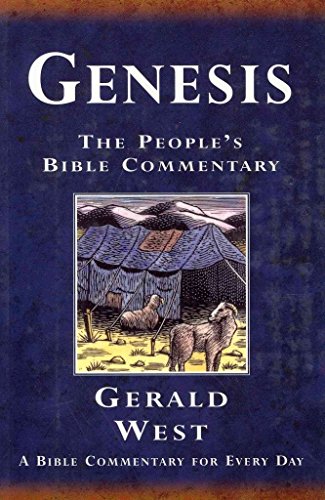 Used Price
17,49 $
inc. GST
Free Shipping in Australia
Covers issues of authorship, background and more. This title deals with questions of cosmic significance, and provides the unfolding tale of one particular family full of human experiences and emotions.
Only 4 left
---
Genesis Summary
---
Genesis: A Bible Commentary for Every Day by Gerald West
Each PBC volume divides the Bible text into sections that are covered in a series of two page reflections, with concluding prayer or point for reflection. An introductory section covers issues of authorship, background and so on, including a list of books for further study. The book of beginnings frames our reading of the whole Bible and shapes so much of our theological thinking. It is an intensely theological book dealing with questions of cosmic significance, yet it is also the unfolding tale of one particular family full of human experiences and emotions. In his commentary, Gerald West invites us to explore all these stories afresh and listen with open ears, trusting that, as we do so, we will hear the voice of God. The accessible format and layout opens up the scholarship while searching for ways to take the message of Genesis into our daily lives.
Customer Reviews - Genesis
---
Why buy from World of Books
Genesis Reviews
---
Review from: Fransiscan magazine - January 2008 If you're tired of reading William Barclay for the umpteenth time ,and Tom Wright doesn't quite speak on your wavelength, then this series of commentaries may be just the thing for you. Scholarship and devotion are here, lots to ponder and chew upon, and just enough for a day's reading to get you interested but not discourage you with endless detail or mystify you with obscure Greek or Hebrew terms. It would, however, be a disciplined person who restricted themselves to just the day's reading, taking around three months to complete each book. These two volumes (Genesis and Acts), together with others on Isaiah and Daniel, bring to completion the People's Bible Commentary series in 32 volumes covering all the books of the Old and New Testaments. Each day a short reading of typically five to 15 verses is given two sides of comment and reflection. The authors are recognised biblical scholars from around the world - Gerald West (Genesis), for example, is a South African professor from the University of Natal. The comments do not shy away from critical issues, but are aimed at a non-academic audience, with an underlying reverence for the scriptures that you would expect from the publishers BRF. Each day's reading ends with a short prayer or reflection. The price is very reasonable, and there are even vouchers in the back so that for every four volumes you buy you can send off for one extra volume free. Even the covers are tastefully designed and would make an aesthetic contribution to any bookshelf. For the thinking man or woman in the pew: altogether, a highly recommended series. Reviewed by Nicholas Alan SSF -- Nicholas Alan SSF The Franciscan
About Gerald West
---
Dr Gerald West teaches Old Testament/Hebrew Bible and African Biblical Hermeneutics at the University of KwaZulu-Natal, South Africa. He is also Director of the Ujamaa Centre for Community Development and Research. His most recent publication is The Academy of the Poor: Towards a Dialogical Reading of the Bible (Cluster Publications, 2003).
Additional information
Genesis: A Bible Commentary for Every Day by Gerald West
The People's Bible Commentary
BRF (The Bible Reading Fellowship)
Book picture is for illustrative purposes only, actual binding, cover or edition may vary.
This is a used book - there is no escaping the fact it has been read by someone else and it will show signs of wear and previous use. Overall we expect it to be in very good condition, but if you are not entirely satisfied please get in touch with us.