Intuition By Gina Giacomini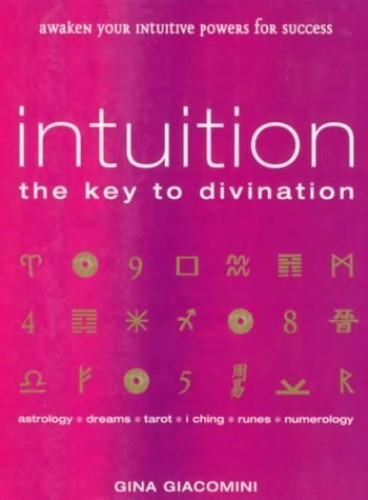 Intuition
by Gina Giacomini
The difference between a good tarot reader and a brilliant one is the degree to which they use intuition during their interpretation of the cards. This book shows you how to develop your own, specifically for use in astrology, tarot, numerology, I Ching, the runes and dream interpretation.
Only 2 left
---
Intuition Summary
---
Intuition by Gina Giacomini
Divination has been practised for thousands of years as an art that uses images, patterns and symbols to reveal what is hidden. Rather than foretell the future, most divination techniques including consultation of the famous Oracle at Delphi, offer insight into what is behind a given situation and suggest strategies that can be used to deal with it most effectively. Among the countless methods of divination used in all corners of the world, the common thread that unites them all is the ability to access the intuition, the sixth sense that sheds light and clarity where hitherto only confusion may have prevailed. Intuition: The Key to Divination is the first book to focus on how you can develop your intuition specifically for use with the 6 major systems of divination that are popular today. Gina Giacomini explains that gaining insight into your future does not require long treks to mountain oracles or the costly services of a psychic consultant. Instead, you need only cultivate a connection to your intuition and a working knowledge of an age-old system of "seeing". In this fascinating, practical & original book, you can discover: - the origins, philosophy and tools of the trade of Astrology, Dreams, Tarot, Numerology, I Ching and the Runes - how to access your personal interpreter - your intuition - so that you can delve into this ancient wisdom on your own & become your own seer - techniques for looking within rather than without for answers to your most pressing problems in any area of your life including health, relationships, finances, career and home life - strategies that will allow you to identify and transform whatever is blocking you from realizing your true potential - a deeper awareness of your soul's purpose or simply a focus for the day
Why buy from World of Books
About Gina Giacomini
---
Gina Giacomini is an intuitive, author, teacher and motivational speaker who has been conducting intuition seminars to individuals, groups and businesses for the last 14 years. Gina Giacomini has come to view intuition as a skill that should be utilized daily. Her practical step-by-step approach allows everyone easy access to their intuition. Gina has two children and lives in Coloma, California. and workshops
Additional information
Intuition by Gina Giacomini
Book picture is for illustrative purposes only, actual binding, cover or edition may vary.
This is a used book - there is no escaping the fact it has been read by someone else and it will show signs of wear and previous use. Overall we expect it to be in very good condition, but if you are not entirely satisfied please get in touch with us.