Happy Mum, Happy Baby By Giovanna Fletcher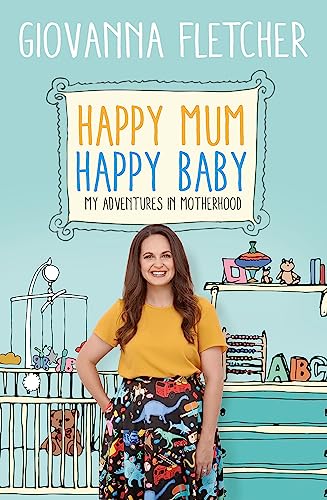 Happy Mum, Happy Baby Summary
---
Happy Mum, Happy Baby: My adventures into motherhood by Giovanna Fletcher
CONTAINS A BRAND NEW CHAPTER

Sunday Times Number One Bestseller Happy Mum Happy Baby is now a Number One podcast.
A positive and uplifting book about what it is to be a mother and all things mum and baby by Celebrity Mum of the Year and phenomenally popular vlogger, author, TV presenter and actress Giovanna Fletcher.
Being a mum is an incredible journey, a remarkable experience that changes how we look, how we feel, who we are. As mothers we are strong, protective, proud. We feel a love like no other.
But being a parent can be hard too. It challenges us physically, mentally, emotionally. There are the days where just managing to fit a shower in amidst the endless feeding, entertaining young children and surviving on a lack of sleep feels like an achievement. With so many people ready to offer 'advice' on the best way to parent, it can feel like you are getting it all wrong.
Since Giovanna and her husband Tom Fletcher have had their sons Buzz and Buddy, they have been sharing glimpses of their family life. With an infectiously positive outlook and happy take on all things mum-related, Giovanna has developed a following of fellow parents and mums-to-be.
This is not a book about how to have the perfect family experience - Gi would be the first to admit she is winging it just as much as the rest of us - instead it is an honest, upbeat and incredibly personal account of her own experience of having a family. In Happy Mum, Happy Baby Giovanna shares her own journey through parenthood and in doing so, she looks at what it is to be a mother today, encourages you to be confident in yourself as a parent and celebrates how putting a focus on being a happy and confident mum can really make for a happy baby.
Why buy from World of Books
Happy Mum, Happy Baby Reviews
---
Her trademark humour and honesty remind us that positivity is key to making it as a mum... Giovanna knows there's no perfect way to parent - and that's why we will always love her! * OK! *
Whether you have little ones of your own or not, this honest, touching, wise and at times very funny book from mum, McFly wife and author Gi is a joy. Being this honest takes guts, and she does it with dignity, grace and incredible warmth * Heat *
An honest, positive and uplifting story that will leave you with a warm heart. * OK! *
About Giovanna Fletcher
---
Giovanna grew up in Essex with her Italian dad Mario, mum Kim, big sister Giorgina and little brother Mario, and with family playing such a big part of her life it was only natural that she had always dreamed of having children of her own.
Giovanna and her husband Tom Fletcher have two young sons Buzz and Buddy and share glimpses of their family life through their YouTube channels (giovannasworld) and on their social media (twitter: @mrsgifletcher, facebook: MrsGiFletcher and Instagram: mrsgifletcher).
A bestselling novelist, actress, TV presenter, vlogger and blogger, Giovanna is most importantly a mum and her pledge to spread positivity wherever she goes has earned her a vast following.
Additional information
Happy Mum, Happy Baby: My adventures into motherhood by Giovanna Fletcher
Hodder & Stoughton General Division
Book picture is for illustrative purposes only, actual binding, cover or edition may vary.
This is a used book - there is no escaping the fact it has been read by someone else and it will show signs of wear and previous use. Overall we expect it to be in very good condition, but if you are not entirely satisfied please get in touch with us.