Black Belt Fitness for Life By Grandmaster Tae Sun Kang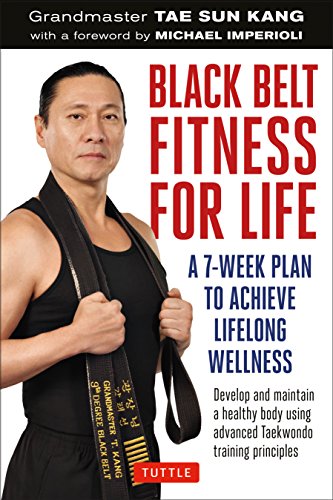 Black Belt Fitness for Life
by Grandmaster Tae Sun Kang
N/A
Only 0 left
---
Black Belt Fitness for Life Summary
---
Black Belt Fitness for Life: A 7-Week Plan to Achieve Lifelong Wellness by Grandmaster Tae Sun Kang
"There's something to martial arts and especially the way Grandmaster Kang teaches it that addresses not just the body and fitness, but addresses the mind and addresses your approach to life." -from the foreword by Michael Imperioli, award-winning actor In Black Belt Fitness for Life, Grandmaster Tae Sun Kang applies his four decades of experience to guide you through an innovative method of fitness using Taekwondo principles. Whether you're a beginner or veteran to stretching and exercise, you can easily follow Grandmaster Kang's 7-week routine based on the belt system of Taekwondo, an ancient Korean martial art. With each week of the regimen, you will learn new skills and techniques that culminate in the mastery of the techniques necessary to continue exercising and eating right for life. Through the use of Taekwondo stretches and movements, this black belt "Combined Dynamic Stretching" method will improve your flexibility, balance, stamina and strength, as well as your focus and mental health. You'll stretch multiple parts of your body at the same time, improving circulation and building mental strength while warming up to minimize injuries. As part of his holistic approach to health and fitness, Grandmaster Kang also outlines an eating plan designed to help you lose weight naturally. Unlike extreme diets and workouts that emphasize drastic results quickly, the Grandmaster's approach is a balanced, easy-to-follow, and-most importantly-realistic plan designed for your life. Friend and longtime student of Grandmaster Kang, actor Michael Imperioli wrote the foreword for the book and shares his experience in training under Grandmaster, as well as the benefits he has received in following Grandmaster's philosophy.
Why buy from World of Books
Black Belt Fitness for Life Reviews
---
"Grandmaster Kang's unique approach to fitness is refreshing. His stretching exercises based on martial arts movements are so much more engaging than typical workout routines. Anyone looking for motivation to begin exercising will benefit from this book." -Devin Alexander, New York Times bestselling author; chef of NBC's The Biggest Loser and Host of America's Chefs on Tour on PBS
"Grandmaster Kang's approach to fitness and to life is one in the same-a balance of exercise, eating well, having fun, and building mental strength. Anyone looking to improve their well being would benefit greatly from reading this book." -Shane McMahon, Chairman YOU On Demand and former WWE Executive Vice President of Global Media
"In these pages you will find the essence of Grandmaster's teachings, philosophy, and workout programs all of which are transformative, not only from a physical standpoint, but more importantly, from a mental standpoint." -Andrew Federici, Webby Award Winner and T. Kang Tae Kwon Do student, 2nd Dan Black Belt
"My favourite part of the book is how it makes getting fitter seem so reachable and realistic for everyone out there through making simple changes. This inspiration is needed in any fitness guide, as starting is always the hardest part. A great and easy read, full of very useful advice for a lifestyle change that will no doubt make you into a fitness Black belt." - Martial Arts Lab
"As someone who enjoys the physical nature of Taekwondo, as well as triathlons, mountaineering and 24 hour endurance races, Grandmaster Kang has helped me strengthen not only my body but my mental capacity as well. It is only once you have experienced the guidance in life that he brings that you start to learn what you are really capable of. From a well renowned lineage in the martial arts, he has the unique ability to bring out the best in you." -Alexander (Alf) Garner, CEO Faber Global North America
"This book is really well organized, very readable, and indeed, even makes you want to try out the stretches and exercises. It really does motivate you to at least try out what the author is saying." - Jaredd Wilson, Martial Thoughts
"I've learned the importance of stretching and exercising on a regular basis from my experience as a healthcare professional for the last 17 years. Grandmaster Kang's fitness regiment is not only a great way to stay in shape but can also help prevent injuries, especially as we age." -Dr. John R. Gehnrich D.C.
"The T. Kang Taekwondo website states 'A tradition of excellence since 1969'; this is a rare truth in today's hyped-up social media era. Grandmaster Kang runs an outstanding program that has truly benefited both me and my family. Training with Grandmaster for more than a decade has not only benefited me personally (I'm less stressed and more focused at work), but has benefited our home life. Our kids became more attentive and excelled at school and other sporting activities. Training under Grandmaster Kang as a family and earning our black belts has been an exceedingly rewarding personal and family experience." -Robert Vecchio, Ph.D., P.E., CEO/Principal Lucius Pitkin, Inc.
About Grandmaster Tae Sun Kang
---
Grandmaster Tae Sun Kang is a greatly accomplished martial artist. He has dedicated his life to mastering the art of Taekwondo and received his 1st Dan Black Belt in 1973, achieved Grandmaster (8th Dan) status in 1994, and was awarded his 9th Dan Black Belt in 2007. He has participated in both national and international tournaments and has trained some of the top tournament competitors in the world, as well as many celebrities and their families. He is the director of three of the largest martial arts schools in New York. Visit his website at tkangtkd.com. Michael Imperioli is an American actor, writer, director, and producer. He is best known for his role as Christopher Moltisanti on The Sopranos, for which he won the Primetime Emmy Award for Outstanding Supporting Actor in a Drama Series in 2004. He also appeared in the TV drama series Law & Order as Detective Nick Falco.
Additional information
Black Belt Fitness for Life: A 7-Week Plan to Achieve Lifelong Wellness by Grandmaster Tae Sun Kang
Book picture is for illustrative purposes only, actual binding, cover or edition may vary.
The book has been read, but looks new. The book cover has no visible wear, and the dust jacket is included if applicable. No missing or damaged pages, no tears, possible very minimal creasing, no underlining or highlighting of text, and no writing in the margins.