Disarming Iraq By Hans Blix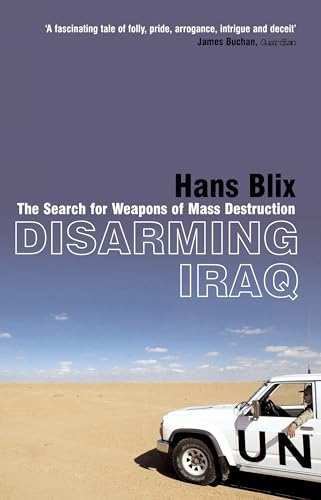 Disarming Iraq Summary
---
Disarming Iraq: The Search for Weapons of Mass Destruction by Hans Blix
Hans Blix recounts the events leading up to the declaration of war on Iraq in March 2003, looking back to Saddam Hussein's long wrangle with the international community since the first Gulf War and forward to the implications for international security in the aftermath of the war just ended. In clear-eyed descriptions of his meetings with Blair, Bush, Chirac, Cheney, Condoleeza Rice, Colin Powell and Kofi Annan, he conveys the frustrations, the tensions, the pressure and the drama of the months leading up to the US/UK-led attack on Iraq. He also asks and answers key questions including: Could the war have been prevented? Was it inevitable? Does Iraq have weapons of mass destruction? Why couldn't the US and the UK secure the backing of the member states of the UN Security Council? And: What can be learnt from the Iraq war for the prevention of the spread and use of WMDs in the future?
Why buy from World of Books
Disarming Iraq Reviews
---
'This is, throughout, a very cool and clear critique of Britain and America's insuperable rush to war from the man who knew better than most that Iraq posed not the remotest threat to you and me, nor indeed to the "stability" of the Middle East. Blix demolishes the legal arguments for war' Rod Liddle, Sunday Times 'Disarming Iraq is a fascinating tale of folly, pride, arrogance, intrigue and deceit' Guardian 'Blix not only has an undisputed place in history, but a potentially important future on the world stage. His book is required reading for all interested in these events' Scotsman 'This is a valuable, authoritative work of record by a diplomat who did his best to prove that the crisis could be resolved without resort to war' New Statesman
About Hans Blix
---
Dr Hans Blix was Director General of the International Atomic Energy Agency (IAEA) from 1981 to 1997. Recalled by the UN in 2000 to become Executive Chairman, UN Monitoring, Verification and Inspection Commission (UNMOVIC), he presided over the re-introduction of weapons inspectors in Iraq in 2002. He is currently Chairman of the newly formed International Commission on Weapons of Mass Destruction, which began its work in January 2004.
Additional information
Disarming Iraq: The Search for Weapons of Mass Destruction by Hans Blix
Bloomsbury Publishing PLC
Book picture is for illustrative purposes only, actual binding, cover or edition may vary.
This is a used book - there is no escaping the fact it has been read by someone else and it will show signs of wear and previous use. Overall we expect it to be in very good condition, but if you are not entirely satisfied please get in touch with us.