A Girl Walks into a Bar By Helena S. Paige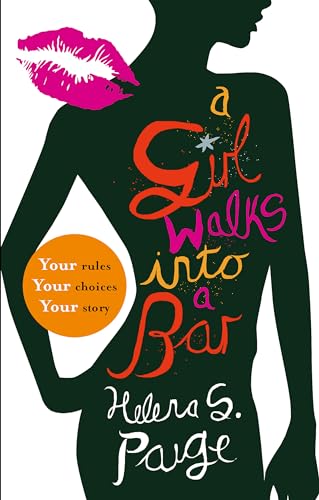 A Girl Walks into a Bar
by Helena S. Paige
* A choose your own destiny novel
* You're in control: your rules, your choices, your story
Only 2 left
---
A Girl Walks into a Bar Summary
---
A Girl Walks into a Bar: Choose Your Own Erotic Destiny by Helena S. Paige
*A CHOOSE YOUR OWN DESTINY NOVEL*
When your friend cancels on your girls' night out at the last moment, you suddenly find yourself all dressed up and alone at an exclusive bar.
What do you do now?
Will you spend the evening drinking tequila with a rock star? Or perhaps the suave and charming millionaire businessman is more your style? But the angelic young barman with a body made for sin has also caught your eye . . . Then there's the bodyguard who has the keys to his boss's sports car and is offering you a ride . . . Maybe you want to head home instead - to your sexy new neighbour.
Whichever way you decide to go, each twist and turn will lead to an unforgettable encounter. Can you choose the ultimate sensual experience? Remember: if your first choice doesn't hit the spot, then start over and try something (and someone) new. The power is entirely yours in this fully interactive, choose your own destiny novel.
Why buy from World of Books
A Girl Walks into a Bar Reviews
---
Next-gen erotica . . . It is filthy * Glamour *
This is genius! . . . You are the plucky heroine and . . . you decide your own fate. We blushed like mad and missed our stop! * Star magazine *
Every encounter is sexually satisfying . . . the erotic moments sizzle * Publishers Weekly *
About Helena S. Paige
---
Helena S. Paige is the pseudonym of three friends. Paige Nick is an award-winning advertising copywriter and novelist. She also has a weekly column in The Sunday Times in South Africa, which covers everything from sex and dating to general lunacy. Helen Moffett wears many hats: freelance writer, poet, editor, activist and academic, who has lectured as far afield as Trinidad and Alaska. She is also a cricket writer and flamenco fan. Sarah Lotz is a screenwriter and novelist with a fondness for fake names. She writes urban horror novels under the name S.L. Grey with author Louis Greenberg, and a YA series with her daughter, Savannah, under the pseudonym Lily Herne.
As Helena S. Paige, these three women have created an entertaining, empowering and exciting series of 'choose your own destiny' novels, where the reader is fully in charge of her own experience. And everyone is guaranteed a happy ending.
Additional information
A Girl Walks into a Bar: Choose Your Own Erotic Destiny by Helena S. Paige
Book picture is for illustrative purposes only, actual binding, cover or edition may vary.
The book has been read but remains in clean condition. All pages are intact and the cover is intact. Some minor wear to the spine.