Tropic Of Capricorn By Henry Miller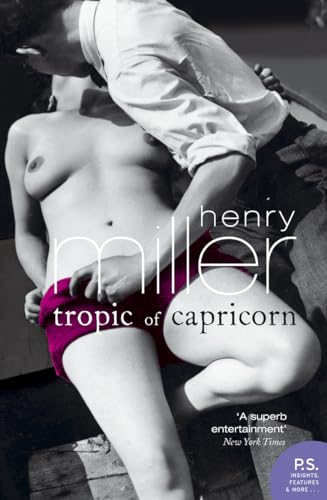 Tropic Of Capricorn Summary
---
Tropic Of Capricorn by Henry Miller
The controversial, erotic and hilarious companion to the legendary Tropic of Cancer, in a smart new Harper Perennial Modern Classics edition. A riotous and explosive mixture of joys and frustrations, Tropic of Capricorn chronicles Miller's early life in New York, from his repressive Brooklyn childhood spent amongst 'a galaxy of screwballs' to frantic, hilarious years of dead-end jobs and innumerable erotic adventures. Irreverent and ironic, Tropic of Capricorn is both a comic portrait of the irrepressible Miller himself and a scathing attack on respectable America, the very foundations of which he hoped to shatter. The publication of Tropic of Capricorn and its sister-volume Tropic of Cancer in Paris in the 1930s was hailed by Samuel Beckett as 'a momentous event in the history of modern writing'. The books were subsequently banned in the UK and the USA for nearly thirty years.
Why buy from World of Books
Tropic Of Capricorn Reviews
---
'The world of Capricorn is peopled by eccentrics and nymphomaniacs, to say nothing of the incorrigibly eccentric Miller himself. There is also a memorable portrait of his father, a delicate account of childhood, and savage, humane comedy in the bedlam of an employment office. The rest: fornication and anarchism, sometimes very funny, always rich, exultant and honest.' Sunday Times 'In the course of Tropic of Capricorn, Miller as a Miss Lonelyhearts of the Cosmodemonic Telegraph Company, hires and fires an inexhaustible queue of ex-convicts and whores who turn the office into a hive of degradation. Miller lives constantly at the flashpoint of violence, which he manages to convert to comedy without undermining the anger' Observer 'Tropic of Capricorn is a teeming frieze of fights, copulations and epiphanies. The emphasis is on the mysterious value of ordinary life, not its futility' New Statesman 'A superb entertainment' New York Times
About Henry Miller
---
Henry Miller was born in Brooklyn, New York. In 1930, Miller went to live in Paris. For the next ten years he mingled with impoverished expatriates and bohemian Parisians; his first published book, Tropic of Cancer appeared in 1934 from the Obelisk Press in Paris. It was followed five years later by its sister volume Tropic of Capricorn. Sexually explicit, these books electrified the European literary avant-garde and were almost universally banned outside France. In 1961, after an epic legal battle, Tropic of Cancer was finally published in the States (and then in England in 1963). Miller became a household name, hailed by the Sixties counter-culture as a prophet of freedom and sexual revolution. He died on June 7 1980.
Additional information
Tropic Of Capricorn by Henry Miller
Book picture is for illustrative purposes only, actual binding, cover or edition may vary.
This is a used book - there is no escaping the fact it has been read by someone else and it will show signs of wear and previous use. Overall we expect it to be in very good condition, but if you are not entirely satisfied please get in touch with us.