International Law Concentrate By Ilias Bantekas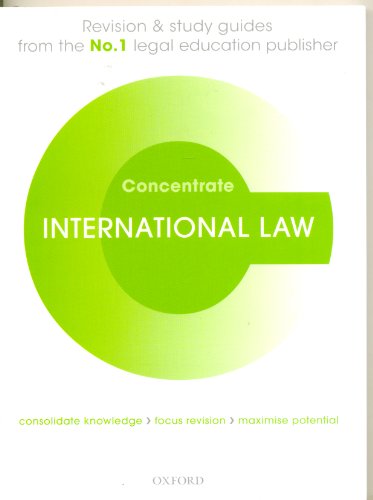 International Law Concentrate
Used Price
$24.99
inc. GST
Free Shipping in Australia
International Law Concentrate is written and designed to help you succeed. Accurate and reliable, Concentrate guides help focus your revision and maximise your exam performance. Each guide includes revision tips, advice on how to achieve extra marks, and a thorough and focussed breakdown of the key topics and cases.
Only 1 left
---
International Law Concentrate Summary
---
International Law Concentrate by Ilias Bantekas
If you're serious about exam success, it's time to Concentrate! International Law Concentrate is the essential study and revision guide for law students looking for extra marks. The clear, succinct coverage enables you to quickly grasp the fundamental principles of this area of law and helps you to succeed in exams. This guide has been rigorously reviewed and is endorsed by students and lecturers for level of coverage, accuracy, and exam advice. Packed with essential information, key cases, revision tips, exam q & as, and more, International Law Concentrate is also supported by extensive online resources to take your learning further (http://www.oxfordtextbooks.co.uk/orc/concentrate/): * Plan your revision using the printable topic overviews * Pinpoint which areas you need to concentrate on with the diagnostic test * Test your knowledge of International Law with multiple choice questions and receive feedback on your answers * Improve your essay skills using the outline answers for guidance on what to include and how to structure your answer * Revise the facts and discussions of key cases using the interactive flashcards * Learn the important terms and definitions using the interactive glossary * Check that you have covered the main points of a topic using the key facts lists * Achieve better marks following the advice on revision and exam technique by experienced examiner Nigel Foster Don't miss the Concentrate apps: hundreds of multiple choice questions with feedback, helping you study, learn and revise, anytime, anywhere.
Customer Reviews - International Law Concentrate
---
Why buy from World of Books
International Law Concentrate Reviews
---
The Revision Tip and Looking for Extra Marks features in the chapters work very well and the exam advice in particular is spot on. As a revision tool, I think International Law Concentrate is very useful. Karen Hulme, Senior Lecturer, University of Essex Clear, concise and engaging, you cannot ask for anything more out of a revision guide. Lucy Bennett, law student, University of Leicester
About Ilias Bantekas
---

Ilias Bantekas, Professor of International Law at Brunel University Law School and Associate Fellow, Institute of Advanced Legal Studies, University of London., Efthymios Papastavridis, Currently lecturing in international law at the University of Thrace and Research Fellow at the Academy of Athens

Table of Contents
---
1. The Nature of International Law and The International System ; 2. Sources of International Law ; 3. The Law of Treaties ; 4. The Relationship between International and Domestic Law ; 5. Personality, Statehood and Recognition ; 6. Sovereignty and Jurisdiction ; 7. Immunity ; 8. Law of the Sea ; 9. State Responsibility ; 10. Peaceful Settlement of Disputes ; 11. Use of Force ; 12. Human Rights
Additional information
International Law Concentrate by Ilias Bantekas
Book picture is for illustrative purposes only, actual binding, cover or edition may vary.
This is a used book - there is no escaping the fact it has been read by someone else and it will show signs of wear and previous use. Overall we expect it to be in very good condition, but if you are not entirely satisfied please get in touch with us.