Alan Clark: The Biography By Ion Trewin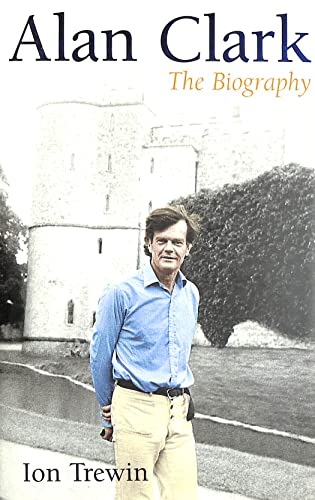 Alan Clark: The Biography Summary
---
Alan Clark: The Biography by Ion Trewin
Although Alan Clark died in 1999 his reputation lives on - a TV series (John Hurt as Alan) gave BBC4 its first million+ audience. His diaries (3 vols) sold more than half a million copies. A noted historian, he was Tory MP for Plymouth Sutton and controversial minister under Mrs Thatcher; later MP for Kensington & Chelsea. His biographer has drawn on an Aladdin's cave of papers at the Clarks' Saltwood Castle home in Kent. Ion Trewin tells an enthralling story of the life that Clark himself chose not to discuss: an unhappy childhood with neglectful parents (his art historian father Kenneth Clark, best known for his 'Civilisation' TV series). Fire destroyed his first school; he endured wartime Eton, at Oxford he read history under Hugh Trevor-Roper and drove large cars (he was known as 'Klaxon' Clark). His parents insisted he read law; passing his exams at the 3rd attempt, he never practised. His first novel - accepted on the 13th submission - was pulped because of libel, but went on to gain praise. The Donkeys, his first work of history, brought down the wrath of military historians. Clark changed course and into politics in his forties. Readers may think they know Clark's political life from his diaries, but Clark himself neglected to tell all, about Mrs T's downfall, the Matrix Churchill arms to Iraq scandal and much more. He adored women - Trewin has tracked down his first great love, a ballet dancer, and his last infatuation - and courted a schoolgirl he first met when she was 16 and he 30. This was Jane, to whom he remained married - if not faithfully - until his death from a brain tumour in 1999. The extent of his extra-marital escapades is now revealed. Here for the first time the unknown Alan Clark stands revealed.
Why buy from World of Books
Alan Clark: The Biography Reviews
---
'This is a highly entertaining biography' -- Robert Harris THE SUNDAY TIMES 'this is an engaging book about an absolute bastard' -- Edwina Currie THE TIMES 'wonderfully readable and insightful biography' -- Peter Bradshaw LONDON EVENING STANDARD 'Arrogant, rude, clever, charming, witty. A brilliant diarist, a serious military historian and a frustrated - and ultimately unsuccessful and unfulfilled - politician, Alan Clark was also a warm friend. His story is well worth telling and in this book Trewin has captured the essence of an extraordinary man.' -- Michael Howard DAILY TELEGRAPH 'Trewin's account of Clark's prolonged youth is fresh and illuminating.' -- Craig Brown THE SPECTATOR 'it is Jane who makes one believe that perhaps Alan was not such a 'nasty fool' after all.' -- Charles Moore THE SUNDAY TELEGRAPH 'If Clark's diaries are the best political ones of our time, then Ion Trewin has written a biography of the same high quality. I don't believe it could have been better,more intelligently or more sympathetically, done.' -- Alan Massie THE SCOTSMAN 'pacy narrative' -- Rachel Cooke THE OBSERVER 'Clark's worst enemies could not call him a bore, and this book is as interesting as he was... Trewin has produced a compelling study that is both lively and entertaining' -- Ann Widdecombe THE GUARDIAN 'Jane Clark is the radiant heroine of Trewin's book. It is dedicated to her, the text is peppered with her plucky, frank and disarming comments, and enhanced by several heat-wrenchingly beautiful photographs of her. Trewin is protective of her feelings in a way which does credit to her... Ion Trewin is a distinguished publisher, who brings insight to his account of his hero's success as an author.' -- Richard Davenport-Hines TLS
About Ion Trewin
---
Ion Trewin is a London publisher. Originally a journalist and Literary Editor of THE TIMES, 1972-9, he changed gear and into publishing in 1980. He was Alan Clark's editor and publisher from 1992 until his death, and has since edited two further volumes of Alan Clark's DIARIES. His edition of THE HUGO YOUNG PAPERS won the C4 2009 Political Book of the Year Award. Married with a son and daughter, he has since 2006 been literary director of the Man Booker prizes. He was chairman of the Cheltenham Literature Festival 1996-2007.
Additional information
Alan Clark: The Biography by Ion Trewin
Book picture is for illustrative purposes only, actual binding, cover or edition may vary.
This is a used book - there is no escaping the fact it has been read by someone else and it will show signs of wear and previous use. Overall we expect it to be in very good condition, but if you are not entirely satisfied please get in touch with us.