Lawful Revolution By Istvan Deak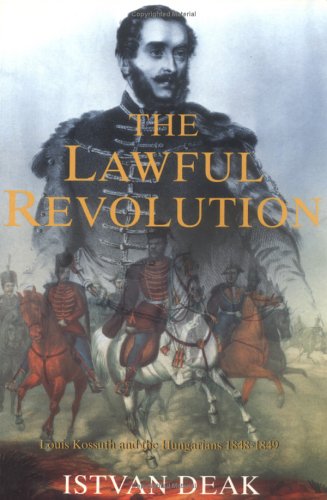 Used Price
$50.99
inc. GST
Free Shipping in Australia
This is the story of Hungary's bloodiest and most celebrated historical event and the story of its greatest national hero.
Only 1 left
---
Lawful Revolution Summary
---
Lawful Revolution: Louis Kossuth and the Hungarians 1848-1849 by Istvan Deak
Hungary's War of Independence was the bloodiest conflict of a European revolutionary era. It excited nationalist passions that have not yet been stilled. The principal actor of the drama was the nobleman, Louis Kossuth. The story of the revolution of 1848, Hungary's most important historic event, is told here in terms of the towering personality of Louis Kossuth. In the spring of that year, Kossuth and his fellow noblemen seized the opportunity presented by the European revolutions to legally restore the sovereignty of the country under the Habsburg Crown. They also introduced many administrative, social and economic reforms. The goals of the reformers however ran into the opposition of the Habsburg Court, the new liberal Austrian government and the non-Magyar peoples of Hungary who feared Hungarian nationalism. In the ensuing war the country was led by Kossuth. The Hungarians lost the war and, in August 1849, Kossuth fled, never to return to his homeland. Louis Kossuth was a forceful, powerful governor-president of Hungary, the people's spokesman and hero but also the symbol of much that they considered calamitous in the national character. At once dynamic and forceful, but also hesitant and weak - he made great provisions for the wounded, veterans, women and orphans but also squandered the lives of his soldiers unnecessarily. He emancipated the peasants and the Jews and, though he died an impoverished exile, he remained a popular idol in Hungary, his name a symbol of the aspiration for independence. His legend grew with the years and was further cultivated after 1945, when Hungary had lost much of the independence for which Kossuth struggled.
Why buy from World of Books
About Istvan Deak
---
Istvan Deak, Seth Low Professor Emeritus at Columbia University, specializes in central and east central European history. He received his Ph.D. from Columbia in 1964. He is presently working on a book entitled Collaboration, Resistance, and Retribution in Europe during and After World War II.
Additional information
Lawful Revolution: Louis Kossuth and the Hungarians 1848-1849 by Istvan Deak
Book picture is for illustrative purposes only, actual binding, cover or edition may vary.
The book has been read but remains in clean condition. All pages are intact and the cover is intact. Some minor wear to the spine.