Varieties of Unbelief By J. C. A. Gaskin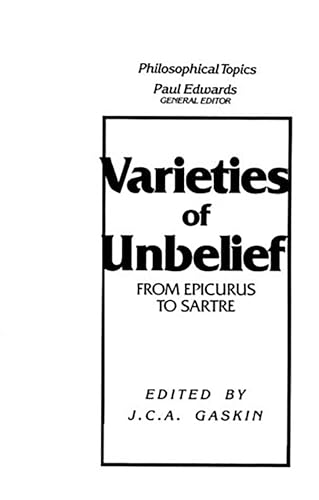 Varieties of Unbelief
Library of Liberal Arts title.
Only 2 left
---
Varieties of Unbelief Summary
---
Varieties of Unbelief: From Epicurus to Sartre by J. C. A. Gaskin
Unfortunately we do not have a summary for this item at the moment
Why buy from World of Books
Table of Contents
---
The fount of unbelief - Epicurus and Lucretius; classical skepticism - Cicero and Sextus Empiricus; the triumph of barbarism and religion - Edward Gibbon; "The natural causes of religion", "The absurdity of speech about God", Thomas Hobbes; "morality", "Free Thought", Anthony Collins; "Divinity of Jesus", "martyrs", "Optimism", Voltaire; "the natural origin of order", "of suicide", "religious morality - frivolous merits", David Hume; "Man's incoherent idea of an imaginary God", Baron d'Holbach; "Against the biblical revelation", Thomas Paine; "The immoral teaching of Jesus bar-Jesus", Elihu Palmer; "A refutation of Deism", Percy Bysshe Shelley; "Religion as the metaphysic of the people", Arthur Schopenhauer; "God as man's projection of Himself", Ludwig Feuerbach; "Marx, forward to his docterate thesis, 1841", "Marx, from Kolnische Zeitung, 1842","Marx, from introduction to contribution to the critique of Hegel's philosophy of Right, 1844", "Lenin, socialism and religion, 1905", "Lenin, attitude of the Worker's Party towards religion 1909", Marx and Lenin; "The pathology of saints and sinners", "The death of god", "mental space and religious prisons", "the Antichrist", Friedrich Nietsche; "Religion as wish fulfilment", Sigmund Freud; "A wise man's beliefs", "a wise man's political views", Bertrand Russell; "The lack of significance in religious language", Sir Alfred Ayer; "The inconsequence of modern religion", Jean-Paul Sartre.
Additional information
Varieties of Unbelief: From Epicurus to Sartre by J. C. A. Gaskin
Book picture is for illustrative purposes only, actual binding, cover or edition may vary.
This is a used book - there is no escaping the fact it has been read by someone else and it will show signs of wear and previous use. Overall we expect it to be in very good condition, but if you are not entirely satisfied please get in touch with us.