Police Training Manual By Jack English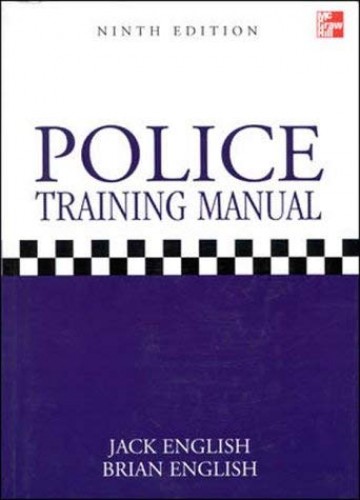 Police Training Manual
by Jack English
This text deals with aspects of the criminal law, road traffic legislation, general police duties, crime and evidence, and procedures. It has been arranged to follow the stages of the probationer constable training syllabus, and attention has been paid to the context in which the law is applied.
Only 0 left
---
Police Training Manual Summary
---
Police Training Manual by Jack English
Unfortunately we do not have a summary for this item at the moment
Why buy from World of Books
Table of Contents
---
Stage 1 - pocket notebook rules, lost and found property, computer misuse and data protection, police regulations and conditions of service, complaints against the police, police discipline code, police federation and negotiating machinery, constitutional position of the polite (of general interest); stage 2 - the law in England and Wales - common law and statue law, evidence and the functions of courts, summonses and warrants, making an arrest and powers of entry without warrant to arrest, classification of offences and powers to arrest without warrant, stop and search, questioning and treatment of persons, road checks, safe custody of prisoners, theft, burglary, criminal deception, report writing rules, robbery, taking conveyances, handling stolen goods, classification of motor vehicles and using, causing or committing road traffic offences, motor vehicles - registration and licensing, driving licences, insurance, and test certificates, production of documents and driving whilst disqualified, the laws relating to highways, offences by owners, riders and drivers and notice to intended prosecution, road traffic - general offences, lights on vehicles, fixed penalty procedures, road vehicles -construction and use and control of vehicles, traffic signs and pedestrians crossings and school crossing patrols, questioning and statement writing, further development of statement writing skills, scenes of crime - management, loss of memory, illness in the street, and missing and destitute persons, absconders, deserters and escapees, breath specimens and drinking and driving, public order, criminal damage, dogs, assaults and woundings, domestic disputes, drugs, statutory preventive measures, including attempts, offensive weapons and interfering with vehicles, sudden death, accidents - law, accidents - police action, firearms, indecent language, exposure, and telephone calls, indecent assault, railways, how to give evidence, crime prevention; stage 3 - crime reporting and the modus operandi, police national computer, identificaiton methods; stage 4 consists of work experience; stage 5 - major incidents, fires and chemical incidents, carriage of explosives. (Part contents).
Additional information
Police Training Manual by Jack English
McGraw-Hill Education - Europe
Book picture is for illustrative purposes only, actual binding, cover or edition may vary.
This is a used book - there is no escaping the fact it has been read by someone else and it will show signs of wear and previous use. Overall we expect it to be in very good condition, but if you are not entirely satisfied please get in touch with us.