I, Q (Star Trek: The Next Generation) By John De Lancie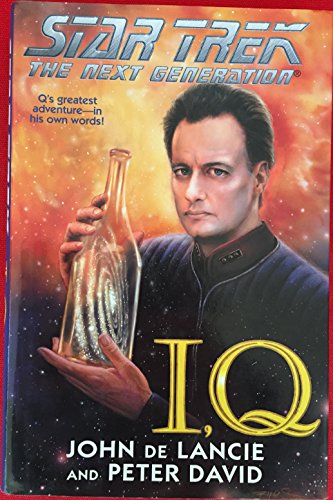 I, Q (Star Trek: The Next Generation)
by John De Lancie
The mischievous all-powerful cosmic entity Q has plagued Captain Picard and the crew of the USS "Enterprise" since the beginning. Over the millennia Q has encountered countless challenges, but none so deadly as the being that now threatens the universe.
Only 4 left
---
I, Q Summary
---
The enigmatic entity known as Q remains one of the greatest mysteries in the universe, yet no one, perhaps, understands Q as well as actor John de Lancie, who has played Q. on television for more than a decade. Now de Lancie and Peter David, the bestselling author of such acclaimed novels as "Q-in-Law" and "Q-Squared" have joined forces to send Q on an unforgettable cosmic odyssey, told from the mischievous trickster's own unique point of view. The Maelstrom, a metaphysical whirlpool of apocalyptic proportions, is pulling all of reality into its maw, devouring the totality of time and space while bringing together people and places from throughout the universe. The Q Continuum pronounces that the end of everything has come, but Q refuses to meekly accept the end of all he has known. Defying the judgement of the Continuum, he sets out to derail doomsday -- at whatever the cost. Q has been everywhere and done everything, but now he's in for a cosmic thrill ride beyond even his own astonishingly unlimited imagination. Old friends and adversaries wait in unexpected places, transcendent hazards abound, and the multiverse's most unlikely savior encounters wonders and dangers enough to render Q himself speechless. Almost. Can even Q, reluctantly assisted by Jean Luc Picard, prevent the Universe As We Know It from literally going down the drain? "I, Q" is a wild and witty voyage through the secret soul of creation -- as only Q can tell it!
Why buy from World of Books
Additional information
I, Q (Star Trek: The Next Generation)
Book picture is for illustrative purposes only, actual binding, cover or edition may vary.
This is a used book - there is no escaping the fact it has been read by someone else and it will show signs of wear and previous use. Overall we expect it to be in very good condition, but if you are not entirely satisfied please get in touch with us.