Street on Torts By John Murphy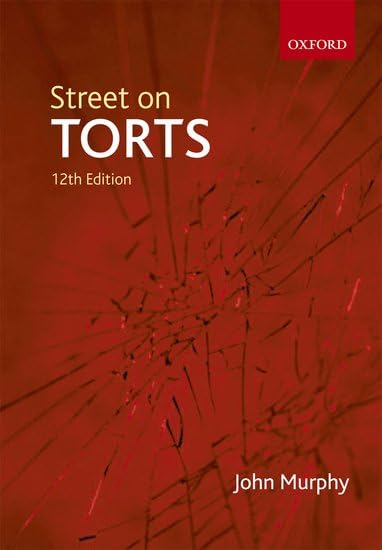 Street on Torts Summary
---
Street on Torts by John Murphy
Tried and tested by generations of students, Street on Torts can be trusted to provide a clear and accurate explanation of tort law. In this edition, John Murphy has thoroughly rewritten the book to bring a fresh and readable style to this classic text. Students new to tort law can read treet chapter by chapter as they work through their lectures: the book has been substantially restructured to map closely to a typical undergraduate law course and provides all the essential material in one volume. Street's broad coverage has been maintained to ensure it appeals to a wide range of institutions as a main course text. This edition provides a strong anaylsis of case law, explaining how torts actually work and examining the social purposes behind them. The importance of the Human Rights Act is traced thoughout the book, and a new chapter has been included on the misuse of private information to reflect this rapidly developing area of the law. Further reading sections have been added to the end of each chapter.Online Resource Centre The twelfth edition of Street on Torts is accompanied by an Online Resource Centre providing twice-yearly updates, giving students easy access to key developments in the law.
Why buy from World of Books
About John Murphy
---

John Murphy is Senior Lecturer in Law at the University of Manchester. He is one of the country's leading tort lawyers. He has authored numerous articles on tort law which have been published in the UK and abroad. He is also one of the current editors of Clerk and Lindsell on Torts (published by Sweet and Maxwell).

Table of Contents
---
PART I. INTRODUCTION; 1. Overview of the law of torts; PART II. NEGLIGENT INVASIONS OF INTERESTS IN THE PERSON, PROPERTY, AND ECONOMIC INTERESTS; 2. Duty of care I: foundational principles; 3. Duty of care II: recognised harm; 4. Breach of duty; 5. Causation and remoteness; 6. Defences to negligence; 7. Liability for defective premises and structures; PART III. INTENTIONAL INVASIONS OF INTERESTS IN THE PERSON AND PROPERTY; 8. Trespass to the person and related torts; 9. Wrongful interference with goods; 10. Trespass to land; 11. Defences to intentional torts against the person or property; PART IV. INTERFERENCE WITH ECONOMIC AND INTELLECTUAL PROPERTY INTERESTS AND RELATED ACTIONS; 12. Interference with economic and intellectual property interests: background issues; 13. False representations; 14. The economic torts and associated causes of action; 15. Misuse of private information; PART V. TORTS INVOLVING STRICT OR STRICTER LIABILITY; 16. Product liability; 17. Nuisance; 18. The rule in Rylands v Fletcher; 19. Animals; 20. Breach of statutory duty; PART VI. INTERESTS IN REPUTATION - DEFAMATION; 21. Defamation: foundational principles; 22. Defences and remedies in defamation; PART VII. MISUSE OF PROCESS; 23. Misuse of process; PART VIII. PARTIES AND REMEDIES; 24. Vicarious liability; 25. Capacity and parties; 26. Remedies in tort: basic principles; 27. Principles of compensation for personal injuries and associated losses; INDEX
Additional information
Street on Torts by John Murphy
Book picture is for illustrative purposes only, actual binding, cover or edition may vary.
This is a used book - there is no escaping the fact it has been read by someone else and it will show signs of wear and previous use. Overall we expect it to be in very good condition, but if you are not entirely satisfied please get in touch with us.