Reading the Gaelic Landscape By John Murray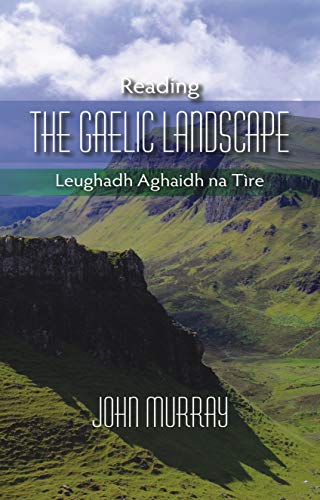 Reading the Gaelic Landscape
Used Price
$44.99
inc. GST
Free Shipping in Australia
A comprehensive field guide to the Gaelic landscape. Helps people read and understand the Highland landscape through place names. Places, ecology and landscape history are given a Gaelic dimension through place-naming.
Only 1 left
---
Reading the Gaelic Landscape Summary
---
Reading the Gaelic Landscape: Leughadh Aghaidh Na Tire by John Murray
This book is a must for anyone who is interested in the Scottish Highlands and its ancient tongue. It will encourage people to read and understand the seemingly obscure Gaelic words and also provides an insight into landscape history. The text will enrich the experience of walkers, climbers, sailors, bird watchers and fishers by sketching the Gaelic context where they enjoy and pursue their interests. Outdoor enthusiasts will no longer struggle with unfamiliar spellings and words as they will acquire a new dimension of place through an understanding of place names in the Highlands. The book takes a unique and comprehensive approach, as it expands and categorizes current place name vocabulary and provides commentaries on Gaelic ecology, culture and landscape between each section. Specific themes explored include how Gaelic poets like Sorley MacLean and Duncan Ban MacIntyre used Highland landscape symbolically in their work. The lyrical traditional of the sheiling and Fingalian legend is connected in this way as well. Place names are also used to speculate about species extinctions and the history of the mythical Caledonian Forest. Readers will learn about diverse aspects of place and how these have been recorded, through a deeper understanding of a language, specific to the landscape of the Scottish Highlands, and unique in its perception of that landscape.
Customer Reviews - Reading the Gaelic Landscape
---
Why buy from World of Books
Reading the Gaelic Landscape Reviews
---
'...the scope of the book is admirably broad, with primers on the history of the Gaelic language in Scotland, how the first maps of the country came to be made, and how the Gaelic speakers of old would have conceptualised things like colours and sounds, seasons and time.' Roger Cox, The Scotsman 'There are many valuable books on Gaelic placenames. In "Reading the Gaelic Landscape" John Murray goes deeper. Murray sets out to explain not only what Gaelic placemanes mean, but also how and why they were attached and what they tell us about the development of Scotland. ...is a landscape a dictionary, a landscape history, a teaching aid and both an academic and household work of reference.' West Highland Free Press '...the wealth of information in this book on reading the Gaelic landscape. ... Readers can use this book for different reasons with one important aspect I will have in the future is to use existing Gaelic words on the maps I frequently use to understand the landscape more. ... The author and publishers are to be congratulated on this book'. Highland News Group '...a recent welcome addition to the literature on the Gaels' relationship with the physical geography of Scotland...In particular he wants to enrich the experience of walkers, climbers, sailors, bird watchers and anglers. But he does more...Murray's book reminds us how deep the natural environment is within the Gaelic's soul; how virtually every hillock, stream and bay in the Gael's place will have been named at some point. These names are windows allowing glimpses of our forebears.' David Ross, The Herald 'He gathers together a wealth of information on Gaelic names, their spelling, grammer, pronunciation, literal meanings and, more importantly still, their hidden information and stories. ... While encycopaedic in its coverage, with all the tables, figures and details that you might expect, there are also extensive quotes from Gaelic poetry and historical sources, helping to bring the subject, as well as the landscape, to life. ...this book is a useful resource for those interested in Scotland's landscapes, environment and history'. Wild Land News '...John Murray's book is unique is synthesising everything that has gone before and adding a great deal that is new in an attempt to allow those unfamiliar with the language a genuine insight into the name of every type of landscape and mapping feature. The result is a triumph. ... Just occasionally you come accross a book whose lasting value is so obvious that you know people will be referring to it in 50 years' time or more. "Reading the Gaelic Landscape" is one of those books.' Undiscovered Scotland '...makes exciting reading, before delving into the culture of the tongue.' Interlib '...Scholarly but never dry, the book is packed with revelations'. Scotland Outdoors '...remarkable insight into the tropographic, climatic and vegetational nuances of Gaelic naming practices... ...a selection on the analysis of freshwater names for clues to the potential of waters for fishing, and in what conditions, is a most impressive tour de force. ... There are useful lists of terms in the many categories of place.name elements... ...a distinctive feature of the book is the number of quotations, some extensive and all very pertinent, from poetry, song, sayings and recorded conversation.' Scottish Place Names 'A comprehensive field guide to the Gaelic landscape which helps the reader to understand the Highland landscape through its place names, giving a Gaelic dimension to places, ecology and landscape history'. Scottish Memories '...essential for those interested in the Highlands and its ancient, living language. It helps readers and outdoor enthusiasts understand seemingly obscure words on maps, with insights into landscape history and ecology'. The Scots Magazine '...a meticulous guide to the ancient but living language of the Highlands and how places and landscapes are given a Gaelic dimension through the naming of them'. Scottish Review
About John Murray
---
Director of Landscape Architecture, University of Edinburgh, UK
Additional information
Reading the Gaelic Landscape: Leughadh Aghaidh Na Tire by John Murray
Book picture is for illustrative purposes only, actual binding, cover or edition may vary.
This is a used book - there is no escaping the fact it has been read by someone else and it will show signs of wear and previous use. Overall we expect it to be in very good condition, but if you are not entirely satisfied please get in touch with us.