Handbook of Sleep-related Breathing Disorders By John R. Stradling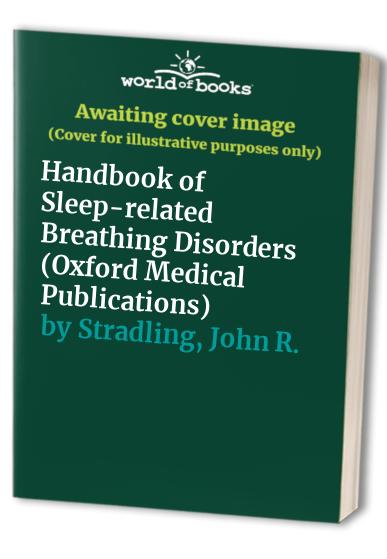 Handbook of Sleep-related Breathing Disorders
by John R. Stradling
This text describes a practical approach to the diagnosis and management of sleep-related disorders of breathing. Written for newcomers to the field and for those in other specialties, it gives both a background to sleep apnoea and related conditions, and advice on setting up a clinical service.
Only 0 left
---
Handbook of Sleep-related Breathing Disorders Summary
---
Handbook of Sleep-related Breathing Disorders by John R. Stradling
The field of sleep medicine has grown and advanced enormously in the past 20 years. Many advances, particularly in understanding sleep apnoea, have been controversial - with commercial considerations somtimes taking precedence over common sense when establishing practical, effective diagnostic approaches. This book takes a practical approach to the diagnosis and management of sleep apnoea and related conditions, from the perspective of a general (respiratory) physician setting up a clinic for patients with sleep-related disorders of breathing. It gives the background information necessary to understand these conditions, and considers the clinical aspects that will be of most concern to the practising physician. Specialists in other areas of medicine - particularly anaesthetists, neurologists, cardiologists, and psychiatrists - whose work also brings them into contact with certain aspects of respiratory sleep problems, should find this text a useful source of reference. J.R. Stradling is a contributor to the "Oxford Textbook of Medicine" (2nd edition).
Why buy from World of Books
Table of Contents
---
Part 1 Introduction: why another book on sleep-related breathing disorders?; historical background; area to be covered. Part 2 Normal sleep and breathing: sleep states; functions of sleep; sleep and ventilation. Part 3 Pathophysiology of obstructive sleep apnoea: upper airway function; definitions; short-term consequences of sleep apnoea; longer-term consequences. Part 4 Clinical presentation of obstructive sleep apnoea: daytime sleepiness; measuring daytime sleepiness; other daytime consequences; nocturnal symptoms; other points in the history; examples of case histories. Part 5 Examinations and investigations: causes worth looking for; consequences; outpatient investigations. Part 6 The sleep study, recordings and analysis: polysomnography; respiratory signals; oximetry; snoring ; electrocardiogram; blood pressure; leg movements; polysomnography versus simpler alternatives; aspects of analysis and interpretation; the Oxford approach. Part 7 Treatments of obstructive sleep apnoea: simple approaches; medical treatment - nasal continuous positive airway pressure therapy; surgical treatment of OSA. Part 8 Snoring: is snoring alone harmful?; management of "benign" snoring. Part 9 Epidemiology of adult sleep apnoea: what to measure; prevalence data; predictive correlates of sleep apnoea in epidemiological surveys. Part 10 Paediatric aspects of obstructive sleep apnoea: aetiology and definitions; epidemiology and consequences; examination; investigation; treatment. Part 11 Central (non-obstructive) sleep apnoea and hypoventilation: absent ventilatory drive; unstable respiratory drive; REM-related respiratory oscillations; reflex central apnoea; apparent central apnoea; overnight ventilation for central sleep apnoea or hypoventilation. Part 12 Differential diagnosis of sleepiness in adults: intrinsic causes; extrinsic causes; circadian rhythm problems; other conditions.
Additional information
Handbook of Sleep-related Breathing Disorders by John R. Stradling
Book picture is for illustrative purposes only, actual binding, cover or edition may vary.
This is a used book - there is no escaping the fact it has been read by someone else and it will show signs of wear and previous use. Overall we expect it to be in very good condition, but if you are not entirely satisfied please get in touch with us.