Lessons in Stoicism By John Sellars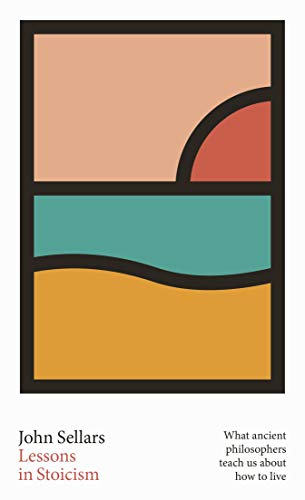 Lessons in Stoicism
by John Sellars
N/A
Only 0 left
---
Lessons in Stoicism Summary
---
Lessons in Stoicism: What Ancient Philosophers Teach Us about How to Live by John Sellars
A deeply comforting and enlightening book on how Stoicism can inspire us to lead more enjoyable lives
What aspects of your life do you really control? What do you do when you cannot guarantee that things will turn out in your favour? And what can Stoicism teach us about how to live together?

In the past few years, Stoicism has been making a comeback. But what exactly did the Stoics believe? In Lessons in Stoicism, philosopher John Sellars weaves together the key ideas of the three great Roman Stoics -- Seneca, Epictetus and Marcus Aurelius -- with snapshots of their fascinating lives, to show us how their ideas can help us today.
In vivid prose, Sellars shows how the works of these three Stoics have inspired readers ever since, speaking as they do to some of the perennial issues that face anyone trying to navigate their way through life. Their works, fundamentally, are about how to live -- how to understand one's place in the world, how to cope when things don't go well, how to manage one's emotions and how to behave towards others.
Consoling and inspiring, Lessons in Stoicism is a deeply thoughtful guide to the philosophy of a good life.
Why buy from World of Books
Lessons in Stoicism Reviews
---
I've been reading Lessons in Stoicism. . . Now, I don't normally read philosophy, but I think old Seneca was right. -- Liz Jones * Mail on Sunday *
Lessons in Stoicism distils key Stoic tenets, insofar as they can help contemporary readers, into under 100 small pages. Sellars achieves the task he sets himself admirably. In elegant, economical prose, he urges us to become better, happier people by focusing on rational decision-making -- Tim Whitmarsh * Guardian *
An enlightening explanation of how Stoic philosophy can help us in our lives. . . It can put us in control of our feelings, help us in adversity and guide us in our relationships with others. Sellars is ideally placed to offer these lessons in Stoicism as teacher, scholar and as a founding member of the group that teaches living like a Stoic for a week -- Professor Sir Richard Sorabji
Expertly and vividly John Sellars presents lessons in Stoicism that are strikingly relevant to modern life. From the great Roman Stoic authors he distills teaching on managing emotions, dealing with adversity, facing death, and making the best use of every hour and situation. This is a book that excellently shows why Stoicism is the philosophy for our time. I recommend it with enthusiasm -- Professor A. A. Long, author of Epictetus: How to be Free
Excellent. . . Sellars gives a lucid, easy-to-follow account of what Stoicism as a way of life amounts to, and how you might start to put it into practice. . . To cover so much ground without merely skimming the surface requires real skill as a writer -- Nigel Warburton, author of A Little History of Philosophy
Accessible and absorbing -- Roger Cox * Scotsman *
About John Sellars
---
John Sellars is a lecturer in Philosophy at Royal Holloway, University of London and a member of Wolfson College, Oxford. He is the author of The Art of Living and one of the founder members of Modern Stoicism, the group behind Stoic Week, an annual global event inviting members of the public to 'live like a Stoic for a week' to see how it might improve their lives.
Additional information
Lessons in Stoicism: What Ancient Philosophers Teach Us about How to Live by John Sellars
Book picture is for illustrative purposes only, actual binding, cover or edition may vary.
This is a used book - there is no escaping the fact it has been read by someone else and it will show signs of wear and previous use. Overall we expect it to be in very good condition, but if you are not entirely satisfied please get in touch with us.