Barefoot Soldier By Johnson Beharry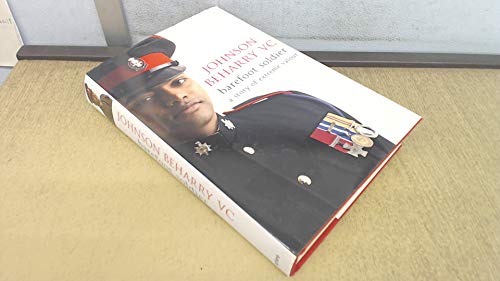 Barefoot Soldier
by Johnson Beharry
The remarkable life story of Johnson Beharry, from Grenadian poverty to being awarded the Victoria Cross and becoming a national hero.
10 in stock
---
Barefoot Soldier Summary
---
Barefoot Soldier by Johnson Beharry
Born in 1979 in Grenada as one of eight children, living in a two-bedroom hut, surviving on meagre meals of beans and rice and walking barefoot, three miles to school. At 13 Johnson Beharry quit school and worked as a decorator and labourer. In 1999 he scraped together the airfare for England and joined the Princess of Wales's Royal Regiment. He served six months in Kosovo, three months in Northern Ireland and then went to Iraq. On 1 May 2004, Beharry helped assist a foot patrol caught in a series of ambushes. His vehicle was hit by multiple rocket propelled grenades but he drove through the ambush and extracted his wounded colleagues from the vehicle, all the time exposed to further enemy fire. He was cited on this occasion for 'valour of the highest order'. While back on duty on 11 June 2004, a rocket propelled grenade hit Beharry's vehicle incapacitating his commander and injuring several of the crew. Despite his very serious head injuries, Beharry took control of his vehicle and drove it out of the ambush area before losing consciousness. He required brain surgery for his head injuries, and he was still recovering when he was awarded the VC in March 2005.
Why buy from World of Books
Barefoot Soldier Reviews
---
'Beharry has a rich inner life and is possessed of an unselfconsciously poetic turn of phrase. Relating a recurrent nightmare in which he's trapped inside a burning Warrior, he writes, "The dream sticks to me like the smell of smoke"' SUNDAY TELEGRAPH 'A heartbreaking, uplifting and inspirational read' SUNDAY EXPRESS 'Johnson Beharry earned his VC for "repeated extreme gallantry and unquestioned valour" in Iraq, but the full story of his journey there is still more inspiring' DAILY MAIL 'Gets my vote as book of the year. The word 'hero' is often bandied about by the media, but where Beharry is concerned, it's a fitting description' Andy McNab 'Gripping . . . Vividly atmospheric and briskly paced' SUNDAY TELEGRAPH 'Beharry's story is a fascinating and emotional one, told in a pragmatic style that invites sympathy because it never asks for it' SUNDAY BUSINESS POST 'This fascinating autobiography includes some superb battle descriptions, such as the horror of watching a young child launch a rocket-propelled grenade and seeing it get nearer and nearer' SUNDAY TIMES 'It undeniably conveys the authentic ring of modern conflict.' TLS 'This book is a compelling, well-written story that is not easy to put down... Beharry's extraordinary story is one of the most striking of modern times.' SOLDIER 'Frank, heartbreaking and laced with humour, BAREFOOT SOLDIER is an utterly compelling story of extraordinary courage that will inspire this and future generations.' PUBLISHING NEWS
About Johnson Beharry
---
Beharry was born in Grenada in 1979. In 1999 he joined the Princess of Wales's Royal Regiment. He has served in Kosovo, Northern Ireland and Iraq.
Additional information
Barefoot Soldier by Johnson Beharry
Book picture is for illustrative purposes only, actual binding, cover or edition may vary.
This is a used book - there is no escaping the fact it has been read by someone else and it will show signs of wear and previous use. Overall we expect it to be in very good condition, but if you are not entirely satisfied please get in touch with us.