Once a Legend By Jon T. Hoffman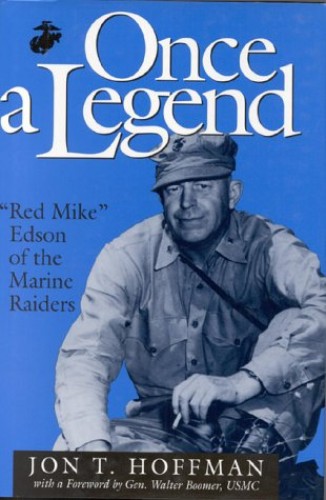 Once a Legend
by Jon T. Hoffman
The first biography of the man described as the personification of the great fighting tradition of our Corps.
Only 0 left
---
Once a Legend Summary
---
Once a Legend: "Red Mike" Edson of the Marine Raiders by Jon T. Hoffman
World War II combat correspondent Richard Tregaskis, author of Guadalcanal Diary, called Maj. Gen. Merritt "Red Mike" Edson "the best soldier I ever knew." Fitting praise for a hardnosed general who earned an unmatched reputation for fearlessness in a Marine Corps career that spanned thirty years. Edson earned the Medal of Honor and lasting fame during a desperate, two-day defense of Guadalcanal's vital airfield. The battle immediately became known as one of the epic struggles in Marine Corps history, the Battle of Edson's Ridge. Edson first gained renown in the Marine Corps for his exploits during the "Banana Wars" in Central America during the 1920s. He became an authority on guerilla warfare and went on to create and command the 1st Marine Raider Battalion. After World War II, Edson demonstrated moral courage that matched his fearlessness under fire as he fought to preserve the Corps's identity during the service unification debates. In the political "jungles" of Washington, D. C., he used his unorthodox tactics to combat Army encroachment on Marine Corps turf, and even took on President Truman, who was intent on disbanding the Corps. Edson was a professional - the ideal fighting man with nerves of steel, devoted to his troops, dedicated to improving the Corps - but there was a dark side to this model military man. Hoffman explores Red Mike's personal life as well - his unhappy marriage; his morose, fatalistic outlook on life and death; his tragic suicide at the age of 58. Based on the general's recently unsealed personal papers, and interviews with family, friends, and fellow Marines, this is the first biography of the man described by former commandant Gen. Wallace Greene as "thepersonification of the great fighting tradition of our Corps."
Why buy from World of Books
Additional information
Once a Legend: "Red Mike" Edson of the Marine Raiders by Jon T. Hoffman
Book picture is for illustrative purposes only, actual binding, cover or edition may vary.
This is a used book - there is no escaping the fact it has been read by someone else and it will show signs of wear and previous use. Overall we expect it to be in very good condition, but if you are not entirely satisfied please get in touch with us.