Highland Velvet By Jude Deveraux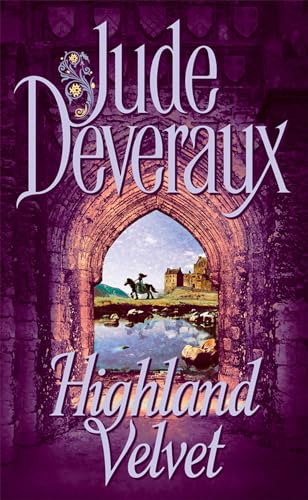 Highland Velvet
Used Price
$18.49
inc. GST
Free Shipping in Australia
Falling in love at first sight with the beautiful Bronwyn MacCarran, conqueror Stephen Montgomery struggles to prove himself to her despite her refusal of his love, in a romance set against the backdrop of a highland clan war. Reissue.
Only 3 left
---
Highland Velvet Summary
---
Highland Velvet by Jude Deveraux
Bronwyn MacArran was a proud Scot. Stephen Montgomery was one of the hated English.
He came to Scotland as a conqueror, saw her beauty and was vanquished. But still she would abhor him.
She owned a temper hot enough to forge the armors of battle or inflame a valiant soldier's passion. Yet still she would resist him.
She became his reason to live, his reason to love. And still she would deny him.
But while clan fought clan, while brother took up sword against brother, and the highlands ran with blood -- their destiny was made...and this mighty warrior pledged himself to his woman's pride, her honor and her name -- and made of their love a torch to burn through the ages!
Customer Reviews - Highland Velvet
---
Why buy from World of Books
About Jude Deveraux
---
Jude Deveraux is the author of forty New York Times bestsellers, including The Scent of Jasmine, Scarlet Nights, Days of Gold, Lavender Morning, Return to Summerhouse, and Secrets. To date, there are more than sixty million copies of her books in print worldwide. She lives in North Carolina. To learn more, visitwww.judedeveraux.com.
Additional information
Highland Velvet by Jude Deveraux
Book picture is for illustrative purposes only, actual binding, cover or edition may vary.
This is a used book. We do our best to provide good quality books for you to read, but there is no escaping the fact that it has been owned and read by someone else previously. Therefore it will show signs of wear and may be an ex library book.