Lives in Translation By Kathleen D. Hall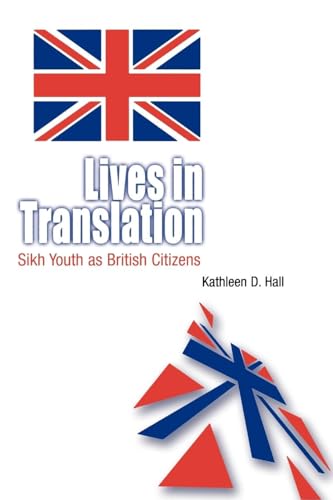 Lives in Translation
Used Price
$23.49
inc. GST
Free Shipping in Australia
"A sophisticated and sympathetic portrayal of the 'dynamic tensions' faced by second-generation British Sikhs coming of age in Thatcherite Britain of the late 1980s and early 1990s. . . . An accessible book that can profitably be read by anthropologists, educators, and all those concerned with issues of citizenship and ethnic pluralism in modern nation-states."-Anthropos
Only 3 left
---
Lives in Translation Summary
---
Lives in Translation: Sikh Youth as British Citizens by Kathleen D. Hall
In Lives in Translation, Kathleen Hall investigates the cultural politics of immigration and citizenship, education and identity-formation among Sikh youth whose parents migrated to England from India and East Africa. Legally British, these young people encounter race as a barrier to becoming truly "English." Hall breaks with conventional ethnographies about immigrant groups by placing this paradox of modern citizenship at the center of her study, considering Sikh immigration within a broader analysis of the making of a multiracial postcolonial British nation. The postwar British public sphere has been a contested terrain on which the politics of cultural pluralism and of social incorporation have configured the possibilities and the limitations of citizenship and national belonging.
Hall's rich ethnographic account directs attention to the shifting fields of power and cultural politics in the public sphere, where collective identities, social statuses, and cultural subjectivities are produced in law and policy, education and the media, as well as in families, peer groups, ethnic networks, and religious organizations.
Hall uses a blend of interviews, fieldwork, and archival research to challenge the assimilationist narrative of the traditional immigration myth, demonstrating how migrant people come to know themselves and others through contradictory experiences of social conflict and solidarity across different social fields within the public sphere. Lives in Translation chronicles the stories of Sikh youth, the cultural dilemmas they face, the situated identities they perform, and the life choices they make as they navigate their own journeys to citizenship.
Customer Reviews - Lives in Translation
---
Why buy from World of Books
Lives in Translation Reviews
---
"Hall offers a riveting account of evolving British identity-both minority and majority-at the cusp of the millennium, an account that can offer much to those interested in the cultural politics of other multicultural societies."-Anthropology and Education Quarterly
"This is a brilliant ethnography, animated by a highly refined analysis of the ways race and cultural identity are forged in the public sphere, and sustained by extensive research."-Carol Greenhouse, Princeton University
"A sophisticated and sympathetic portrayal of the 'dynamic tensions' faced by second-generation British Sikhs coming of age in Thatcherite Britain of the late 1980s and early 1990s. . . . An accessible book that can profitably be read by anthropologists, educators, and all those concerned with issues of citizenship and ethnic pluralism in modern nation-states."-Anthropos
"Lives in Translation eloquently captures the voices of young Sikhs in northern England in the late twentieth century as they attempt to come to terms with structures of racial, caste, and class inequality."-International Journal of Punjab Studies
About Kathleen D. Hall
---
Kathleen Hall is an anthropologist and teaches in the Education, Culture, and Society Program at the University of Pennsylvania's Graduate School of Education.
Table of Contents
---
1 Introduction: A Different Immigration Story
2 From Subjects to Citizens
3 The Politics of Language Recognition
4 "Becoming like Us"
5 Mediated Traditions
6 "You Can't Be Religious and Be Westernized"
7 "There's a Time to Act English and a Time to Act Indian"
8 Consciousness, Self-Awareness, and the Life Path
Epilogue: An Unfinished Story
Notes
Works Cited
Index
Acknowledgments

Additional information
Lives in Translation: Sikh Youth as British Citizens by Kathleen D. Hall
University of Pennsylvania Press
Book picture is for illustrative purposes only, actual binding, cover or edition may vary.
This is a used book - there is no escaping the fact it has been read by someone else and it will show signs of wear and previous use. Overall we expect it to be in very good condition, but if you are not entirely satisfied please get in touch with us.