Shamanic Experience By Kenneth Meadows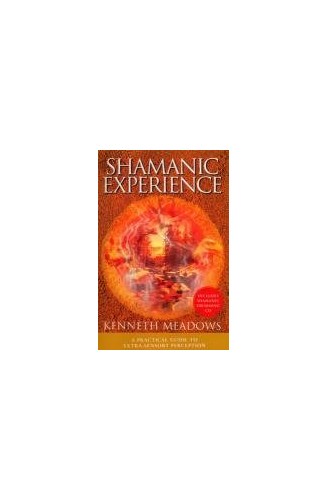 Shamanic Experience
by Kenneth Meadows
Modern science has an inadequate and incomplete understanding of the nature of human life itself because it tends to be concerned solely with the physical and ignores the spiritual, assigning it to the province of the theologian where it has rested on 'faith' and belief in the supernatural.
Only 0 left
---
Shamanic Experience Summary
---
Shamanic Experience by Kenneth Meadows
This is the commission given to me by the mystic medicine chief 'silver bear'. When you walk in darkness it is no use carrying a lantern, whose light cannot be seen. For, then, every step you take will be a hesitation into the unknown, where any tiny pebble on the Path may cause you to trip or stumble, or the slightest impediment, a cause for you to give up and abandon the journey to try, perhaps, another path. So make a lantern, lit from the Red Indian fire and whose light shines clear for the way you've come to be seen and marked, and the way ahead to hold no fear for others who come after you to walk with an assurance, seeing by light from a torch you have left. For those who walk this Path should not be left to grope in the dark when light can make them aware that the Path is beautiful and the steps they take can be a choreography of beauty, too. For this Path is the Beauty Way, the beautiful way, where all who will may Dance in Beauty around their own hearth fire what they need to light the Way is a lantern that is bright. So make one. Lit from the torch you have been given. The eight-rayed Torch, the flame within that illuminates the eight directions and the eight dimensions. Make One. Be a Sun, Grandfather. (This book is a component of that 'lantern'). Chapter Two: Tuning the Senses - The power to do shamanic work is both within you and outside you and is readily accessible for channelling through you. Your inner resources include the power of thought and imagination, and the creative force of your spirit energy. They provide vitality, strength and determination, a supply of individual potentials which, however dormant or neglected, can be awakened, and your own well of wisdom from which to obtain direction and inspiration. These inner resources constitute your power, or what American Indian shamans called 'medicine'. The outside forces are none other than the Powers of the Universe that are contained within a great web of energies, in which everything that exists has life and is interconnected through its Life Force, and in which all are mutually supportive. Spirit is the invisible essence of whatever is manifested. It is the aliveness in every living thing, which provides the energy for it to express its separate identity. But although spirit flows through all forms it is largely 'unknown' because it is hidden behind the apparent physical 'appearance' of things. Modern science has no knowledge of the nature of spirit because, unlike matter, it cannot be seen or measured. It is so elusive that it cannot be dissected by the logical mind either, because it transcends the intellect. Spirit is 'nothing' yet, paradoxically, it is in every living thing. Modern science has an inadequate and incomplete understanding of the nature of human life itself because it tends to be concerned solely with the physical and ignores the spiritual, assigning it to the province of the theologian where it has rested on 'faith' and belief in the supernatural. Yet spirit was known to shamans before any organized religion determined what was and was not to be believed or experienced, and decreed that the knowledge would be available only through a privileged priesthood. Spirit, once unveiled, opens up a whole new realm of experience. Living is no longer a perplexity of chance and coincidence, but takes on real meaning and purpose. We have all been brainwashed - conditioned by society and culture and materialistic science and its technology - to look little further than beyond our noses. We have been manipulated into believing that the Earth is a huge globe of inanimate matter - just a chunk of rock orbiting through space. Minerals within it are there to be taken; trees are timber with which to make paper; animals are flesh and bones, to be hunted or factory-farmed for food, or to be experimented on. Shamans have always had a different perspective. They see everything in existence as having purpose and being charged with power - pulsating with life - and the source of that power as being spiritual, not material. The shaman knows from personal experience that it is possible to connect with that power through the spirit within. It is because of the reality of that communication that the shaman has such a deep respect for all things, and an understanding of the workings of Nature and of the Universe. So nothing is as it appears. What seems to be solid, physical reality is, in fact, a complex system of vibrating energies. What our eyes actually see are dancing patterns that we recognize as objects or as other living creatures. We are connected with what we can see by pulsating waves of light-energy which cause electrical impulses on the retina of the eye which are sent to the brain to be interpreted as visual images. This is just one way in which we are linked by fibres of energy with other things, like the strands of a spider's web. Everything in existence consists of energies organized in a particular way. These energies may be likened to complex radio waves consisting of many different frequencies. Our normal physical senses enable us to tune in to some of these frequencies; they provide 'windows' through which we sense certain energy patterns. Those sources that are vibrating at rates faster or slower than our sensual register can accept are beyond our physical reach. We cannot see them, hear them, smell, touch, taste or feel them, and so we are led to believe that they do not exist. It is possible to tune in to some of these 'hidden' energies and be sensitive to things that most people cannot detect. This is achieved in two principal ways. First, by making fuller use of the physical senses so that we are aware of vibrations of energy that are beyond the normal range. Second, by awakening and exercising 'inner' receptors that are dormant in most of us, enabling us to experience other 'worlds' - other dimensions of reality, or energy-bands. How do you extend the senses so they become what is generally regarded as extrasensory? First, by working on the 'ordinary' physical senses. Most of us, brought up in an industrialized society, make such poor use of these that relatively speaking we are half-blind, half-deaf and so unfeeling that we are less than half-alive. We see enough to stop us from bumping into things, or to hear a vehicle, thereby preventing us from being run over, and limit ourselves to feeling what is immediately to hand. Test our powers of observation and most of us would score poorly. I am frequently asked if there are exercises that can extend, say, the range of vision. I am sure there are tedious eye exercises, but there is a more effective way that will benefit your entire energy-system, and that is simply to get involved with the world of Nature. So here is your first practical exercise. Exercise 1: Stretching your Eyes - This exercise entails taking a walk or even a journey, for it is necessary to get away from the comfort and constraints of your home and into the countryside. If you live in a town or a city it may involve a journey by car or public transport. But it is a necessary part of your shamanic training to get away from being boxed in by four walls and from the concrete jungle of civilization, from the noise of traffic and the busying of people about their daily chores, and to be absorbed in Nature for a while. You need to find a place in open countryside where you can be alone to 'stretch your eyes' by observing the panorama all around you. Don't hurry the experience. Allow your senses to wallow in the enjoyment of it all. Focus your eyes on some interesting point on the horizon, and then on something close to you and within easy reach. Let your eyes enjoy the freedom of exploration. Then take a walk across fields or into woodland. Let your eyes search for wild flowers or fruit, nuts or fungi that may be in season. Pause frequently.
Why buy from World of Books
About Kenneth Meadows
---
Kenneth Meadows is internationally respected for his work in adapting ancient shamanic wisdom to modern times. He is author of a number of bestselling books including Earth Magic, Shamanic Experience and Where Eagles Fly, each of which has been translated into a number of languages. He is Director of Studies of the Faculty of Shamanics, giving regular workshops and seminars.
Additional information
Shamanic Experience by Kenneth Meadows
Book picture is for illustrative purposes only, actual binding, cover or edition may vary.
This is a used book - there is no escaping the fact it has been read by someone else and it will show signs of wear and previous use. Overall we expect it to be in very good condition, but if you are not entirely satisfied please get in touch with us.