Lowborn By Kerry Hudson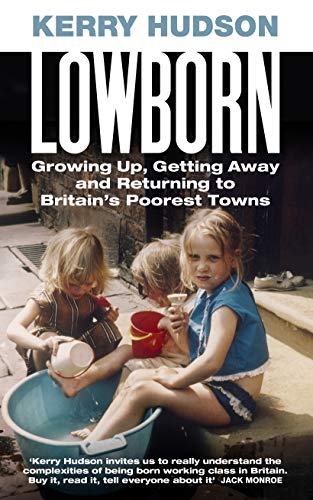 Lowborn
by Kerry Hudson
`Kerry Hudson blew me away, opened my eyes...' Philippa Perry, bestselling author of The Book You Wish Your Parents Had Read`Compelling, fascinating and well-written, undeniably grim but peppered with humour and tenderness' Kit de Waal
Only 0 left
---
Lowborn Summary
---
Lowborn: Growing Up, Getting Away and Returning to Britain's Poorest Towns by Kerry Hudson
A powerful, personal agenda-changing exploration of poverty in today's Britain. `One of the most important books of the year' Guardian 'When every day of your life you have been told you have nothing of value to offer, that you are worth nothing to society, can you ever escape that sense of being `lowborn' no matter how far you've come?' Kerry Hudson is proudly working class but she was never proudly poor. The poverty she grew up in was all-encompassing, grinding and often dehumanising. Always on the move with her single mother, Kerry attended nine primary schools and five secondaries, living in B&Bs and council flats. She scores eight out of ten on the Adverse Childhood Experiences measure of childhood trauma. Twenty years later, Kerry's life is unrecognisable. She's a prizewinning novelist who has travelled the world. She has a secure home, a loving partner and access to art, music, film and books. But she often finds herself looking over her shoulder, caught somehow between two worlds. Lowborn is Kerry's exploration of where she came from. She revisits the towns she grew up in to try to discover what being poor really means in Britain today and whether anything has changed. `Kerry Hudson blew me away, opened my eyes...' Philippa Perry, bestselling author of The Book You Wish Your Parents Had Read `Compelling, fascinating and well-written, undeniably grim but peppered with humour and tenderness' Kit de Waal
Why buy from World of Books
Lowborn Reviews
---
"Compelling, fascinating and well-written, undeniably grim but peppered with humour and tenderness, every chapter a testimony to someone's goodness or fortitude, to the kindness of strangers... Hudson demonstrates that only by lifting whole communities out of poverty, by properly looking after looked-after children and funding a well-rounded welfare state, can we hope to avoid consigning children and young people like her - vulnerable and blameless - to the worst of lives" -- Kit de Waal * Daily Telegraph *
"Kerry Hudson invites us to really understand the complexities of being born working class in Britain. Buy it, read it, tell everyone about it" -- Jack Monroe
"Beautifully written but with emotional hand grenades detonating on almost every page...a breathtaking odyssey" -- Stephen McGinty * Sunday Times *
"Kerry Hudson blew me away, opened my eyes... She's got such a great voice and can really tell a story" -- Philippa Perry, author of The Book You Wish Your Parents Had Read * You're Booked *
"Where there are few working class stories, there are fewer still from working class women. Lowborn stands out as rare, as well as compassionately and skilfully told... Some books help us understand the world around us. Others do that, and make us feel less alone in it, too. Lowborn is one such book, holding out a hand of friendship to anyone who might pick it up and find something forgotten or familiar among its pages" -- Laura Waddell * Scotsman *
"Lowborn is an insider's view of the complexities of modern-day poverty, written with humour and compassion, but without judgement. It should be required reading for anyone who unknowingly believes poverty is a personal choice and that if you work hard enough you'll avoid its fate... a fearless writer, an inspiring woman" -- Jackie Annesley * Sunday Times *
"Lowborn is in part an indictment of a country that claims to still have a functioning welfare state... Most of all, it is a moving portrait of the survival and eventual flourishing of a remarkable spirit" -- John Harris * Guardian *
"Elegant, compassionate and powerful... tells the hidden story of what it means to be poor in Britain today" -- Charlotte Heathcote * Sunday Express *
"Paints a near-dystopian portrait of Brexit-age Britain... Lowborn is a powerful testimonial... Here's hoping it gives others the courage to tell their version of this story, at high volume" -- Peter Murphy * Irish Times *
"I've been in thrall to the words of Kerry Hudson since reading the very first sentence of her spectacularly good debut novel. I'm so glad she is writing Lowborn. It's an important book that needs to exist and she is exactly the right person to write it. The hideous divisiveness that the horror that is Brexit has both revealed and fuelled, only makes this book more necessary" -- Cathy Rentzenbrink, author of THE LAST ACT OF LOVE
"Absolutely beautiful"
"I wish I'd had access to such honest and relatable work as Hudson's when I was younger. She proves that successful women can have a working-class story" -- Hollie Richardson * Stylist *
"Hudson has written a moving and readable account of growing up in the poorest section of society. Her book is also a meditation on social mobility... Hudson's life is proof that a person can, against the odds, make a success of themselves. In Lowborn, she shows us very clearly why so many do not" -- James Bloodworth * The Times *
"Moving and beautifully written" * Stylist *
"I cannot imagine a more important or beautifully written book in 2019" -- Christie Watson, author of The Language of Kindness
"One of the most important books of the year" -- Nikesh Shukla * Guardian *
"A remarkable and vital book" -- Andrew McMillan
"An exploration of what being working class in Britain really means - and a moving portrait of personal survival" * i *
"In a country bruised by years of austerity, writers are still exploring class and inequality. Kerry Hudson's memoir Lowborn: Growing Up, Getting Away and Returning to Britain's Poorest Towns...arrives with a sense of urgency" * New Statesman *
"What does it mean to be poor in Britain today? Hudson, now a successful author, goes back to where she grew up and examines how her childhood in poverty shaped her. An honest memoir that touches on the author's struggle to reconcile the two very different worlds she belongs to" -- Joanne Finney * Good Housekeeping *
About Kerry Hudson
---
Kerry Hudson was born in Aberdeen. Her first novel, Tony Hogan Bought Me an Ice-cream Float Before He Stole My Ma, won the Scottish Mortgage Investment Trust First Book Award and was shortlisted for an array of prizes including the Guardian First Book Award and the Sky Arts Awards. Thirst, her second novel, won the prestigious prix Femina etranger. Lowborn is her first work of non-fiction, and her journey has led to a highly successful column for the Pool. She currently lives in Liverpool.
Additional information
Lowborn: Growing Up, Getting Away and Returning to Britain's Poorest Towns by Kerry Hudson
Long-listed for Gordon Burn Prize 2019 (UK)
Book picture is for illustrative purposes only, actual binding, cover or edition may vary.
This is a used book - there is no escaping the fact it has been read by someone else and it will show signs of wear and previous use. Overall we expect it to be in very good condition, but if you are not entirely satisfied please get in touch with us.