Church of Marvels By Leslie Parry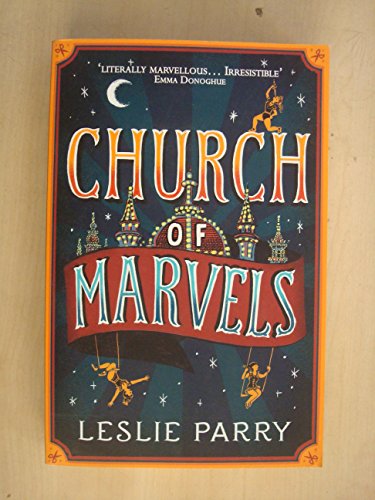 Used Price
$35.99
inc. GST
Free Shipping in Australia
'OFTEN EXQUISITE... PARRY'S IMAGERY IS BREATHTAKING' Emily St. John Mandel, bestselling author of Station Eleven writing in the New York Times Sunday Book Review
A ravishing first novel set in the vibrant, tumultuous underworld of late-19th-century New York, about four young outsiders whose lives become entwined over the course of one fateful night.
Only 1 left
---
Church of Marvels Summary
---
Church of Marvels by Leslie Parry
'A SKILLFUL TRIUMPH' Jessie Burton, bestselling author of The Miniaturist - 'IRRESISTIBLE' Emma Donoghue, bestselling author of Room
New York, 1895. It's late on a warm city night when Sylvan Threadgill, a young night soiler who cleans out the privies behind the tenement houses, pulls a terrible secret out from the filthy hollows: an abandoned newborn baby. An orphan himself, Sylvan was raised by a kindly Italian family and can't bring himself to leave the baby in the slop. He tucks her into his chest, resolving to find out where she belongs.
Odile Church is the girl-on-the-wheel, a second-fiddle act in a show that has long since lost its magic. Odile and her sister Belle were raised in the curtained halls of their mother's spectacular Coney Island sideshow: The Church of Marvels. Belle was always the star-the sword swallower-light, nimble, a true human marvel. But now the sideshow has burnt to the ground, their mother dead in the ashes, and Belle has escaped to the city.
Alphie wakes up groggy and confused in Blackwell's Lunatic Asylum. The last thing she remembers is a dark stain on the floor, her mother-in-law screaming. She had once walked the streets as an escort and a penny-Rembrandt, cleaning up men after their drunken brawls. Now she is married; a lady in a reputable home. She is sure that her imprisonment is a ruse by her husband's vile mother. But then a young woman is committed alongside her, and when she coughs up a pair of scissors from the depths of her agile throat, Alphie knows she harbors a dangerous secret that will alter the course of both of their lives...
On a single night, these strangers' lives will become irrevocably entwined, as secrets come to light and outsiders struggle for acceptance. From the Coney Island seashore to the tenement-studded streets of the Lower East Side, a spectacular sideshow to a desolate asylum, Leslie Parry makes turn-of-the-century New York feel alive, vivid, and magical in this luminous debut. In prose as magnetic and lucid as it is detailed, she offers a richly atmospheric vision of the past marked by astonishing feats of narrative that will leave you breathless.
Why buy from World of Books
Church of Marvels Reviews
---
Parry excels in character development. Her novel is a fascinating study in alienation, set in a time when Manhattan, at least from a distance, seemed like the promised land... a strength of Parry's novel is her willingness to look directly into the shadows. This is an unvarnished vision of the 19th century, the Gilded Age by way of Quentin Tarantino... the writing is often exquisite and Parry's imagery is breathtaking -- Emily St. John Mandel author of STATION ELEVEN * New York Times *
The backdrop for this gripping book is the picturesque poverty and sleaze of New York in the 1900s. It's like the TV show Boardwalk Empire - but without the glamour... The book is packed with enough vivid poetic description of the period to make an impressive historical novel. Add to that the sense of mystery and menace that Parry achieves and the novel reaches another level * Daily Mail *
Church of Marvels is a beautifully written tale with twists and turns I didn't see coming. I loved the circus-seaside atmosphere mingled with the grit of turn of the century New York, and the large cast of characters possessed with such spirit to survive in terrible circumstances. There were surprises and secrets on every corner, right to the very end, and a bittersweet finale to satisfy the journey taken. A skillful triumph, undertaken with masterful scope. * Jessie Burton, bestselling author of The Miniaturist *
This quite literally marvellous novel takes you on a hallucinatory ride through old New York, until the four threads of its protagonists' lives tangle and tighten like a noose. Irresistible * Emma Donoghue, bestselling author of ROOM *
It's hard to resist a tale set in New York and this one is no different. As four strangers lives become entwined in 1895, their deepest, darkest secrets slowly start to reveal themselves. Just brilliant * Red Online *
bursts with extraordinary, Dickensian-style details of 1895 New York... Emphasizing the plight of women, orphans, and society's nonconforming outcasts, the setting is superbly showcased, with its medley of sights and smells both wretched and wondrous * Booklist *
Like the late-19th-century circus attraction of its title, Parry's impressive debut is startling, full of wonders, and built around the bizarre; furthermore, it has compassion for human difference at its heart... Parry vividly brings her characters to life and captures the underbelly of 1895 New York - a place of baby sellers, opium dens, and brothels where what is painful and what is profitable merge. Her novel satisfies as a complex historical fiction, a compelling mystery, and an insightful exploration of such themes as otherness and outsider identity * Publisher's Weekly *
This novel was completely absorbing and wonderful. I loved it! The characters are well written, colourful, interesting and believable. I adored being a part of the world Leslie Parry created. There was nothing I didn't like about this book, apart from it coming to an end! And as a side note I also loved the cover with the little circus ladies - beautiful. * Emma, Waterstones bookseller *
A ravishing first novel set in the vibrant, tumultuous underworld of late-19th-century New York, about four young outsiders whose lives become entwined over the course of one fateful night...Each twist and turn, the rattling of the carriages, the stench of the river and the hustle and bustle of Coney Island, leaves us breathless... Expertly written and jarringly realistic to the plight of the misfit, Church of Marvels will stay with you long after the show is over * The Mitford Socity *
Let's be clear about something: I loved everything about this book. The writing, the story, the character names and that cover - just how perfect can one book be? Inside this gorgeous cover spins an atmospheric world where the writing is sublime. As I strolled with wide-eyes throughout this book I could almost hear the echoing clop of hooves, whiff the lingering grime in the air and sense the occasional moan from an opium den. It's a vivid tale that will test the strongest resolve and prod the hardest of hearts... You think with a title like Church of Marvels that this will be a tale of curiosity for amusement. But it's filled with grit, hardship and cruelty. Yet astonishingly, skulking in the shadows of unseemly pits of despair there is also a glimmer of hope. * Little Bookness Lane *
This novel lives up to its name in every possible way... I absolutely adored it. Beyond the world building of New York in 1895, circus entertainers, seedy establishments and underhand dealings, imprisonment and adventure, Leslie Parry also makes the brave move of tackling some very tricky issues regarding gender identity, homophobia, hysteria, social hierarchies, drug addiction, abandonment and abuse. All of the characters are expertly developed, their voices are believable and above all else, dignified. Church of Marvels had me enraptured in its smoky haze and I would definitely recommend a visit. * Love Flotsma Blog *
Completely wonderful, beautifully written and the pages turned themselves. * Lindsay Hawdon, author of Jakob's Colours *
Read Leslie Parry's debut for its gorgeous writing. Read it for its Gilded Age, a marvel of richly-imagined eblouissance and finely-grained squalor. But most of all, read it for the moment when everything you thought you knew about one of its heroines turns upside down, leaving you breathless, astonished, and blessed. * Ellis Avery, author of The Last Nude *
Rarely have I read any novel that gripped me so viscerally from the first page, and continued to stoke my burning interest to the last. If Church of Marvels existed only as a gripping set piece of historical Coney Island and Manhattan, that would be enough, but its plot is wound like a Swiss watch and its characters devastatingly real. This book is important for more reasons than I can list. * Lyndsay Faye, author of The Gods of Gotham *
There's a touch of Erin Morgenstern's The Night Circus about the Church of Marvels, a lively yarn set in the seedy underworld of late 19th century New York. It's an unexpectedly rollicking tale, full of lowlifes and eccentrics, riddled with loopholes, red herrings and plot twists. Bringing to life the Big Apple's seedier history, at a time when the city was rising to its future potential but still grimy in parts, Church of Marvels is tremendous fun * Optima Magazine *
About Leslie Parry
---
Leslie Parry is a graduate of the Iowa Writers' Workshop and was recently a resident at Yaddo and The Kerouac House. Her writing has also received a National Magazine Award nomination and an honorable mention in The Best American Short Stories 2013. She lives in Chicago.
leslieparry.com
twitter.com/leslie_parry
Additional information
Church of Marvels by Leslie Parry
Book picture is for illustrative purposes only, actual binding, cover or edition may vary.
This is a used book - there is no escaping the fact it has been read by someone else and it will show signs of wear and previous use. Overall we expect it to be in very good condition, but if you are not entirely satisfied please get in touch with us.