Tolley's Inheritance Tax 2015-16 By Malcolm Gunn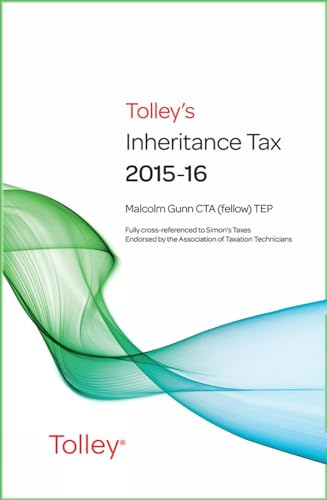 Tolley's Inheritance Tax 2015-16
Used Price
$31.99
inc. GST
Free Shipping in Australia
This comprehensive guide is your vital point of reference for accessible, accurate information on IHT liabilities, tax mitigation and compliance. A practical work including many worked examples to clarify legislation where computations are involved, with commentary in the form of notes to the examples to help explain complex points.
Only 2 left
---
Tolley's Inheritance Tax 2015-16 Summary
---
Tolley's Inheritance Tax 2015-16 by Malcolm Gunn
The updated edition of this esteemed Tolley's tax title contains must-have coverage of IHT liabilities, tax mitigation and compliance. Useful worked examples clarify legislation and help you translate theory into practice. Accuracy is guaranteed with expert commentary by Malcolm Gunn. Routine and complex topics are explored from multiple perspectives, ensuring you have a complete view of IHT's expansive landscape.
Why buy from World of Books
Table of Contents
---
1. Introduction and Basic Principles; 2. Accounts and Returns; 3. Accumulation and Maintenance Trusts; 4. Administration and Collection; 5. Agricultural Property; 6. Anti-Avoidance; 7. Business Property; 8. Calculation of Tax; 9. Capital Gains Tax; 10. Chargeable Transfer; 11. Charities; 12. Close Companies; 13. Connected Persons; 14. Deeds Varying Dispositions on Death; 15. Determinations and Appeals; 16. Diplomatic Immunity; 17. Domicile; 18. Double Taxation Relief; 19. Estate; 20. Excluded Property; 21. Exempt Transfers; 22. Gifts with Reservation; 23. HMRC Extra-Statutory Concessions; 24. HMRC Press Releases; 25. HMRC Statements of Practice; 26. Interest in Possession; 27. Interest on Tax; 28. Land; 29. Liability for Tax; 30. Life Assurance Policies and Annuities; 31. Lifetime Transfers; 32. Mutual Transfers; 33. National Heritage; 34. Partnerships; 35. Payment of Tax; 36. Penalties; 37. Pension Schemes; 38. Potentially Exempt Transfers; 39. Protective Trusts; 40. Quick Succession Relief; 41. Rates of Tax; 42. Settlements - General; 43. Settlements with Interests in Possession; 44. Settlements without Interests in Possession; 45. Shares and Securities; 46. Situs; 47. Time Limits; 48. Time of Disposition; 49. Transfer of Value; 50. Transfers on Death; 51. Transfers Within Seven Years Before Death; 52. Transitional Provisions; 53. Trusts for Disabled Persons; 54. Trusts for Employees; 55. Valuation; 56. Voidable Transfers; 57. Woodlands; 58. Working Case Study; 59. Case summaries; 60. IHT Newsletter and Tax Bulletin extracts; 61. Finance Act 2005 - Summary of IHT Provisions; 62. Table of Cases; 63. Table of Statutes (and Statutory Instruments); 64. Index
Additional information
Tolley's Inheritance Tax 2015-16 by Malcolm Gunn
Book picture is for illustrative purposes only, actual binding, cover or edition may vary.
This is a used book - there is no escaping the fact it has been read by someone else and it will show signs of wear and previous use. Overall we expect it to be in very good condition, but if you are not entirely satisfied please get in touch with us.