Militarizing Men By Maya Eichler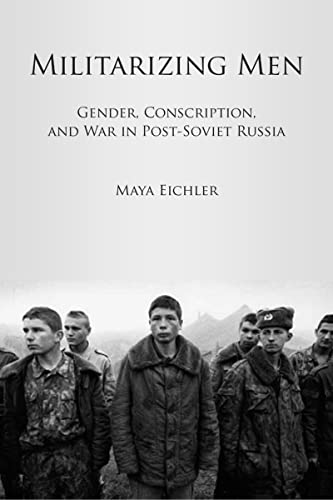 Militarizing Men
by Maya Eichler
The book shows how men's militarization has been both challenged and reinforced in the context of Russia's post-communist transition and the Chechen wars.
Only 0 left
---
Militarizing Men Summary
---
Militarizing Men: Gender, Conscription, and War in Post-Soviet Russia by Maya Eichler
A state's ability to maintain mandatory conscription and wage war rests on the idea that a "real man" is one who has served in the military. Yet masculinity has no inherent ties to militarism. The link between men and the military, argues Maya Eichler, must be produced and reproduced in order to fill the ranks, engage in combat, and mobilize the population behind war. In the context of Russia's post-communist transition and the Chechen wars, men's militarization has been challenged and reinforced. Eichler uncovers the challenges by exploring widespread draft evasion and desertion, anti-draft and anti-war activism led by soldiers' mothers, and the general lack of popular support for the Chechen wars. However, the book also identifies channels through which militarized gender identities have been reproduced. Eichler's empirical and theoretical study of masculinities in international relations applies for the first time the concept of "militarized masculinity," developed by feminist IR scholars, to the case of Russia.
Why buy from World of Books
Militarizing Men Reviews
---
"Anyone seeking to chart the militarization-and the occasional de-militarization-of masculinities should read this book. Maya Eichler is a such an engagingly keen investigator of Russian male veterans' deeply complex relationships to soldiering, femininity, wars and the state. Militarizing Men is proof that a feminist gender analysis of international politics is indispensable." -- Cynthia Enloe * author of Nimo's War, Emma's War: Making Feminist Sense of the Iraq War *
"This important and engaging piece of scholarship neatly fills a gap in our understanding of masculinity and regime legitimation strategies. Eichler's thoroughly researched, multi-methodological study reveals the contested nature of militarized masculinity and its political ramifications. It constitutes a most welcome addition to Russian studies, gender studies, and international relations." -- Valerie Sperling * Clark University *
"[E]ichler (Univ. of Toronto, Canada) discusses the horrendous conditions for soldiers in post-Soviet Russia, changing attitudes toward the first and second Chechen wars, the role of groups of soldiers' mothers in challenging or supporting militarism, the failure of Boris Yeltsin and the success of Vladimir Putin in creating images of themselves as strong military leaders, the tendency of many present Russians to view masculinity as residing more in one's success in free-market capitalism than in being a veteran, and many other related issues. . . The writing is clear and the arguments are intriguing. . . Recommended." -- M. H. Lesser
"Her [Eichler] analytical focus on militarism and militarization as a framework to understanding these transformations is undoubtedly useful to both researchers of post-Soviet Russia and to scholars interested in war and masculinity. . . [H]ere also lies the strength of Militarizing Men: in charting the relations between gender, war, and citizenship as these have played out for Samara's men and women, Eichler points to directions for future research, much needed in the field of gender and post-Soviet politics." -- Adi Kunstman * Slavic Review *
"This is an outstanding contribution to scholarship on gender and militarism in Russia. Eichler weaves together an excellent, historically-grounded interpretation of many important aspects of militarism in Russia (such as conscription, dedovshchina, the activism of soldiers' mothers, and treatment of Chechen war veterans). This book should be standard reading for anyone interested in understanding the culture and impact of militarism and masculinity in Russia." -- Lisa McIntosh Sundstrom * University of British Columbia *
"Anyone interested in Russia's struggles today will want to read [Eichler's] work to understand better the deep ambivalences riveting Russian society and the state's attempts to mobilize different ideologies (especially masculine ones) to try to knit that society together again." -- Elizabeth A. Wood
About Maya Eichler
---
Maya Eichler is a research fellow in Gender and International Security at the Harvard Kennedy School. This is her first book.
Additional information
Militarizing Men: Gender, Conscription, and War in Post-Soviet Russia by Maya Eichler
Stanford University Press
Book picture is for illustrative purposes only, actual binding, cover or edition may vary.
This is a used book - there is no escaping the fact it has been read by someone else and it will show signs of wear and previous use. Overall we expect it to be in very good condition, but if you are not entirely satisfied please get in touch with us.