A Mind at a Time By Mel Levine, MD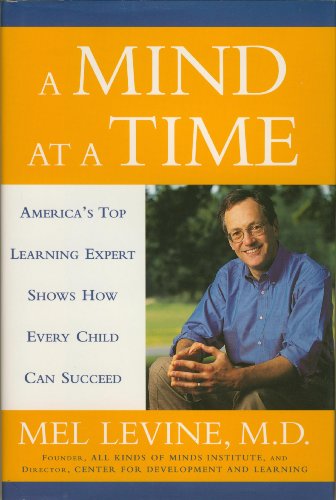 A Mind at a Time
Used Price
$19.49
inc. GST
Free Shipping in Australia
A professor of pediatrics reveals the many modes of learning and arms parents and teachers with the knowledge they need to help children prosper in a school environment. 75,000 first printing.
Only 4 left
---
A Mind at a Time Summary
---
A Mind at a Time by Mel Levine, MD
"Different minds learn differently," writes Dr. Mel Levine, one of the best-known education experts and pediatricians in America today. And that's a problem for many children, because most schools still cling to a one-size-fits-all education philosophy. As a result, these children struggle because their learning patterns don't fit the schools they are in.
In A Mind at a Time, Dr. Levine shows parents and others who care for children how to identify these individual learning patterns. He explains how parents and teachers can encourage a child's strengths and bypass the child's weaknesses. This type of teaching produces satisfaction and achievement instead of frustration and failure.
Different brains are differently wired, Dr. Levine explains. There are eight fundamental systems, or components, of learning that draw on a variety of neurodevelopmental capacities. Some students are strong in certain areas and some are strong in others, but no one is equally capable in all eight. Using examples drawn from his own extensive experience, Dr. Levine shows how parents and children can identify their strengths and weaknesses to determine their individual learning styles.
For example, some students are creative and write imaginatively but do poorly in history because weak memory skills prevent them from retaining facts. Some students are weak in sequential ordering and can't follow directions. They may test poorly and often don't do well in mathematics. In these cases, Dr. Levine observes, the problem is not a lack of intelligence but a learning style that doesn't fit the assignment. Drawing on his pioneering research and his work with thousands of students, Dr. Levine shows how parents and teachers can develop effective strategies to work through or around these weaknesses.
"It's taken for granted in adult society that we cannot all be 'generalists' skilled in every area of learning and mastery. Nevertheless, we apply tremendous pressure to our children to be good at everything. They are expected to shine in math, reading, writing, speaking, spelling, memorization, comprehension, problem solving...and none of us adults can" do all this, observes Dr. Levine. Learning begins in school but it doesn't end there. Frustrating a child's desire to learn will have lifelong repercussions. This frustration can be avoided if we understand that not every child can do equally well in every type of learning. We must begin to pay more attention to individual learning styles, to individual minds, urges Dr. Levine, so that we can maximize children's learning potential. In A Mind at a Time he shows us how.
Customer Reviews - A Mind at a Time
---
Why buy from World of Books
A Mind at a Time Reviews
---
Howard Gardner John H. and Elisabeth A. Hobbs Professor in Cognition and Education at the Harvard Graduate School of Education; author of The Disciplined Mind and Frames of Mind A Mind at a Time is a wide-ranging exploration of the myriad ways in which young minds differ, coupled with vivid and useful recommendations about developing those minds to the fullest.
Frank Keating Governor of Oklahoma With A Mind at a Time, Dr. Mel Levine provides an incredible must-read for parents and educators who want to ensure that our children have the resources they need to learn and be successful...This book is more than important. It's inspiring, and eloquently makes the case for how we can give our children the tools they need to make the most out of life.
Edward Hallowell, M.D. Instructor, Harvard Medical School; Director, The Hallowell Center, Sudbury, Massachusetts; author of Driven to Distraction and Human Moments A Mind at a Time continues Mel Levine's enormously valuable life-work of helping children find success, especially those children whose talents are not immediately recognized and valued by adults. This courageous and brilliant pediatrician has caused the medical textbooks to be rewritten and the educational curricula to be reformed. Brimming with intelligence, humor, wit, and originality, Dr. Levine is most of all full of love for children. This is a ground-breaking and useful book.
About Mel Levine, MD
---
Mel Levine, M.D., is professor of pediatrics at the University of North Carolina Medical School and director of its Clinical Center for the Study of Development and Learning. He is the founder and cochairman of All Kinds of Minds, a nonprofit institute for the understanding of differences in learning, and the author of two previous national best-selling books, A Mind at a Time and The Myth of Laziness. He and his wife, Bambi, live on Sanctuary Farm in North Carolina.
Additional information
A Mind at a Time by Mel Levine, MD
Book picture is for illustrative purposes only, actual binding, cover or edition may vary.
This is a used book - there is no escaping the fact it has been read by someone else and it will show signs of wear and previous use. Overall we expect it to be in very good condition, but if you are not entirely satisfied please get in touch with us.