Gas! Gas! Quick, Boys By Michael Freemantle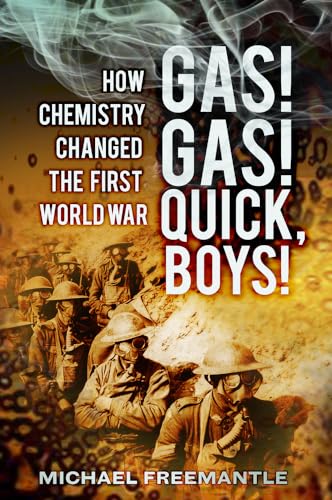 Gas! Gas! Quick, Boys
Used Price
$24.49
inc. GST
Free Shipping in Australia
Only 1 left
---
Gas! Gas! Quick, Boys Summary
---
Gas! Gas! Quick, Boys: How Chemistry Changed the First World War by Michael Freemantle
The harnessing of the power of chemistry was a key factor in determining the shape and duration of the First World War and ultimately became the difference between winning and losing.The industrial-scale carnage and devastation seen on all fronts during the conflict would not have been possible without the chemistry of war, which generated the huge quantities of metals and explosives required for artillery shells and fuses; for pistol, rifle and machine-gun cartridges; for grenades and trench mortar bombs and for the mines blown up in tunnelling operations. It also created deadly chemical warfare agents, such as chlorine gas, mustard gas and phosgene, which filled artillery shells or were released in cloud gas operations. However, chemistry was not only a destructive instrument of war but also protected troops and healed the sick and wounded. This double-edged sword is perfectly exemplified by the element chlorine, which served both as a frontline offensive weapon, causing horrific injuries and death, as well as a disinfectant and water-purifying agent saving many lives. Michael Freemantle, in this first all-encompassing study of the chemistry of the Great War, reveals the true extent of the chemical arms race and how industry evolved to meet the needs for more powerful explosives and deadlier gases, as well as advancements in medicine. From bombs to bullets, tear gas to TNT, camouflage to cordite, this book tells the true story of the horrors of the 'Chemists War'.
Customer Reviews - Gas! Gas! Quick, Boys
---
Why buy from World of Books
Additional information
Gas! Gas! Quick, Boys: How Chemistry Changed the First World War by Michael Freemantle
Book picture is for illustrative purposes only, actual binding, cover or edition may vary.
This is a used book - there is no escaping the fact it has been read by someone else and it will show signs of wear and previous use. Overall we expect it to be in very good condition, but if you are not entirely satisfied please get in touch with us.