A New Dictionary of Eponyms By Morton S. Freeman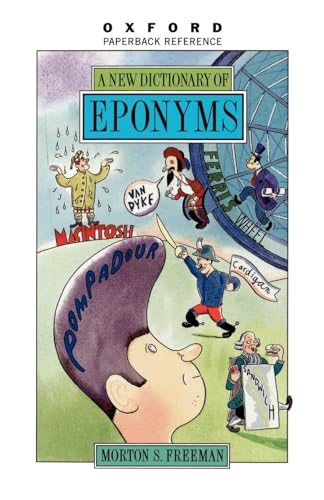 A New Dictionary of Eponyms
Used Price
$30.99
inc. GST
Free Shipping in Australia
This dictionary explores the origins of hundreds of words. Written in anecdotal style, the book includes brief biographies of those individuals whose names have become associated with particular items or concepts, as well as information on how or when the name entered the language.
Only 3 left
---
A New Dictionary of Eponyms Summary
---
A New Dictionary of Eponyms by Morton S. Freeman
Do you approve of censoring the works of great writers? Some might contend that to bowdlerize a great writer's work would be to diminish its overall quality. Others, like Thomas Bowdler, whose eraser danced over every Shakespeare play, would argue that all modest people should be able to read a great work without blushing. For attacking the classics, Mr. Bowdler has been immortalized as the world's best-known, self-appointed literary censor. And because of his efforts the term bowdlerize has become eponymous with his name. Alternatively, the word bikini-defined as a two-piece bathing suit for women-has been a linguistic mystery since 1947 when these suits were first seen on the beaches of the French Riviera, a year after the United States began testing atom bombs on the Bikini atoll of the Marshall Islands. Some shocked people said that the impact of the scanty swimsuit on male beach loungers was like the devastating effect of the atomic bomb. Whoosh! A simpler and more credible notion is that the daring swimsuits resembled the attire worn by women on the Bikini atoll. Created about a century ago, the term eponym is itself a coinage from two Greek words, epi, "on" or "upon," and onuma, "a name." But its broadened meaning, as dictionaries set it out, refers to a word derived from a proper name. For instance, Salisbury steak-a popular diner menu item created from common hamburger and dressed up with brown gravy to make it more appealing-is named after James H. Salisbury, an English physician who promoted a diet of ground beef. A Dictionary of Eponyms explores the origins of hundreds of these everyday words from Argyle socks to zeppelins. Written in an entertaining and anecdotal style, and with a foreword by Edwin Newman, the book includes a brief biography of the individual whose name became associated with an item or concept as well as information on how and when the name entered the language. If you've ever wondered just where terms like cardigan sweater, pamphlet, and robot come from, Morton Freeman does more than simply define them-he brings them to life.
Customer Reviews - A New Dictionary of Eponyms
---
Why buy from World of Books
About Morton S. Freeman
---
Morton S. Freeman, a retired lawyer and formerly Director of Publications, American Law Institute-American Bar Association, is the author of many books, including The Grammatical Lawyer, which was named book of the year by the American Society of Legal Writers, and The Word Watcher's Guide To Good Writing and Grammar. His column, "Word Watcher," appears in a number of newspapers, including The Philadelphia Inquirer, Buffalo News, and St. Louis Post Dispatch.
Additional information
A New Dictionary of Eponyms by Morton S. Freeman
Oxford University Press Inc
Book picture is for illustrative purposes only, actual binding, cover or edition may vary.
This is a used book - there is no escaping the fact it has been read by someone else and it will show signs of wear and previous use. Overall we expect it to be in very good condition, but if you are not entirely satisfied please get in touch with us.