Core Concepts of Accounting Information Systems By Nancy A. Bagranoff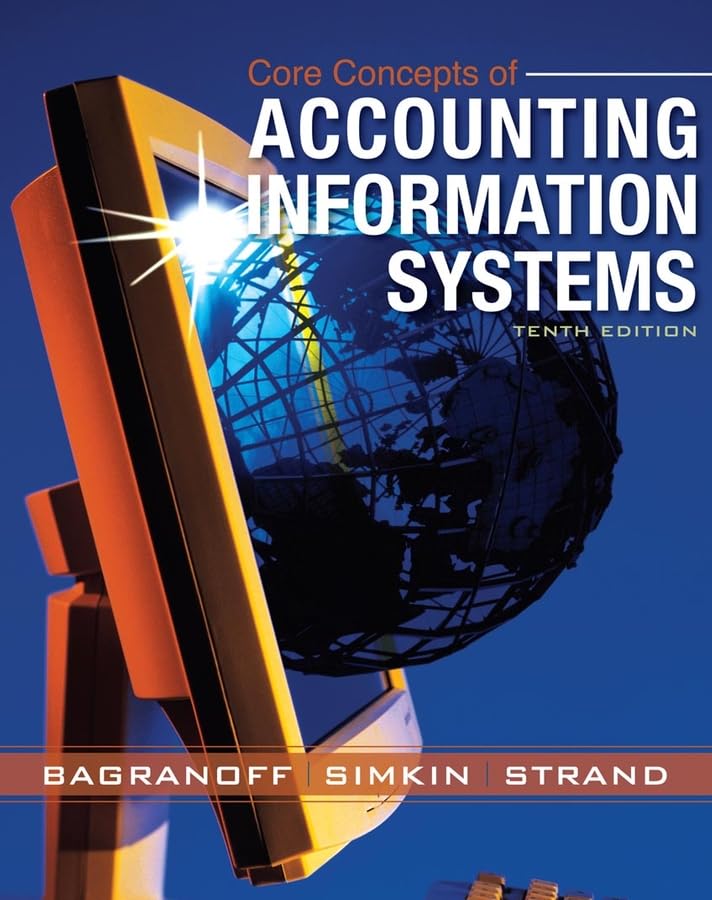 Core Concepts of Accounting Information Systems
by Nancy A. Bagranoff
Offering concise, user-friendly coverage, Moscove, Simkin, and Bagranoff's essential text presents the basic concepts of accounting information systems. Completely updated and revised, the tenth edition provides the latest information on the Internet, e-commerce, software, databases, and more.
Only 3 left
---
Core Concepts of Accounting Information Systems Summary
---
Core Concepts of Accounting Information Systems by Nancy A. Bagranoff
Offering concise, user-friendly coverage of core topics, this essential text provides a strong foundation for courses in Accounting Information Systems and gives instructors the flexibility they need to meet their individual course objectives. This text - now with more color! - is an excellent, stand-alone resource for a shorter course in accounting information systems, or the prefect foundation textbook for a longer in which other materials are integrated - such as computer projects, casebooks, and readings. Newly updated and revised, this Tenth Edition has been reorganized to strengthen its flexibility as well as redesigned to promote its flexibility as well as redesigned to promote its accessibility. The reorganized chapter order moves coverage of databases to the end, which better allows for coverage at any point during the course. It also reduces systems chapters from three to one, this material is often covered in other courses. New in the Tenth Edition Expanded coverage of Sarbanes-Oxley, Cobit Version 4, XBRL, and of risk and governance. Test yourself multiple choice questions a the end of each chapter. A new database chapter provides hands-on instruction in Microsoft Access. Updated Case-in-Point features show the business context of the text material.
Why buy from World of Books
About Nancy A. Bagranoff
---
Nancy A. Bagranoff received her A.A. degree from Briarcliff College, B.S. degree from Ohio State University, and M.S. degree in accounting from Syracuse University. Her DBA degree was conferred by George Washington University in 1986 (accounting major and information systems minor). From 1973 to 1976, she was employed by General Electric in Syracuse, New York, where she completed the company's Financial Management Training Program. Dr. Bagranoff passed the CPA examination in the District of Columbia in 1982. She spent fall 1995 as faculty in residence at Arthur Andersen where she worked for the Business Systems Consulting and Computer Risk Management groups. Professor Bagranoff has published several articles in such journals as Journal of Information Systems, Journal of Accounting Literature, Computers and Accounting, The Journal of Accounting Education, Behavioral Research in Accounting, Journal of Accountancy, and The Journal of Accounting and EDP. Dr. Bagranoff is also co-author of Core Concepts of Consulting for Accountants and Core Concepts of IT Auditing. She is currently professor of accounting and the dean of the College of Business and Public Administration at Old Dominion University. She was formerly president of the Information Systems section and is currently vice president-education of he American Accounting Association. Mark G. Simkin received his A.B. degree from Brandeis University and his MBA and Ph.D. degrees from the Graduate School of Business at the University of California, Berkeley. Before assuming his present position of professor in the Department of Accounting and Information Systems, University of Nevada, Professor Simkin taught in the Department of Decision Sciences at the University of Hawaii. He also taught at California State University, Hayward, and the Japan America Institute of Decision Sciences, Honolulu; worked as a research analyst at the Institute of Business and Economic Research at the University of California, Berkeley; programmed computers at IBM's Industrial Development-Finance Headquarters in White Plains, New York; and acted as a computer consultant to business companies in California, Hawaii, and Nevada. Dr. Simkin is the author of more than 100 articles that have been published in such journals as Decision Sciences, JASA, The Journal of Accountancy, Communications of the ACM, Interfaces, The Review of Business and Economic Research, and the Journal of Bank Research. He has also authored several textbooks in the information systems area, including Applications Programming in Visual Basic 5 (Scott/Jones, 1998). Carolyn Strand Norman received her B.S. and M.S.I.A degrees from Purdue University, and her Ph.D. from Texas A&M University. Dr. Norman is a Certified Public Accountant, licensed in Virginia. She is a retired Lieutenant Colonel who was a management analyst with the United States Air Force. At the Pentagon, she developed compensation and entitlements legislation working frequently with House and Senate staffers. Prior to assuming her current position, Dr. Norman taught at Seattle Pacific University where she co-authored the book, XBRL Essentials with Charles Hoffman, and was selected as Scholar of the Year for the School of Business sand Economics. Dr. Norman has published more than 35 articles in such journals as Behavioral Research in Accounting, Journal of Accounting and Public Policy, Journal of Information Systems, Advance sin Accounting Behavioral Research, Issues in Accounting Education, Journal of Accounting Education, and Research in Government and Nonprofit Accounting.
Table of Contents
---
PART ONE. AN INTRODUCTION TO ACCOUNTING INFORMATION SYSTEMS. CHAPTER 1. Accounting Information Systems and the Accountant. Introduction. What are Accounting Information Systems? What New in Accounting Information Systems? Accounting and IT. Careers in Accounting Information Systems. CHAPTER 2. Information Technology and AISs. Introduction. The Importance of Information Technology to Accountants. Input, Processing, and Output Devices. Secondary Storage Devices. Data Communications and Networks. Computer Software. CHAPTER 3. Documenting Accounting Information Systems. Introduction. Why Documentation is Important. Document and System Flowcharts. Process Maps and Data Flow Diagrams. Other Documentation Tools. End-User Computing and Documentation. PART TWO. USING ACCOUNTING INFORMATION. CHAPTER 4. Business Processes I. Introduction. Business Process Fundamentals. Collecting and Reporting Accounting Information. Two Core Business Processes. Business Processes and Businesses without Boundaries. CHAPTER 5. Business Processes II. Introduction. The Resource Management Process. The Production Process. The Financing Process. Business Processes in Special Industries. Monitoring Business Processes. CHAPTER 6. Accounting and Enterprise Software. Introduction. Integrated Accounting Software Programs. Enterprise-Wide Accounting Software Solutions. Selecting Accounting and Enterprise Software. PART THREE. CONTROLS, SECURITY, PRIVACY, AND ETHICS FOR ACCOUNTING INFORMATION SYSTEMS. CHAPTER 7. Computer Crime, Ethics, and Privacy. Introduction. Computer Crime, Abuse, and Fraud. Contents. Examples of Computer Crimes. Mitigating Computer Crime and Fraud. Ethical Issues, Privacy, and Identity Theft. CHAPTER 8. Introduction to Internal Control Systems. Introduction. Internal Control Systems: Definition and Frameworks. Preventive, Detective, and Corrective Controls. Control Activities within an Internal Control System. Cost-Benefit Concept for Developing Controls. CHAPTER 9. Computer Controls for Organizations and Accounting Information Systems. Introduction. Level I: General Controls for Organizations. Level II: Information Technology General Controls. Level III: Application Controls for Transaction Processing. PART FOUR. SPECIAL TOPICS IN ACCOUNTING INFORMATION SYSTEMS. CHAPTER 10. Developing and Implementing Effective Accounting Information Systems. Introduction. The System Development Life Cycle. Systems Planning. Systems Analysis. Detailed Systems Design. Implementation, Follow-Up, and Maintenance. CHAPTER 11. Information Technology Auditing. Introduction. The Audit Function. The Information Technology Auditor's Toolkit. Auditing the Computerized Accounting Information System. Information Technology Auditing Today. CHAPTER 12. Accounting on the Internet. Introduction. The Internet and World Wide Web. XBRL--Financial Reporting on the Internet. Electronic Commerce. Privacy and Security on the Internet. PART FIVE. DATABASES. CHAPTER 13. Data Modeling. Introduction. An Overview of Databases. Steps in Creating a Database Using REA. Creating Database Tables and Records. CHAPTER 14. Organizing and Manipulating the Data in Databases. Introduction. Normalization. Validating the Data in Databases. Extracting Data from Databases: Data Manipulation Languages (DMLs). Object-Oriented Databases, Multimedia Databases, and Data Warehouses. Contents. CHAPTER 15. Creating Database Forms and Reports. Introduction. Forms. Reports. Glossary. See Book's Companion Site, www.wiley.com/college/bagranoff for this material. Index.
Additional information
Core Concepts of Accounting Information Systems by Nancy A. Bagranoff
Book picture is for illustrative purposes only, actual binding, cover or edition may vary.
This is a used book - there is no escaping the fact it has been read by someone else and it will show signs of wear and previous use. Overall we expect it to be in very good condition, but if you are not entirely satisfied please get in touch with us.