Blonde Like Me By Natalia Ilyin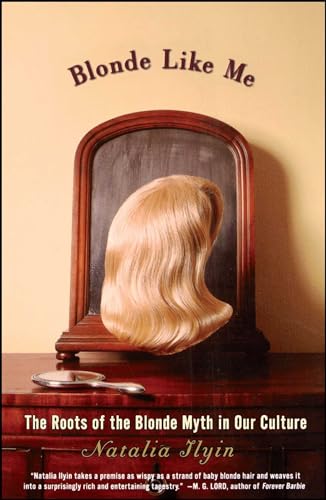 Blonde Like Me
by Natalia Ilyin
In BLONDE LIKE ME, Natalia Ilyin twists personal experience with cultural criticism to us the essential difference between having blonde hair and being a blonde.
Only 2 left
---
Blonde Like Me Summary
---
Blonde Like Me: The Roots of the Blonde Myth in Our Culture by Natalia Ilyin
In this irreverant, unsparing and witty look at our cultural obsession with blonde, Natalia Ilyin shows us that our apparently modern fixation has truly primeval roots. Highlighting cultural criticism with personal experience, she cites ancient myths, Hollywood iconography and the daily assault of advertising to reveal why the allure of being a blonde has crossed the boundaries of ethnicity, economics and age. When a woman decides to go blonde, or add some highlights, she is deciding to stand for something, but what? In answer, Ilyin traces the power of blonde back to its primeval goddess origins: the sun blonde, the moon blonde and the innocent blonde. She offers shrew and often hilarious explanations of how they evolved into The Apollo Blonde, The Trophy Blonde and the Ironic Blonde. With a sharp wit and probing intelligence, Ilyin shows us that blonde is a hair colour, but a blonde is a symbol.
Why buy from World of Books
Blonde Like Me Reviews
---
M. G. Lord author of Forever Barbie Natalia Ilyin takes a premise as wispy as a strand of baby blonde hair and weaves it into a surprisingly rich and entertaining tapestry.
Judith Viorst author of Imperfect Control and Necessary Losses Mix one part Robert Graves, one part Fran Lebowitz, and one part peroxide, and you get this scholarly, slyly funny, and deliciously readable exploration of the ultimate, and not-so-ultimate, meaning of blondeness.
Bruce Jay Friedman Funny -- and helpful to those of us who have spent much of our lives trying to puzzle out the insufferable appeal of blondes.
Ilene Beckerman author of What We Do for Love and Love, Loss, and What I Wore Natalia Ilyin forever puts to rest the theory of the "dumb blonde." This very witty, very wise book reads as if Mae West, RuPaul, Princess Diana, Carolyn Bessette Kennedy, and I all had Freud on the couch and were trying to explain to him why he should "lighten up."
About Natalia Ilyin
---
Natalia Ilyin has taught courses in American mythic images at Cooper Union and Yale University and is currently a critic at Yale.
Table of Contents
---
Contents

Introduction

The Drugstore Goddess
In which we are seized by a longing for peroxide, and get locked in the dress-up box.

Innocent Blonde
In which we meet The Algerian, wander about in flowery fields, and find our first blonde.

Oh, That Strawberry Roan
In which we are introduced to a blonde horse who leads us to some early conclusions.

The Semi-Dior Pivot
In which we review our sensitive adolescence and apply gaffer's tape, while Persephone picks a flower.

I, Defiler
In which we get terribly confused and are thrown out of a very small room.

Sun Blonde
In which we meet Rita and find ourselves in a tight spot at a banquet.

Farrah and the Song Girls
In which we remember California, and touch upon the significance of pigs.

Apollo in Drag
In which we are compared to Miss Rhode Island, wonder about tape measures, and meet a new Sun Blonde.

The Armpiece Years
In which we descend a crag and give advice.

The Dark Side of Blonde
In which people jump out of darkrooms, a colorist gets shot, and we think about light and dark.

Moon Blonde
In which we wish for Mace.

Ironic Blonde
In which we are invited to a party and a famous person disagrees with us.

Jung for Home Use
In which the blondes return to the familial table.

Old Blonde
In which we ponder crones.

Fair Fame and the Goat Lady
In which we begin our tale just as the book is ending.
Additional information
Blonde Like Me: The Roots of the Blonde Myth in Our Culture by Natalia Ilyin
Book picture is for illustrative purposes only, actual binding, cover or edition may vary.
This is a used book - there is no escaping the fact it has been read by someone else and it will show signs of wear and previous use. Overall we expect it to be in very good condition, but if you are not entirely satisfied please get in touch with us.